Discover several of Spain's most famous cities, including Granada, Seville, Toledo and Cordoba, on this 5-day guided tour departing from Barcelona. Visit several of Spain's multitude of World Heritage Sites, including the incredible Alhambra, as you immerse yourself in the country's rich history and beautiful architecture. Start your trip with an optional high-speed AVE train ride from Barcelona to Madrid, or choose a more leisurely trip by coach, stopping in the cities of Zaragoza and Lerida along the way. This 5-day Spain exploration includes a guide, all entrance fees, four nights accommodation, and meals.
Highlights
Five-day tour to Andalucia's most famous cities: Cordoba, Seville, Granada and Toledo from Barcelona
Choose between a high-speed train journey to start the tour, or travel by coach and visit Lerida and Zaragoza, too
See Cordoba's Jewish quarter and Seville's beautiful cathedral
Visit Granada's famous Alhambra and Generalife Gardens
Visit the history-rich town of Toledo, a UNESCO World Heritage site

Four nights accommodation, with a choice of three-star or four-star hotels
Recent Photos of This Tour
What You Can Expect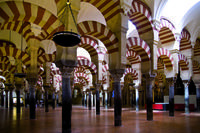 Spend 5 days in some of Spain's most beautiful cities, including Cordoba, Granada, Toledo and Seville, on this trip from Barcelona. During your trip you'll explore a range of sublime palaces, elaborate cathedrals and ancient neighborhoods that have rightfully earned Spain a reputation as one of the world's great centers of culture and history.
Over the course of your 5-day excursion you'll explore an incredible array of UNESCO World Heritage Sites and beautiful architecture. Start your journey in Cordoba, where you'll wander through the city's Jewish quarter to admire its intricate network of medieval-era streets and see the city's cathedral-mosque. Then head to Seville, a city once controlled by the Moors, to admire its Arab-inspired architecture and its magnificent cathedral, idyllic gardens and ancient Santa Cruz area. Spend the fourth day in Granada, home to the incredible Alhambra, the elaborate palace of the Moors and the Arab kingdom's last stronghold in Spain up until 1492. Finish your trip on the fifth day with a chance to stroll the cobblestone streets of Toledo, another UNESO World Heritage site, where you'll see a wealth of medieval architecture. For more details on the daily itinerary, read the description below.
Itinerary
Day 1: Barcelona – Madrid
If you have chosen to start your tour by high-speed AVE train, receive your tickets in advance, and then leave Barcelona-Sants Station by train. After roughly three hours, arrive at Madrid Atocha Station, meet your driver and travel to your hotel by minivan. Check in and spend the rest of your day at leisure, perhaps exploring Madrid independently and eating out in town (own expense).

Alternatively, travel by air-conditioned coach from Barcelona to Madrid, and enjoy stop-offs in the picturesque towns of Lerida and Zaragoza. Including free time to explore each town, the journey takes roughly ten hours.

Overnight: 3-star Mayorazgo, 3-star Tryp Madrid Centro, 4-star Husa Princesa, 4-star Tryp Madrid Plaza de Espana or 4-star Catalonia Gran Via in Madrid

Day 2: Madrid – Cordoba – Seville (B, D)
After breakfast, leave Madrid and travel through the land of Don Quixote, the Man from La Mancha. In Cordoba, you'll have time for lunch (additional cost) and a city tour of the Mosque and Jewish Quarter. Continue to Seville for the evening.

Overnight: 3-star Catalonia Santa Justa or 4-star Melia Lebreros in Seville

Day 3: Seville (B, D)
After breakfast, enjoy a morning city tour, which includes the exterior of Seville Cathedral, the Santa Cruz Quarter and the Maria Luisa Gardens. The afternoon is yours to discover beautiful views and explore this city full of light.

Overnight: 3-star Catalonia Santa Justa or 4-star Melia Lebreros in Seville

Day 4: Granada - Alhambra - Generalife Gardens (B, D)
After breakfast, depart via the Califato road to Granada. You will visit the Alhambra, the last stronghold of the Moorish Kingdoms up to 1492, and its Generalife gardens. This is an amazing monumental environment that is one of the most popular attractions in Spain.

Overnight: 3-star Hotel Los Angeles or 4-star Melia Granada in Granada

Day 5: Granada - Toledo - Madrid (B)
After breakfast, depart for the Imperial City of Toledo, a UNESCO World Heritage Site, where all the cultures and eras of Spain (Christians, Moorish and Jewish) have lived together. After lunch (own expense), you'll take an impressive tour of the city's important monuments and sights, like the famous Damasquinado (gold and silver inlaying in iron).

You'll then head to Madrid, where your tour ends.

The hotels detailed above are as a reference only and are subject to change.
January 2016
The best way to see Andalucia within a short space of time. We had a great guide in Hugo. Everything went like clockwork and really smoothly. Coach was very comfortable and clean. I would certainly recommend this tour. The local tour guides were also very knowledgeable and passionate about their subject. Would certainly use viator again.
November 2015
This trip was AWESOME. Our guide, Gracia, was a consummate professional. She called us her family and we all felt that way after the first day. The tour guides in the cities were fantastic-especially our guide in Cordoba. His knowledge and love of Spanish history and his passion about his country were infectious. All of the art, monuments and cathedrals were exciting. This trip was a perfect solution for us as we wanted to cover a lot of territory, but did not want to drive a car.
We loved it and will definitely recommend it to others.
October 2015
This was a great trip. Mariola was our guide on the bus. She was exceptional. Very good English and a positive, bubbly attitude. Very knowledgeable. Our city guides were very good, although we should have been using a whisper device every time. The tour bus was without a restroom which would have been better, but frequent stops were always planned. This was a quick and easy way to see Spain.
August 2015
Good tour overall, comfortable coach with ample rest stops, Wifi on coach did not work. Guides and driver were very good. Main downside are the fellow travelers. By nature, coach tours will be populated by older patrons and some families with small children and therefore there will be some grumpiness that will occur, and the tours can be delayed cutting down on free time. Hotels were on the whole good, although I had anticipated better amenities. Only one hotel had a pool on the tour, and therefore exercise time was somewhat limited. I think that for travelers who do not feel comfortable setting up self tours this tour is a good value, and the company, cared well for us.
June 2015

June 2015
A great tour !!! Our tour guide Joseph and the Bus Driver Chabi made the entire journey an excellent one. Highly recommend this tour. Value for money.
June 2015
June 2015
Wonderful trip! Of course not enought time and too much to see. Loved our tour Gide, Grace, what an unique women

May 2015
This tour was fantastic, our Guide Gracia was wonderful and really was the icing on the tour cake, very informative, funny, caring and very organised, she took great care of her 'family'. The places we visited were beautiful and we got to see a lot inside and out of the Cordoba Cathedral and The Alhambra, which were highlights among a lot of highlights. The local guides were very good too, the additional El Palacio Andaluz Flamenco Show in Seville I would highly recommend, the only sour note was the Gypsy Flamenco visit, we were picked up at 9pm and went to see the Alhambra at night which was good but we stood around for ages, 10mins would have been sufficient then the Flamenco show didn't start until 11pm which was late for a group who had an early start and it was nowhere near as good as the previous nights show I would tell people to pass on that one but that was the only downside the rest of the tour was as good as it gets.
May 2015
Advertisement
Advertisement