Explore sun-kissed beaches, rolling vineyards and vibrant cities on this epic 8-day Northern Spain tour from Barcelona to Madrid. Admire modernist masterpieces like La Sagrada Familia in cosmopolitan Barcelona; hit the beach in San Sebastián; and tuck into tapas and local Rioja wine in Logrono. Learn about the infamous running of the Bulls in Pamplona, then discover the magnetic charms of Madrid, a city oozing with fashion, culture and history. This small-group tour is limited to 12 people for a personal experience and includes accommodation.
Highlights
8-day tour of Northern Spain from Barcelona to Madrid
Visit iconic Barcelona sights such as Las Ramblas, La Sagrada Familia and Montjuic
Explore the historic Basque city of Pamplona, home to the famous Running of the Bulls
Visit Logrono's Rioja wine museum and its Gothic cathedrals such as Concatedral de Santa Maria de la Redonda
Unwind with two relaxing days in San Sebastián, a picturesque city on the Bay of Biscayne
Soak up the rich artistic culture and nightlife scene of Madrid
Seven nights of hotel accommodation and transport between cities included
Small-group tour limited to 12 people ensures a more personalized experience
What You Can Expect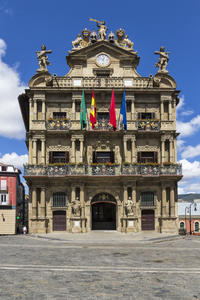 You'll travel by bus, metro and train to your four Northern Spain destinations. In each place you visit, enjoy the flexibility to create
your own itinerary and explore at your leisure. Y
our guide will provide commentary on local history and culture, and will be happy to recommend great local spots to visit and activities to partake in, as well as suggest restaurants and tapas bars to enjoy your meals.
Transport between cities and seven nights of hotel accommodation are included.
Itinerary
Day 1: Barcelona
Head to the Liceu metro station in central Barcelona at 7pm on your first day to begin your 8-day Northern Spain adventure. After being greeted by your guide, you'll have all day to explore the heady streets of Barcelona.
See great works of art at the Picasso Museum, head to the waterfront for a bowl of traditional paella, and soak up the festive vibe of Las Ramblas. Catch the funicular to Montjuic for sweeping views of the city and be sure to find time to absorb the bizarre beauty of La Sagrada Familia, one of Gaudi's most iconic creations.
Barcelona's quirky character and fabulous Catalan cuisine mixes seamlessly with a groundbreaking art scene, Gothic architecture, superb dining and a non-stop nightlife. After a day of enjoying all that Barcelona has to offer, make your way to your hotel for your first overnight stay.
Overnight: Hotel Catalonia Rome or similar in Barcelona
Day 2: Barcelona – Pamplona
In the morning, hop on the train and make your way to Basque country for a day in Pamplona, the historical capital city of Navarra and the former Kingdom of Navarra. Start your visit with a guided walking tour to g
et acquainted with Pamplona.
Learn about how the city has served for centuries as both a military stronghold and an important point on the Camino de Santiago pilgrimage trail. As you'll discover, Pamplona is famous for the Running of the Bulls, the annual San Fermín festival in July. Featuring a daily bull run (encierro), this legendary festival was depicted in the writings of author Ernest Hemingway.
Meander down winding alleys, admire well-preserved fortifications, and step inside ornate buildings such as Pamplona's ornate Gothic cathedral, one of the most important religious structures in Spain. You'll be awed by the beautiful medieval city center and delighted by the many parks and great gastronomy of this thriving city.
Overnight: Hotel Pamplona Plaza or similar in Pamplona
Days 3-4: Pamplona -- Logrono
On your third day, it's off to another great Northern Spain destination, Logrono, known for its delicious Rioja wine. Visit the wine museum to learn more about this area's famous tipple, and visit some of the city's cathedrals including Concatedral de Santa Maria de la Redonda, Church of San Bartolome and Church of Santa Maria de Palacio. The Gothic design of these historic gems will captivate you.
Mosey along the Ebro River and go tapas bar-hopping for an authentic taste of this Spanish city. During your two days here, you'll have plenty of time to see all the amazing sights at your own pace.
Overnight: Hostal Numantina or similar in Logrono
Days 5-6: Logrono -- San Sebastián
Say goodbye to Logrono in the morning of your fifth day and make your way to Spain's northern shore to San Sebastián, a picturesque resort town on the coast of the Bay of Biscayne.
Relax, unwind and have some fun during your two days here. A vibrant cultural heart beats within San Sebastián, making this coastal city the perfect place to relax at the beach or enjoy the finer points of Spanish culture.
Relish the cool sea breeze on leisurely walks along the waterfront and experience the lively beach scene and plethora of pintxos bars. Explore beautiful Old Town, take in sublime coastal views on the Monte Igueldo cable car, and visit Frank Gehry's architectural masterpiece, the Guggenheim, located a short distance from San Sebastián in Bilbao.
Overnight: Pension Maite or similar in San Sebastián
Days 7-8: San Sebastián -- Madrid
On your seventh day, head to magical Madrid, a city overflowing with world-class art galleries, atmospheric city squares, manicured parks and gardens and heaving nightclubs and bars.
During your independent exploration, trawl through several of the city's distinctive neighborhoods and museums, sample local wine, and enjoy exceptional tapas. During your last two days here, you'll discover why Madrid is one the most beloved cities in Spain.
Your 8-day Northern Spain adventure ends in Madrid, and you can depart your accommodation at any time.
Overnight: Hotel Gran Legazpi or similar in San Sebastián
Advertisement
Advertisement