Explore Barcelona's coast in a way that is different and more exciting than a typical city tour – on a scooter! Cruise along the Mediterranean waterfront to stunning sites like the Port of Barcelona, La Barceloneta and La Ribera. Your guide will make sure you see the city's beautiful places from a different perspective!
Highlights
Experience Barcelona on a guided scooter tour
Cruise along the Barcelona Port to Barceloneta, Barcelona's main beach
Ride past the 14th-century Santa Maria del Mar Cathedral, in La Ribera district

Explore the neighborhood of Ciutat Vella, famous for sculptural monuments like Homenatge a la Barceloneta and Peix d'Or
Soak up the fresh air and sunshine as you ride along the Barcelona's waterfront, overlooking the Mediterranean Sea
Why Our Insiders Chose This Tour
A cool alternative to the typical bus tour! Ride a scooter along the Mediterranean Sea under the Barcelona sunshine. You'll get some free time to explore and snap some sure-to-be-framed photos.
Recent Photos of This Tour
Barcelona Coastal Tour by Scooter
What You Can Expect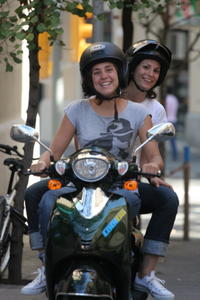 A scooter tour is the perfect choice if you're looking for an easy and fun way to see Barcelona's highlights! Before heading out on your guided tour, you will receive a helmet for your safety while riding to enjoy a safe and smooth ride.

Drive east from Las Ramblas toward Ronda del Litoral, a main street that runs through the heart of Barcelona's southern metropolitan area, following the course of the rivers Llobregat and Besòs and the Mediterranean Sea. Take in the picturesque scenery of the Mediterranean Sea as you ride along the coastal road with its beautiful beaches, palms and promenades.

Get an up-close look at the Santa Maria del Mar Cathedral -- a striking church in the La Ribera district of Barcelona -- and continue along the Port of Barcelona toward Barceloneta Beach in the Ciutat Vella district, where you can admire monuments like Homenatge a la Barceloneta and Peix d'Or.

Next, drive past the Olympic Village, constructed for the 1992 Summer Olympics, and Diagonal Mar, one of the newest shopping centers in the city, at the southeast end of Diagonal Avenue.

On your way to and from the coastal part of the city, your guide will lead you through Barcelona's main streets that show traces of Art Nouveau and Modernism movements. Though shaped by several artists, this city's most notable artistic influence is undoubtedly Antoni Gaudi, whose unique architectural pieces of work include the famous La Sagrada Familia, La Pedrera, Park Güell and Casa Batlló.

Choose to ride the scooter either alone or with another person and enjoy this unique way of discovering Barcelona. Fall in love with this wonderful and impressive city, and enjoy some free time by the waterfront to grab some lunch or a refreshment at a local bar (own expense).
August 2014
August 2014
Great way to see the city, friendly and informative guide.
Would recommend.
June 2013
This was a fun way to see the city as opposed to just sitting on a tour bus. The scooters were almost new, and our tour guide, Lorenzo, was great!
August 2012
This was the best part of the trip. Totally recommend to anyone who wants to be a bit adventurous and drive the traffic in Barcelona. The guide was great as he took care of the traffic and made sure we were sade. You get to stop at all the local spots and you get to learn a lot about the layout of the city. Totally worth it.
May 2012
I really enjoyed this tour and the guide was really nice and entertaining, which was a big plus! As I had never driven a scooter before, the guide very nicely offered me to drive me at the back of his scooter, instead of going at the back of my friend's scooter, which was the initial plan. The guide offered us if we wanted to include some extra spots on our tour and change the itinerary a bit, which we did and we absolutely loved it! Was the best tour I've done in Barcelona! We ended up doing part of the coast, went past the Sagrada Familia, which we had already visited so we said we didn't need to stop, then Tibidabo and then Montjuic. I would definitely recommend this tour!
May 2012
I hadn't been on a scotter for a while, and decided to try and give it a go in Barcelona, which was the best idea I could have ever had! I absolutely loved this tour! It was only two of us plus the guide, which was great. My friend didn't feel very confortable with driving a scooter, but that wasn't a problem at all. The guide drove her on his scooter and I had the other scooter to myself. Before starting the tour, our guide explained to us the itinerary we had booked, and offered us if we wanted to add or change anything to it, and gave us some suggestions based on the places we still hadn't had the time to visit. So we had the chance to see part of the coast including the port, go to Tibidabo which had amazing views, and it's quite far away and not that well connected if you want to go by public transport, and Montjuic, which we also really enjoyed! I had so much fun on this tour that I'm now consering buying a scooter!
August 2014
Great way to see what Barcelona has to offer. It's not a tour for you if you want to really see each place you stop off at. It is more of a tour to get the lay of the land and then you go back to see the attractions on another day. William (our tour guide) was excellent. He was a great teacher of how to ride the scooter since my husband didn't have a lot of experience. And he answered our questions and had a real insight into the city.
Advertisement
Advertisement