Discover the spectacular sights of Barcelona in an exhilarating way with a GPS (Global Positioning System) guided GoCar. Explore according to one of three possible itineraries and visit all of the city's legendary landmarks without wasting any time getting lost; the advanced navigation technology of the GPS led GoCars means the vehicle will know where you are, even if you don't. Admire the soaring spire of La Sagrada Familia and the intricate façade of the Arc de Triomf as you cruise around the city in your GoCar.
Highlights
Self-drive GoCar tour in Barcelona guided by talking GPS
Travel around Barcelona at your own pace
View Gaudí's masterpieces such as La Sagrada Familia, Park Güell, Casa Batlló and Casa Milá (La Pedrera)

Visit Barcelona's charming neighborhoods including Gracia, l'Eixample, Barceloneta and Bonanova

See sights that interest you such as La Monumental bullring, Camp Nou, Montjuic, Olympic Port and Tibidabo

Choose between four different routes

Why Our Insiders Chose This Tour
You'll get lots of attention riding around in your little three-wheeled yellow car. You can go at your own pace, the GPS directions are easy to follow, and parking is a breeze. A quirky and memorable way to see the sights!
Recent Photos of This Tour
Barcelona GPS-Guided GoCar Tour
What You Can Expect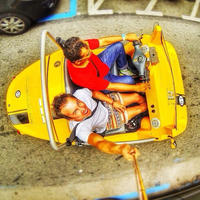 Enjoy an alternative to conventional sightseeing tours in a colorful and compact GoCar. Explore the city independently and at your own pace, visiting Gaudi masterpieces such as Park Güell, La Sagrada Familia and Casa Mil and admiring legendary landmarks like the Arc de Triomf, Camp Nou and the Olympic Port. No experience is necessary to drive the three-wheeled vehicle and each car can accommodate two passengers.
Collect your GoCar from a centrally located rental shop and receive an informative safety briefing and protective helmet. Choose between 1- and 2.5-hour tours and select one of three designed routes that take you to a range of landmarks including Barceloneta Beach and La Monumental Building.
Please see the Itinerary section below for details on each tour.
Itinerary

Barcelona Express Tour:
On this 1-hour tour, see Barcelona's main attractions, including Gaudí's main artworks La Sagrada Familia, La Pedrera and Casa Batlló. See the Arc de Triomf, the Parc de la Ciutadella – Barcelona's main park – and La Monumental bullring. Drive by the elegant Passeig de Gracia street and the legendary Las Ramblas, home to the famous Boquería Market and Columbus Monument. Finish with amazing views of the Mediterranean Sea as you drive by Port Vell, the Barceloneta Beach and the Olympic Port.

Barcelona Experience Tour:
This 2.5-hour tour takes you around the interesting urban layout of Barcelona Olympic area and waterfront. Turn on your engine to drive past the beautiful Arc de Triomf, near the entrance of the Parc de la Ciutadella, and follow your GPS as it guides you to the coastline. See the Santa Maria del Mar Cathedral, and continue driving by the waterfront until you reach the Columbus Monument. See the Barcelona Contemporary Arts Museum (MACBA) and the Centre of Contemporary Culture Barcelona (CCCB), then arrive to the top part of the famous Las Ramblas. Next, head to Montjuïc to enjoy outstanding views of the Barcelona skyline. Tour the area, home to the Spanish Town and the Olympic Stadium, then head back to central Barcelona by the waterfront, taking in views of Port Vell and the Mediterranean Sea.

You may upgrade your downtown tour to include La Sagrada Familia on your route, which will take a total of approximately three hours.

Discover Gaudí Tour:
The uptown tour takes you outside of the old town to discover Gaudí's most important creations. On this 2.5-hour tour you will start driving east by the Arc de Triomf and the Parc de la Ciutadella, and continue by the Agbar Tower and La Monumental bullring. Next, see the famous Gaudí monuments of La Sagrada Familia and Park Güell, then head north to the Tibidabo mountain for amazing views of Barcelona. Drive south by Gaudí's Pedralbes Monastery and FC Barcelona's renowned stadium Camp Nou, or venture into areas that many visitors never never see, such as the buzzing bohemian neighborhood of Gracia. Continue your tour on the famous Avenida Diagonal road until you reach the elegant Passeig de Gracia. Here, see many examples of art nouveau on the building and street decorations, as well as Gaudí's Casa Milá (also known as La Pedrera) and Casa Batlló.

Barcelona Full Day Tour:
Forget the crowds and queues and spend your precious time exploring the entire city. Combine all of the tours described above and embark on a once in a lifetime experience of Barcelona.

This tour allows you to take your time, take detours, stop for shopping, visit all the famous attractions, enjoy coffee and tapas in a secluded plaza or relax on the beach and soak up the sun.




March 2015
Great tour of the city. We had a hard time getting back but the journey was rather fun.
Jessica Z Netherlands
March 2015
We've had a great time in the cars. We saw a big part of the city and the cars are great. Excellent staff and great help.
October 2014
The Go Car tour was fun and the arrangments were easy to book. really need to have two people to pay attention to directions and road signs along the way to stay on the tour route. The streets are busy and road markings are few. GPS screen is hard to see in bright sun. It was a good way to see alot in a short period of time but will need to go back and do a walking tour of the sights we Go Car toured
October 2014
Great fun! Best way to discover the city.

June 2014
Great experience. We had a blast. There were only a couple of issues. I weigh 180 and my companion 165. In the hillier areas, this can cause issues with the engine size of the car. At one point we were only able to move about 2mph and at another point my passenger had to help push for about 10ft to clear the top of a hill. It wasn't that big of a deal and we had a great adventure. Just wanted to mention the one little caveat.
April 2013
What a great way to see Barcelona!! I tried the GoCar last week with my brother-in-law. We had booked and paid for an hour, but had so much fun that we chose to stay out for the full day. Driving in Barcelona traffic was much easier than I had expected and the GPS instructions were great, informative and fun. People on the streets were waving to us and taking photos of us in our little funky yellow car :). We stayed and visited several sights like the FC Barcelona soccer stadium and Park Guell (don't miss!). This must be the coolest way to see Barcelona, so much more fun than a traditional tourist bus.

Cheri R United States of ...
October 2013
Really enjoyed this. We had originally reserved our car for the day we got to Barcelona, but it was raining and they were very accommodating to change the dates for us. It is very difficult to brake this vehicle, but the experience was fun. The GPS is not quite like the US where it gives you time to make the turn and warns you, these turns come up fast and if you are in the wrong lane.. good luck. They are also pretty loud.. like a riding lawn mower, but that still wasn't too bad. If they were electric it would be better as you could really listen to the talking GPS without having to turn it up and down in the streets and at stop lights. Got to see a lot of things around Barcelona that we will go back and check out on our next trip. We had the 3 hour tour but there is NO time to stop if you want to get this back on time. Plan on paying more if you plan to stop at any sites. Plan at least 5-6 hours for 3 hour tour. Recommended, but you need to be not weary about driving in Barcelona. There is no such thing as a left turn.. all round abouts.. very different roads.

William F Canada
May 2013
This was really fun and at the same time terrifying. Get ready to have your photo taken dozens of times, be challenged to race, and just generally be stared at. Don't do it alone as there is a lot to think about with all the hand controls. Found myself frequently in the wrong lane and risking my life to get to the correct one. All in all it was really fun though. It took quite a bit to get used to the car so you tend to miss a lot of the sights along the way. Took the one hour rental but probably should have taken a 2 hour drive so I could make a few photo stops. You might want to bring a pillow because I think shocks were non-existant.
August 2012
November 2013
GPS was confusing, kept returning us to the same places if we didn't turn where it said we should have. Very confusing is you don't know the city. Whoever drives the car MUST know the city and the route before driving, otherwise will end up like us- seeing the same attractions
Advertisement
Advertisement