After the Spanish sun sinks into the horizon, the restless souls of Barcelona begin to roam the serpentine streets, allowing you to discover the sinister secrets of Barcelona on a 2-hour ghost walking tour of the city. Listen to terrifying tales of witchcraft, exorcisms and paranormal activity as you learn about the gruesome past of legendary landmarks like the Arc de Triomf and the Church of Santa Maria. Wander through darkened neighborhoods and feel the eerie atmosphere that the cover of darkness bestows upon the Catalonian capital.
Highlights
2.5-hour Barcelona ghost night walking tour
Explore Barcelona's backstreets and hear thrilling stories about exorcisms, witchcrafts and bewitched convents
See architectural gems, including the Church of Santa Maria del Mar and the Arc de Triomf
Visit haunted places mentioned in the book Fantasmes de Barcelona, by Sylvia Lagarda-Mata
Enjoy entertaining and informative commentary from your expert guide
Recent Photos of This Tour
Barcelona Ghost Night Walking Tour
What You Can Expect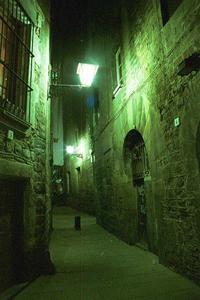 Greet your ghoulish guide at the ancient Arc de Triomf structure and begin your journey under the cover of darkness. Creep through the Ribera Quarter and hear tales of the rich merchants and rowdy sailors that used to populate the area during the 14th century, and the grisly ends that befell them.
Visit paranormal places featured in Sylvia Lagarda-Mata's book detailing supernatural sightings in Barcelona; hear hair-raising stories of the specters said to roam the streets; and gain insight into local legends sure to make to your spine tingle. Meander through Barcelona's backstreets and immerse yourself in stories of bewitched convents, eerie apparitions and brutal exorcisms as you explore neighborhoods like Sant Pere and Santa Catarina.
See the sinister side of some of Barcelona's legendary landmarks as your guide affords you a glimpse into the gruesome history of the Church of Santa Maria, a building whose picturesque façade does not reflect the scary secrets it harbors. Conclude your terrifying tour at the square of Santa Maria del Mar.
March 2016
Good time. Good tour. Friendly tour guide. Saw and experienced things we never would have otherwise. Highly recommend!
March 2016
Well done. We very much enjoyed the tour and the guide was excellent!
March 2015
The tour guide was quite good and the route that we explored was interesting. In spite of living in Barcelona for more than a year, there were places that I just found through this tour.

December 2014
Great experience , enjoyed my everyone great tour guide xxx
June 2013
The tour was awesome. Went to places in Barcelona that I would have never seen if it wasn't for the tour. I did like the fact that the tour guide did the tour both in Spanish and English.
June 2013
Our tour guide was excellent and the stories were interesting. Had a great time on this tour.
August 2012
I will give you 5 stars as it was due to a tummy upset that we didn't take the tour - apologies and will catch you next time - Thankyou
April 2015
This tour was a walk to 4 sectors of the city with a ghost story attached to each. The guide was a great story teller, it was a nice night, but no real ghosts. It was a fun tour for me and 17 year old son.
March 2015
Interesting stories and a chance to see some of the areas of Barcelona at night
December 2014
Christina was great and very enthusiastic and captivating. Good Night Walk.
Advertisement
Advertisement