Explore the history of Catalan modernism, an influential architectural movement pioneered by celebrated designers like Antoni Gaudí, during this 2-hour walking tour with a guide in Barcelona. Visit the Quadrat d'Or, also know as the Golden Square, located in the city's Eixample neighborhood, as you learn about the late 19th-century buildings that helped define the movement. As an added bonus you'll also receive 20% off a guided tour of the Palau de la Música Catalana (Music Palace), discounted entrance at Casa
Batlló and
free entrance at the Museu del Modernisme Catal
à (Catalan Modernism Museum).
Highlights
2-hour Modernism and Gaudi walking tour of Barcelona

Enjoy a guided stroll with a local through Eixample
Marvel at buildings by Gaudi and other Modernist architects

Make use of free admission to the Museu del Modernisme Català

Recent Photos of This Tour
Barcelona Modernism and Gaudi Walking Tour
What You Can Expect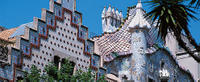 Visit the iconic buildings constructed during the Catalan art nouveau period, designed by such celebrated architects as Domenech i Montaner, Puig i Cadafalch and Antoni Gaudí on this walking tour in Barcelona. Architecture- and art-lovers are sure to enjoy this deep dive into the history of Barcelona and its extraordinary period of Catalan modernism, exploring some of the city's most famous structures along the way.
Start your Barcelona Modernism walking tour at either 3:30 or 6pm depending on the time of year, leaving from the city's
Plaça de Catalunya.
Those taking the tour in French will leave at 10:30am, while those taking the tour in Spanish will depart at 12pm. Check with the tour operator to confirm your start time.
Proceed on an in-depth exploration of the wealth of modernist buildings constructed in Barcelona's Eixample district at the end of the 19th century. Among the structures you may visit during your walk are two of Antoni Gaudí's most famous projects, including Casa
Batlló and
La Pedrera. See the itinerary below for a full list of potential stops.
Itinerary
Some of the places you may visit during this Barcelona Walking Tour:
Cases Pons i Pascual
Cases Antoni Rocamora
Casa Pia Batlló, Casa Heribert Pons, Casa Jaume Moysi, Casa Sebastià Pratsjusà, Casa Climent Arola
Editorial Montaner i Simon - Fundació Antoni Tàpies
Casa Pere Milà i Camps 'La Pedrera'
Palau de la Música Catalana
Mansan a de la Discordia: Casa Lleo Morera, Casa Amatller, Casa Batllo
Casa Vídua Mafà
June 2016
The guide was very informative. The 2 hour tour was probably 2 or more miles long. He was also enthusiastic. We had a small group of 6.
June 2015
Tremendous walk. Finishing at the Gaudi home was spectacular!
March 2015
Fun tour. Wish the weather was a bit better. We had a lot of wind that made the microphone hard to hear at time.
March 2015
Wonderful, so informative
August 2014
Our guide was FANTASTIC! He was knowledgeable, articulate and set a pace. This tour is a must as "modernism" only lasted a short while and one can clearly understand why the architecture of Barcelona evolved. This tour is a must do.
June 2014
I had a spectacular experience in Barcelona. The Modernism walk was excellent, the guide was charming and very knowledgeable (I don't remember her name but she was terrific). As an architect the buildings, most especially Gaudi's work, were a joy to encounter, and I am left with fond memories of it all. Jack Jacobson.
January 2014
Pour un premier contact avec le modernisme catalan (Gausi, Domenech y Montaner) ou pour consolider ses connaissance en la matière, c'est un tour à ne pas manquer. Sur les sites visités, vous recevez des explications complètes et détaillées et des clés de lecture moins connue. Le visiteur est vite conquis! On refera ce tour lors de notre prochaine visite à Barcelonne, car c'était particulièrement enrichissant de point de vue culturel.
January 2013
our guide was fantastic!!!!
She very well prepared and the 2 houres were passed to fast
muchas grazias!!!!
November 2012
This was surprisingly a great tour. We did not have much expectation, we just wanted to get to know a bit on what we should see in Barcelona during our stay. But the tour guide lady was very very knowledgeable and passionate. We learned a lot and got super excited about almost everything.
October 2012
Fabulous tour with a very knowledgeable guide. The tour gave a whole new dimension to the city of Barcelona.
Advertisement
Advertisement