Enjoy the wonderful creatures of the Barcelona Zoo with this one-day admission ticket. Situated in the city's lush Parc de la Ciutadella, the Catalan capital's wildlife refuge is considered the best in all of Spain, playing host to more than 4,000 creatures. Observe animals including monkeys, lions, dolphins and more, all happily at home in their comfy habitats, and discover the history of Snowflake, a rare white gorilla that once called the zoo home.
Highlights
Visit Barcelona Zoo for a fun and educational day

Spend a day at Spain's most modern zoo in the middle of Barcelona's Parc de la Ciutadella
Learn about Snowflake, Barcelona Zoo's famous white gorilla
Visit spacious enclosures and see big cats, hippos, monkeys and more
See dolphins without getting wet in the dolphinarium
What You Can Expect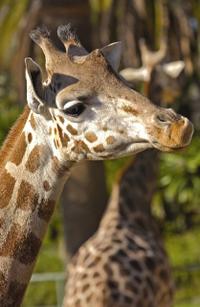 Spend the day learning about the many creatures of the Barcelona Zoo, a modern facility home to more than 4,000 animals that's situated in the city's lush Parc de la Ciutdella. This family-friendly admission ticket offers a great opportunity to get up close and personal with a variety of unique animal life.
Make your own way to the zoo at your leisure. You're free to enter any time during the park's regular hours of operation, which typically start at 10am. Closing hours variety depending on the time of year, so check in advance before your visit. Head inside this sprawling facility, which covers almost 32 acres (13 hectares) of animal exhibits. Most visitors need a whole day to fully experience all it has to offer. Feel free to use the park's mini-train to move around, or hire one of the zoo's electric cars (at your own expense).
The zoo is split into various sections, each of which house spacious enclosures for different types of creatures like mammals, birds, reptiles and amphibians. Visit all the most-recognizable creatures you'd expect to find at a zoo, including tigers, lions, hippos, and monkeys, along with some of Spain's more indigenous animals like the Iberian wolf. Information plaques and interactive displays help provide educational details about each creature. There's also an 'infants' zoo' which offers tamer animals for young children, and a dolphinarium, offering a tank where playful dolphins put on a show in front of the exhibit's large windows.
During your visit, learn about Snowflake (Floquet de Neu), a rare white gorilla that called the zoo home until its death in 2003. To celebrate the life of Snowflake, the park has set up a variety of conservation and endangered species awareness programs to help preserve these majestic creatures.
When you need to take a break, the zoo offers a variety of cafés, picnic areas and restaurants, where you can relax and purchase food and refreshments at your own expense.
March 2016
Me and my sons had a fantastic day at the zoo. The weather was beautiful and lots of fun and laughs were had. Would recommend a visit to anyone especially as the zoo is set in a beautiful park with lots of additional fun to be had.

November 2015
Dolphin show was great , kids loved it
October 2015
Brilliant Zoo, so many animals the dolphin and sea lion shows were brilliant.
August 2015
Well worth the money, thoroughly enjoyed.
August 2015
Huge zoo full of so many different species. It's one of the best zoos I've ever visited.

June 2015
We had a fantastic time, there was nine adults in our party and all really enjoyed the zoo. Well worth the entrance fee!
October 2014
great selection of animals, one of the best dolphin shows in Europe if not the world. Easy to navigate, so much to see and do. Well worth a second visit. So many rare breeds of animals too not seen anywhere else...lots of places to eat and drink and good entrance ticket value made for an unforgettable day trip

Romain T France
December 2013
June 2013
January 2016
Excellent day out: lovely zoo - animals seem well cared for. Zoo very clean staff friendly and helpful. Lots to do.
Advertisement
Advertisement