Celebrate rock and roll history with a meal at the Hard Rock Cafe Barcelona, including a two- or three-course dinner. This recently remodeled restaurant, situated near La Rambla, offers a fun-filled trip through musical history. Admire memorabilia including an Aria Pro II guitar signed by Metallica,
Michael Jackson's leather jacket,
a custom Fender Stratocaster owned by Bon Jovi guitarist Richie Sambora,
a vest worn by Prince for his 1988 album Lovesexy,
Bruce Springsteen's black motorcycle jacket,
a Whitney Houston gown and a Washburn guitar owned by Paul Stanley of KISS. Your Hard Rock Cafe experience also includes priority seating, two- or three course dinner and an optional upgrade with souvenir t-shirt.
Highlights
Hard Rock Cafe Barcelona

Classic American-style food and music
Includes two- or three-course dinner and soft drinks
Legends of rock memorabilia and retail store
Recent Photos of This Tour
What You Can Expect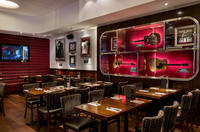 Take a trip through decades of rock and roll during a two- or three-course meal at Barcelona's Hard Rock Cafe. This fun-loving, artistically-minded Mediterranean city offers the perfect setting for an evening eating, drinking and fun that celebrates a thoroughly modern form of art: rock and roll.
Start your visit to the Hard Rock Cafe any time during its opening hours, which are 11:30am until 2am Monday through Sunday. Feel free to arrive at the restaurant any time and present your tour voucher for priority seating. Grab your seat and then feel free to explore this temple to all things rock while you wait for your food, featuring authentic memorabilia from legendary musicians like Prince, Metallica, Michael Jackson, KISS, Bruce Springsteen, Whitney Houston and much more.
Pick from among three different menu options, covering the two-course "Gold" menu, or the three-course "Diamond" and "Ultimate" menus. The ultimate menu also includes a collectible t-shirt from your visit.
There's also an on-site store, which you can peruse after your meal, should you wish.
Check out the itinerary below for a full details of each package option.
Itinerary

GOLD DINNER MENU

Choice of Main Course:
Hard Rock Burger or Cheeseburger
Veggie Burger
Honey Mustard Chicken Sandwich
Chicken Caesar Salad
Hickory-Smoked Bar-B-Que Chicken
Twisted Mac, Chicken & Cheese

Dessert:
HRC's Signature Ice Cream

Choice of Beverage:
Coffee, Tea or Soft Drink


DIAMOND DINNER MENU

Starter:
Lil Caesar Salad or Side House Salad

Choice of Main Course:
Twisted Mac, Chicken & Cheese
Hickory-Smoked Bar-B-Que Ribs
Hickory-Smoked Bar-B-Que Chicken
10oz. Legendary Burger
Veggie Leggie Burger
Chicken Caesar Salad

Dessert:
Baker's Choice (dessert of the day)

Choice of Beverage:
Coffee, Tea or Soft Drink

ULTIMATE DINNER MENU:

Starter:
Lil Bruschetta

Choice of Main Course:
Fiesta Burger
Grilled Salmon
Grilled Chicken Arugula Salad
Veggie Leggie Burger

Dessert:
Lil Hot Fudge Brownie

Choice of Beverage:
Soda, Tea, Coffee

AND Hard Rock Cafe Classic T-shirt
May 2016
Great meal, really good value
February 2016
Excellent,waiting time 1 hour we only waited 10 mins. Classic burger excellent. Drinks cheaper than expected. Good value overall.
November 2015
Glad that we booked this in advance and the restaurant was really busy. Table was found within 5 minutes of arrival. Selection from the Gold menu for mains was plentiful and adequate. No choice with starter or dessert but they were both delicious. Staff very helpful and pleasant and we even made a cheeky purchase from the Hard Rock shop.
September 2015
Awesome, great food, great people great service. Even got to choose a song, thanks Pablo. Our waitstaff were friendly and welcoming. Glad we chose Hard Rock. Fun, food and great staff, well done guys.
September 2015
We booked our meals ahead so got a first class service, we were seated within 15 minutes gave us time to look around the shop!. People were leaving as had to wait up to an hour for seats! Food very good, plenty to eat, atmosphere was excellent, would recommend to anyone.
August 2015
I had booked through victor, a Diamond dinner package for the Hard Rock Cafe.
The experience was simply superb!
As soon as i presented my voucher, i had to wait about 10 minutes. then i was shown to my table of 4.
The service was slightly slow due to the massive crowd and traffic inside the cafe.
The food was great and the DIAMOND PACKAGE was exactly as it was described to be.
We thoroughly enjoyed it!
I recommend anyone to give this a try!
August 2015
Had to queue a while but that was due to being 9 in our booking however we still got seated quicker than other guests. We booked the 3 course option and the value for money was brilliant. we saved well over 140 euros. great food and night out. definitely recommended.
June 2015
We aqrrived, and were seated in 10 minutes other people without this deal were told it was an hour wait. I got the ribs and my partner got the Burger, then we both got Oreo Cheesecake. They were huge portions - the same size as what others were ordering who were paying full price! I had to check my emails to see if I had actually paid 30 for the 2 of us, and we had! If we hadn't got this deal we would have had to wait over an hour to be seated, and paid, for the 2 of us around the equivalent to 70/80 when in fact we paid 30. Doing it again in Amsterdam for 2 nights in December!!!
June 2015
Always great food at Hard Rock!!!
June 2015
American-style dining at it's best with great food and fantastically friendly staff. Also the place to be if you like fan-girling over music memorabilia...
Advertisement
Advertisement