Soar above the sublime landscape of Catalonia near Barcelona on this 5-hour early-morning hot air balloon excursion. Marvel at the beautiful golden-tinged sunlight as it strikes beautiful landmarks like Montserrat and the Pyrenee Mountains as you climb to heights of up to 3,000 feet (900m) during your 1- to 1.5-hour flight, floating gently through the air. Soon you'll come back to earth, still exhilarated from your hot air balloon adventure, for brunch with sparkling wine. Your hot air balloon flight also includes a flight certificate, plus optional upgrades for longer 2-hour or private flights.
Highlights
Hot-air balloon flight over Catalonia from Barcelona
Enjoy panoramic views of the Pyrenees, Mediterranean and Montserrat

Conclude the flight with a Champagne brunch
Receive a personalized flight certificate after touching down
Spend longer in the air by selecting a 2-hour flight
Upgrade to enjoy a private hot-air balloon flight
Why Our Insiders Chose This Tour
The glorious views over Barcelona, Montserrat and the Pyrenees make this a very worthwhile splurge. The enthusiastic crew provides a fun and memorable time on this unique experience.
Recent Photos of This Tour
Hot Air Balloon Flight over Catalonia
What You Can Expect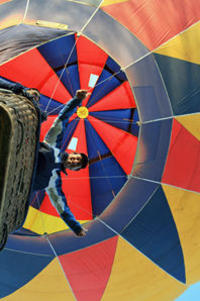 Experience a sky-high early morning hot air balloon flight above the gorgeous landscape of Catalonia followed by a celebratory toast and brunch when you land. This hot air balloon experience, including optional upgrades for private flights, longer 2-hour flights, is sure to take your Barcelona trip to new heights.
The early morning flight time ensures the optimal conditions, as the temperatures tend to be cooler and the sunrise lighting guarantees amazing views.
Start your adventure between 6 and 7:30am with a pickup at the Hard Rock Cafe in Barcelona. Please confirm your exact start time 24 hours before departure, as the schedule is subject to change based on weather conditions and weight restrictions. Then drive by minivan about 30 minutes outside of the city to the launch field. Before you know it, you're soaring into the air, floating gently on the wind currents as you experience fantastic vistas of the Pyrenees, Montserrat, the Mediterranean, the massifs of Montseny and, depending on visibility, even Barcelona itself.
Then come back to earth, heart still pounding from your exciting ride, for a sparkling wine toast and brunch, during which you'll receive your flight certificate. Have more time or want to experience a private flight? Check out the upgrade options below.
Have more time free?
Select the 2-hour flight and spend longer in the air, feeling the air move you around. The itinerary is not set, so where you fly is dependent on weather conditions on the day; it's a great option for adventurous souls who want to simply enjoy the wild freedom of being up in the air at an altitude of more than 7,500 feet (2,285 meters). Enjoy a snack and a glass of cava during your flight and admire beautiful views of deep and wild Catalonian landscape. At the end of your tour, enjoy a typical Catalonian breakfast in a local restaurant.
Always dreamed of a taking a private hot air balloon flight?
Upgrade to a private balloon flight for an experience of a lifetime, and enjoy an intimate hot-air balloon flight for up to 8 people over Catalonia. Why share with strangers? This private balloon ride is for just your party and your pilot, so relax as you enjoy the tranquility of gently floating up to 3,000 feet (900 meters) above Catalonia. On landing, you will be served a Champagne toast and brunch as you are presented with your flight certificate.
June 2016
You should try it at least once!
1. I would like to thank Viator and the organisers for helping us with dates.
2. It was a great experience and best sandwiches! Though we only had one each.. could be few more..
Highly recommended! Amazing views!!!
May 2016
Fabulous experience! Even though the weather was less than ideal, everyone involved worked to make this one of the most enjoyable experiences ever. I would highly recommend this tour.

May 2016
May 2016
I had this in my bucket list and happy I did it in Spain. Loved the experience, the event was very well planned and organized. Would recommend any of my friends to do it. :P
Constructive feedback to give, we were advised would have food prior the event, therefore we didnt prepare anything. When we arrived to the cafeteria, there was only coffee and a machine with candy. I think it should be advised to people to bring at least some snacks since they are not offered at the cafeteria. Honesty is the best policy!

May 2016
For a first time balloon passenger this was a fantastic experience. Prompt and convenient pick-up was followed by a short drive out of the city for pre-flight coffee then on to the launch site. Pilots were all efficient, polite and friendly and the whole morning was an absolute delight. I highly recommend this activity to anyone with a half day to fill in Barcelona.
May 2016
By far one of the best experiences of our lives! Seeing the sun rise over the mountains in Catalonia was breathtaking.
The ballooning company were professional and friendly. The pick up and return service from Barcelona made the experience hassle-free.

Nelly United States of ...
May 2016
I loved this tour! It was amazing being able to fly over Catalonia. The scenery was beautiful! You also get Cava and a sandwich after you finish. I would definitely recommend this tour!

May 2016
Great tour! Our driver, Josep, was very funny and gave us an interesting tour on our way out of the city. Our pilot, Benjamin, was competent and interesting to be with. We had a wonderful and amazing time. We'd easily do this again!!
January 2016
Don't even know where to start. We left Barcelona punctually and we were taken to a city call Vic about a 40 minute drive. Once there we made a quick stop at a small café where we met the other drivers. We took a private ride strongly recommended. Our driver and his anchor were amazing cant remember their names but they both made sure we had a great time. This experience was in my bucket list and I was more than satisfied with the experience. Our tour was on Christmas eve, once we landed they surprised us with a very unique breakfast and drink. Grilled cheese sandwiches cooked with the fire from the hot air balloon right in front of you. Our driver back to Barcelona was also great cant remember her name. Overall we do not have one complain about this tour, loved it, and cant wait to do it again.
December 2015
A once-in-a-lifetime experience! Ballooning over the Spanish countryside! Amazing! Our pilot, Benjamin, and the entire crew, made sure we had an amazing day! Loved, loved, this!
Advertisement
Advertisement