750 Reviews
Location:

Barcelona, Spain

Duration:

10 hours

(approx.)
Combine mountains, history and wine on a visit to Montserrat and either the Freixenet or Codorniu winery on a full-day small group tour by minivan from Barcelona. You'll travel in a comfortable air-conditioned minivan and receive individual attention from your expert tour guide. On this small group tour, you'll receive personalized attention from your guide.
Highlights
Full-day small group tour by minivan to Montserrat and Freixenet winery
Personalized small group and commentary
Free time to explore Montserrat Monastery's basilica and scenic parklands
Tour of Freixenet winery's vast cellars and wine tasting
Professional English-speaking guide
Illuminating commentary from your expert guide
Transport by comfortable air-conditioned minivan
Recent Photos of This Tour
Montserrat and Cava Trail Small Group Day Trip from Barcelona
What You Can Expect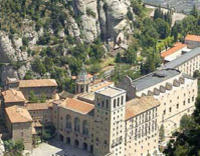 Leaving Barcelona, you'll head straight to Montserrat to visit the Royal Basilica where the famous 12th-century statue of the Black Virgin is housed. At 1pm on weekdays there is the opportunity to hear one of Europe's oldest children's choirs, La Escolania de Montserrat. While you're here there's time to visit the fascinating Museum of Montserrat, go for a walk or ride the rack railway or cable car up the mountain.

In the afternoon, leave Montserrat to visit one of the most famous wine producers of the Penedes region, either Freixenet or Codorniu. Visit their vast wine cellars, sample the product and see why this sparkling wine has acquired international fame.
Itinerary
Departure is from Barcelona at 8:30am, and from Barcelona we will head straight to Montserrat, just over an hour and a half away. On arrival, you have various options. A visit to the Sanctuary where the Moreneta is housed is a must. The sanctuary has been in use for almost 1000 years for those pilgrims and other visitors who have climbed this spectacular mountain. At 1pm on weekdays there is the opportunity to hear one of Europe's oldest children's choirs, La Escolania de Montserrat. There is also the opportunity to visit the fascinating Museum of Montserrat, with its five collections ranging from Archaeology from the Biblical East to Modern Painting and Sculpture.

Besides these cultural possibilities, the paths of the Montserrat parkland lead you around a number of different walks, each offering a different perspective on the stunning views over the surrounding landscape, and many of which are peppered with small chapels and hermitages. There are routes to suit all tastes and energy levels, from fairly strenuous treks to gentle strolls around the park area, all of which allow you to marvel at the views and to enjoy the unspoiled beauty of this protected natural park. Another option is to take one of the two rack railways, or the cable car, offering different views of the area. Alternatively, the views can simply be savored from the cafe, which offers panoramic views of the valleys.

At 2.30pm, the tour will leave Montserrat, to drive down to Sant Sadurni d'Anoia, the Cava Capital, via Gelida, to visit some of the biggest underground wine cellars in Europe. Sant Sadurni d'Anoia is situated in the Penedes wine-growing region, which boasts one of the widest varieties of grape of any wine-growing region in the world. The region received a major boost in the late 19th-century when French vineyards succumbed to parasite, although Penedes itself was later struck by the same problem. Production has since recovered, and Cava is now a major rival to French champagne; in fact, the main difference between Cava and champagne is simply the region in which they are produced.

Two of the most famous wine producers of the Penedes region are Freixenet and Codorniu, and the tour will continue with a visit to one of their wine cellars, where they will demonstrate exactly how the famous sparkling wine is produced, from the first pressing of the grapes to the second fermentation in the vast expanse of cellars. This will of course be accompanied by the chance to sample the product, to see exactly why it has acquired such international fame. From here, the tour returns to Barcelona, arriving at 7:00pm.
October 2015
This was a wonderful tour with a lot of variety. This was our first trip to Spain so it was nice to see a little of the countryside. There were 6 people in our group and the guide was great and shared his knowledge about the local culture as well as the history of the areas that we visited. At Montserrat we visited the Basilica, listened to the Boy's Choir, and hiked up the mountain trail. There was also an art museum but we didn't have enough time to visit. After lunch, we drove to a vineyard and had a wonderful tour and then sampled multiple wines. We started at 8:30 sharp and returned at 7 PM. Highly recommend this tour.
September 2015
This is a very nice tour. Our guide was very knowledgeable and witty. The mass at Montserrat is a must specially the choir.
The Cava tasting was also excellent. Learned a lot about wine making and tasting. Excellent presentation by our guide from Pares Balta
September 2015
I took this tour with my husband and a friend visiting from Australia. Our guide was extremely knowledgeable and enthusiastic about his subject matter. A very enjoyable tour.
September 2015
Great trip. Love the Cava.
September 2015
The trip was so worth it....it's not far from Barcelona and Monserrat is such a beautiful place...the Cava tour was really an experience....should not miss it!!!
September 2015
The drive to Montserrat was scenic and as we approached, I figure 30-45 minutes for viewing and pictures. Our guide gave us a briefing and then said we would meet in 3 1/2 hours. I looked at him like he was crazy.
Clearly, I had not done my homework. A cable car ride to the top, a nice paced walk down with breathtaking view the whole way, a short live mass viewing while waiting for the famous boys choir it was packed so full it was almost not worth it but they were amazing, a quick lunch, a walk through the art museum and I glance at my watch only to realize I have to briskly walk back to te rendezvous. The time evaporated!
Highly recommend if you are in Barcelona for more than a couple days.
Our trip then continued to the Parez Balta winery. A very nice small to medium sized place for the region. Our guide was passionate, knowledgeable and a great hostess. Tasted a limited edition that was smooth and refined. I'm not a big sparkling wine fan, but would serve this over most champaign I've had for even close to the price 22 in house! I didn't research local pricing. We had nice samplings of a white, rose and red as well. All were mid range wines but all were nice. The prize of this trip was the learning more fine details of the process and the science behind it, the tasting was more bonus.
If you're looking to taste a larger variety for comparison i.e. 84 to 90 rated red with reviews on how ratings were reviewed as displayed in the lobby, then this might not be the trip for you. If you're looking for great local insight of the process with a scenic ride in and out and a nice small sampling, it's would be hard to match.
September 2015
Great tour but don't dawdle if you want to catch the funicular up to the top, walk back and get a good spot to see the choir. You must be early to even get inside. Cava tour was also good. David was a very good and interesting guide - good fun. Man, can he talk!
Overall, a really good tour - highly recommend it
September 2015
The trip was great and our guide Emma was outstanding! Having time to explore Montserrat on our own was perfect. The Cava tour was very insightful video at the start of the tour could use a little refinement, but as a marketer, I guess I'm a little tough on marketing tactics!. The cava itself was great and I left with several bottles.
September 2015
Tour guide Joseff was amazing. Very informative quick tour of Monserrat before our free-time to help plan our morning. Bus/bus driver were great! Couldn't have asked for a better winery experience. The wine tasting and snacks provided exceeded my expectations. Great value for the price.
August 2015
This trip to Montserrat followed by the Codorniu winery was one of the highlights of our weeklong stay in Barcelona. We were a family of four with two grown children. Our guide was David, who was very engaging, helpful, knowledgeable and proud of Montserrat, having grown up in the vicinity.
Montserrat is simply not to be missed. Especially the mountain scenery, just breathtaking. We left the city at 8:30am in a minivan with another couple, six in all, arriving around 9:30, leaving us reasonable time to go exploring before our 2pm departure time.
When we arrived a mist was pretty much hiding everything, but it quickly burned off. One has many choices for exploring Montserrat and it can be confusing to plan the best use of your time. David introduced us to the basilica and the legend of the Black Madonna and threw in two thousand years of Catalan history in about 7 minutes. We decided first to take the Sant Joan funicular up to the top of the mountain. Fantastic. Once at the top you can find many beautiful vistas to soak in and to photograph. We then returned via the funicular. It's possible to walk down, but time and energy levels weren't up to it. Then we decided to walk up to the Cross of San Miguel. About a 20 minute walk, very steep at times. People of all ages were doing it as well as a few dogs!. Well worth it. Once you reach the cross you have the definitive view of Montserrat, with the monastery buildings overlooked by the mountain. After walking back, my wife then got into see the Black Madonna. There was a wait but not too bad.
After Montserrat we visited the centuries-old Codorniu winery. We had a guide from the winery, a group of about 20, with David tagging along. The tour was in English. He took us to the ancient underground cellars where the wines and Cavas used to be made. Miles of cellars. We then got to taste the Cavas. Calling it sparkling wine does it injustice.
We returned to Barcelona around 6:30.
Advertisement
Advertisement