738 Reviews
Location:

Barcelona, Spain

Duration:

10 hours

(approx.)
Combine mountains, history and wine on a visit to Montserrat and either the Freixenet or Codorniu winery on a full-day small group tour by minivan from Barcelona. You'll travel in a comfortable air-conditioned minivan and receive individual attention from your expert tour guide. On this small group tour, you'll receive personalized attention from your guide.
Highlights
Full-day small group tour by minivan to Montserrat and Freixenet winery
Personalized small group and commentary
Free time to explore Montserrat Monastery's basilica and scenic parklands
Tour of Freixenet winery's vast cellars and wine tasting
Professional English-speaking guide
Illuminating commentary from your expert guide
Transport by comfortable air-conditioned minivan
Recent Photos of This Tour
Montserrat and Cava Trail Small Group Day Trip from Barcelona
What You Can Expect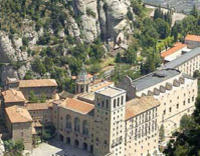 Leaving Barcelona, you'll head straight to Montserrat to visit the Royal Basilica where the famous 12th-century statue of the Black Virgin is housed. At 1pm on weekdays there is the opportunity to hear one of Europe's oldest children's choirs, La Escolania de Montserrat. While you're here there's time to visit the fascinating Museum of Montserrat, go for a walk or ride the rack railway or cable car up the mountain.

In the afternoon, leave Montserrat to visit one of the most famous wine producers of the Penedes region, either Freixenet or Codorniu. Visit their vast wine cellars, sample the product and see why this sparkling wine has acquired international fame.
Itinerary
Departure is from Barcelona at 8:30am, and from Barcelona we will head straight to Montserrat, just over an hour and a half away. On arrival, you have various options. A visit to the Sanctuary where the Moreneta is housed is a must. The sanctuary has been in use for almost 1000 years for those pilgrims and other visitors who have climbed this spectacular mountain. At 1pm on weekdays there is the opportunity to hear one of Europe's oldest children's choirs, La Escolania de Montserrat. There is also the opportunity to visit the fascinating Museum of Montserrat, with its five collections ranging from Archaeology from the Biblical East to Modern Painting and Sculpture.

Besides these cultural possibilities, the paths of the Montserrat parkland lead you around a number of different walks, each offering a different perspective on the stunning views over the surrounding landscape, and many of which are peppered with small chapels and hermitages. There are routes to suit all tastes and energy levels, from fairly strenuous treks to gentle strolls around the park area, all of which allow you to marvel at the views and to enjoy the unspoiled beauty of this protected natural park. Another option is to take one of the two rack railways, or the cable car, offering different views of the area. Alternatively, the views can simply be savored from the cafe, which offers panoramic views of the valleys.

At 2.30pm, the tour will leave Montserrat, to drive down to Sant Sadurni d'Anoia, the Cava Capital, via Gelida, to visit some of the biggest underground wine cellars in Europe. Sant Sadurni d'Anoia is situated in the Penedes wine-growing region, which boasts one of the widest varieties of grape of any wine-growing region in the world. The region received a major boost in the late 19th-century when French vineyards succumbed to parasite, although Penedes itself was later struck by the same problem. Production has since recovered, and Cava is now a major rival to French champagne; in fact, the main difference between Cava and champagne is simply the region in which they are produced.

Two of the most famous wine producers of the Penedes region are Freixenet and Codorniu, and the tour will continue with a visit to one of their wine cellars, where they will demonstrate exactly how the famous sparkling wine is produced, from the first pressing of the grapes to the second fermentation in the vast expanse of cellars. This will of course be accompanied by the chance to sample the product, to see exactly why it has acquired such international fame. From here, the tour returns to Barcelona, arriving at 7:00pm.
August 2015
This trip to Montserrat followed by the Codorniu winery was one of the highlights of our weeklong stay in Barcelona. We were a family of four with two grown children. Our guide was David, who was very engaging, helpful, knowledgeable and proud of Montserrat, having grown up in the vicinity.
Montserrat is simply not to be missed. Especially the mountain scenery, just breathtaking. We left the city at 8:30am in a minivan with another couple, six in all, arriving around 9:30, leaving us reasonable time to go exploring before our 2pm departure time.
When we arrived a mist was pretty much hiding everything, but it quickly burned off. One has many choices for exploring Montserrat and it can be confusing to plan the best use of your time. David introduced us to the basilica and the legend of the Black Madonna and threw in two thousand years of Catalan history in about 7 minutes. We decided first to take the Sant Joan funicular up to the top of the mountain. Fantastic. Once at the top you can find many beautiful vistas to soak in and to photograph. We then returned via the funicular. It's possible to walk down, but time and energy levels weren't up to it. Then we decided to walk up to the Cross of San Miguel. About a 20 minute walk, very steep at times. People of all ages were doing it as well as a few dogs!. Well worth it. Once you reach the cross you have the definitive view of Montserrat, with the monastery buildings overlooked by the mountain. After walking back, my wife then got into see the Black Madonna. There was a wait but not too bad.
After Montserrat we visited the centuries-old Codorniu winery. We had a guide from the winery, a group of about 20, with David tagging along. The tour was in English. He took us to the ancient underground cellars where the wines and Cavas used to be made. Miles of cellars. We then got to taste the Cavas. Calling it sparkling wine does it injustice.
We returned to Barcelona around 6:30.
August 2015
Loved this tour and loved our guide. There were only 4 of us on the tour the day I went, including our lovely guide. It was 4 girls altogether and we had a great time! The guide, I don't remember her name, but was very friendly, informative, and just a great person to be around. Our time in Montserrat was great but I think we even had a better time at the winery, Pares Balta. I think because our group was small, they were able to provide an even more personalized tour of their organic winery amazing! and provide generous tastings of the excellent cava wine and snacks. It was one of the best tours I've been on and I highly recommend it!
August 2015
My favorite tour of my trip. Bring your walking shoes and your camera. Breathtaking views. We did the extra museum tour at Monserrat and really enjoyed that as well.
August 2015
We enjoyed the tour of Montserrat and the hike we took above the monastery. We thought the Cava tour was fabulous. We thoroughly enjoyed it.
August 2015
Great day trip. This tour allows for a good amount of time to walk around Montserrat and explore on your own. Then off to a winery. This was truly a great day trip. I will recommend it to family and friends.
August 2015
amazing tour, wish I had more time at Monserrat to explore more. tour guide was great and the people at the cava winery were very enthusiastic and made the experience great
July 2015
Montserrat was amazing! The cava winery was the best, wonderful tour guide and a pleasant group of fun travelers!!!
July 2015
What a great tour...the guide was most informative with a great depth of knowledge about Montserrat and it's history what a fantastic place! The visit to the winery Pares Balta was a joy...great wines with 'nibblies' with lovely staff who are passionate about their wine, from their growing techniques to the finished product. They even provided soft drinks for the couple of kids on the tour.
July 2015
This was an exceptional tour for us. The guide, Mable, was very knowledgeable and receptive to questions. She provided full insight into the most recommended sights for us to see when we were on Montserrat. The real highlight of the trip, however, was the visit to the winery. The tour there was comprehensive, and entertaining. We would recommend this trip to anyone who is considering it.
July 2015
This is a wine tour that is over the top. You get a thorough detailed tour about the process of cava, and its definitely geared to entertain and educate.
Advertisement
Advertisement