773 Reviews
Location:

Barcelona, Spain

Duration:

10 hours

(approx.)
Enjoy beautiful mountain scenery, history and wine during this 10-hour, small-group excursion that includes a visit to Montserrat and a winery tasting near Barcelona. Drive by air-conditioned van to the hilltop religious site of Montserrat, where you'll enjoy spectacular views and see the Black Virgin, a 12th-century religious icon. Then head to Sant Sadurni d'Anoia, the nexus of Catalonia's wine industry, where you'll visit a winery for a tasting. Along the way you'll get personal attention from your knowledgeable guide.
Highlights
Full-day small group tour by minivan to Montserrat and a winery
Personalized small group and commentary
Free time to explore Montserrat Monastery's basilica and scenic parklands
Tour of a winery's vast cellars and wine tasting
Professional English-speaking guide
Illuminating commentary from your expert guide
Transport by comfortable air-conditioned minivan
Recent Photos of This Tour
Montserrat and Cava Trail Small Group Day Trip from Barcelona
What You Can Expect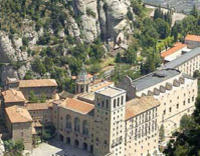 Spend the day exploring the history and wine-making of the region near Barcelona on this 10-hour, small-group excursion. Not only will you have a chance to enjoy the area's spectacular scenery, you'll also gain a newfound appreciation for its religious significance at Montserrat and its many years of winemaking traditions at a local winery.
Leave from Barcelona at 8:30am for a visit to Montserrat, a monastery sit amongst the craggy mountains just outside of town. See the complex's famous Royal Basilica, which contains the 12th-century statue of the Black Virgin, a venerated icon. If you visit during the week, you'll also get to hear the angelic singing of La Escolania de Montserrat, one of the oldest children's choirs in Europe. During your visit you can also stop by the Museum of Monserrat to explore the site's history, or take a ride aboard to the rack railway or cable car for sublime mountain views.
During the second half of your day you'll head to Catalonia's Penedes region to learn about the area's vast wine industry. Stop by a winery, where you'll have a chance to view the vast wine cellars and taste some of the wineries' top-notch products. For a more detailed itinerary description, please see below.
Itinerary
Departure is from Barcelona at 8:30am, and from Barcelona we will head straight to Montserrat, just over an hour and a half away. On arrival, you have various options. A visit to the Sanctuary where the Moreneta is housed is a must. The sanctuary has been in use for almost 1000 years for those pilgrims and other visitors who have climbed this spectacular mountain. At 1pm on weekdays there is the opportunity to hear one of Europe's oldest children's choirs, La Escolania de Montserrat. There is also the opportunity to visit the fascinating Museum of Montserrat, with its five collections ranging from Archaeology from the Biblical East to Modern Painting and Sculpture.

Besides these cultural possibilities, the paths of the Montserrat parkland lead you around a number of different walks, each offering a different perspective on the stunning views over the surrounding landscape, and many of which are peppered with small chapels and hermitages. There are routes to suit all tastes and energy levels, from fairly strenuous treks to gentle strolls around the park area, all of which allow you to marvel at the views and to enjoy the unspoiled beauty of this protected natural park. Another option is to take one of the two rack railways, or the cable car, offering different views of the area. Alternatively, the views can simply be savored from the cafe, which offers panoramic views of the valleys.

At 2.30pm, the tour will leave Montserrat, to drive down to Sant Sadurni d'Anoia, the Cava Capital, via Gelida, to visit some of the biggest underground wine cellars in Europe. Sant Sadurni d'Anoia is situated in the Penedes wine-growing region, which boasts one of the widest varieties of grape of any wine-growing region in the world. The region received a major boost in the late 19th-century when French vineyards succumbed to parasite, although Penedes itself was later struck by the same problem. Production has since recovered, and Cava is now a major rival to French champagne; in fact, the main difference between Cava and champagne is simply the region in which they are produced.

The tour will continue with a visit to one winery, where they will demonstrate exactly how the famous sparkling wine is produced, from the first pressing of the grapes to the second fermentation in the vast expanse of cellars. This will of course be accompanied by the chance to sample the product, to see exactly why it has acquired such international fame. From here, the tour returns to Barcelona, arriving at 7:00pm.
January 2016

January 2016
I'm so glad i booked this tour.
It was so easy to have a tour guide drive us to Montserrat and the winery.
Our tour guide Josep was very knowledgeable and a good driver as well.
It was nice being a small group tour so that it's more personalized and intimate vs the large big bus tours.
The tour was paced well - never felt rushed.
And the cava winery tour exceeded my expectations. Who knew there was so much history and architecture in that!
Plus the tasting was delicious. My regret is not buying any bottles from there.
My husband and i were very satisfied with this tour group and highly recommend it to everyone.
November 2015
THe only thing bad about this tour was that there was not as much time at Montserrat as I would have liked, so I guess I will have to go back :

November 2015
Awesome trip and the guide was so informed that it seemed she knew the questions we were going to ask before we did. Great trip.

November 2015
Breathtaking! our tour guide Josef was very informative and he was not boring, love him!!!

November 2015
Montserrat is simply amazing! Highly recommend it as the views are just beautiful. I would also recommend taking the time to see the Saint Mary inside the Cathedral, stunning.
November 2015
We lucked out with a perfect weather day - I liked the free time we had to ourselves at Montserrat to hike and hear the boys choir - great recommendation from tour guide to get to the church early for that! The cava tour was also enjoyable and great opportunity to see a bit of the countryside.
November 2015
A must see for anyone traveling to Barcelona. We really enjoyed the combination of Montserrat and then a tour of Codorniu vineyard. Montserrat was more like a pilgrimage for us, the experience was just so beautiful. The tour of the Codorniu vineyard was one of the most extensive tours I have ever had of a vineyard. It was a lot of fun to ride on the trains and sample the cava.
Peter Thailand
October 2015
After a brisk walk to the minibus, we quickly set off for Montserrat in the thick of the morning rush hour, but fortunatey we were going against the traffic flow and we made good time. Wonderful time up in Montserrat with the clouds playing hide and seek with the towering boulders that rose above us. We took thhe funicular to the top extra cost, but well worth it and later went in to hear the Boys choir sing prayers at 1pm. Sadly and nothing to do with the tour some people seem to have forgotten their basic manners even inside a church. Later onto Le Cordonui, and a terrific tour by train of their cellars and wine tasting. Long journey back into Barcelona due to traffic but the Guide/Driver kept us amused with many tales of his lifes experiences, Totally recommended!
October 2015
Highly recommend wish we had more time at Montserrat
Advertisement
Advertisement