Satisfy an appetite for adventure at Spain's most popular theme park and aquatic center with an all-day pass to PortAventura and Costa Caribe. Feel your adrenaline levels surge as you tackle rollercoasters, free-fall slides and accelerator rides and watch the kids delight in themed areas like Sesame Street Adventure. Experience the exhilaration of these two top attractions at your own pace by selecting from a variety of tickets; spend either the day or night at PortAventura or Costa Caribe, or spread your ticket's validity over two or three days for an extended adventure.
Highlights
Entrance ticket to PortAventura or Costa Aribe
Explore Spain's premier theme park and aquatic center
Visit PortAventura's different zones: Mediterrània, the Far West, China and Polynesia
Enjoy an exhilarating ride on the Shambhala, Europe's tallest roller coaster

Splash around on water slides at Costa Caribe aquatic park
Choose from a selection of tickets to suit your schedule
What You Can Expect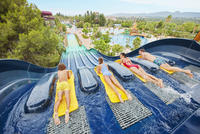 Make your own way to Spain's sun-drenched Costa Dorada to begin your exciting experience within PortAventura and Costa Caribe. Head straight in with your entrance ticket and begin exploring the exciting attractions on offer.
PortAventura:As Europe's second largest theme park, PortAventura boasts an exciting variety of zones tailored to different ages and interests. Those seeking adrenaline will delight in the white-knuckle extremity of rides like Shambhala, Europe's highest roller coaster, and Furius Baco, on of the fastest accelerator rides in the world.
Children will be entertained for hours in themed enclaves like Mediterrania and the Wild West, where gripping shootouts and classic Catalonian cultures reign supreme. Explore the wonders of China as you stroll aside the Great Wall of China and absorb the oriental ambience of the Asian area.
Enjoy a revitalizing rest while watching one of the park's daily shows; see impressive acrobatics and dazzling dances before venturing to one of the international restaurant to feast on delicious dishes.
Costa Caribe:Located beside PortAventura is the aquatic park of Costa Caribe, Spain's most popular themed water park. Make a splash as you explore exciting attractions like free fall slides, powerful water jets and colorful children's areas.
Let your adrenaline levels surge on the vertiginous vertical slide that boasts the title of Europe's highest, and race your companions down the 6-lane racer slides. Satisfy your appetite in one of Costa Caribe's diverse eateries and sip refreshing soft drinks in one of the bar areas.
September 2015
Kids had fun. lots to do. worth the money
July 2014
Excellent venue. We had an eight year old with us though who marginally failed to meet the minimum on the majority of rides. It worked out pretty expensive on ratio of cost/ available rides.
June 2015
We really enjoyed our time in water park.Safe enough for children.
June 2015
Its a nice team park but you have to cue for hour to get 1 ride that last for 3 mins.I don't think its worth going there specially busy summer time.
January 2016
Your guaranteed low prices promotion is a scum. We could have bought these tickets at the train station for the same price which includes the transfer to the park. Also system does not warn you when the Costa Caribe park opens or that the big roller-coaster do not operate when the weather is windy. As this park is located on the sea shore wheather is mostly windy...
Advertisement
Advertisement