Combine a trip to one of Barcelona's most iconic natural landmarks with the modernist masterpieces of Antoni Gaudi on a private full-day tour of Montserrat and Park Güell. With an erudite guide, explore the rural magnificence of Montserrat and its ancient Benedictine Abbey, home to the 12th century Black Virgin, and then embark on a guided tour of some of one of Gaudi's most impressive creations. Explore the eccentric sculptures within Park Güell and receive the undivided attention of your guide on this private tour.
Highlights
Private day trip from Barcelona to Montserrat and Antoni Gaudí sites
Explore Montserrat and see the 12th-century Black Virgin
Learn interesting facts about the fantastic Antoni Gaudí

See two of his works, Park Guell and Colonia Guell
Transport by air-conditioned minivan
Private English-speaking guide provides personalized attention

Recent Photos of This Tour
Private Montserrat, Gaudi and Modernism Day Trip from Barcelona
What You Can Expect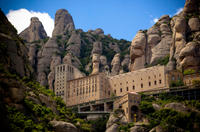 Depart from a central Barcelona location in a private, air-conditioned vehicle and travel to the craggy peaks of Montserrat, a natural landmark home to an ancient Benedictine abbey. Venture within the sacred sanctuary home to 'La Moreneta', a 12th-century statue of a black Virgin Mary that has been attracting pilgrims for more than a millennium.
Delve into the rich history of the region in the Museum of Montserrat and browse exhibitions that speak eloquently of sculpture, archaeology and biblical writings. Discover a selection of picturesque walking trails around the mountain and take a rack railway or cable car ride to absorb sweeping vistas of the incredible surroundings.
Revitalize with a traditional lunch and then head to Colonia Güell to see a famously unfinished church by modernist architect Antoni Gaudi. Descend to the depths of the crypt, the only part of the construction to be completed, and then head to Park Güell to discover a hallucinatory landscape of sculptures and artwork. Gaze at lizard mosaics and 'Gingerbread Houses' reminiscent of fairytales; sit on colorful ceramic benches; and lose yourself in a mystifying labyrinth made solely from rocks and pine trees.
Choose to return to your Barcelona hotel or continue exploring Park Güell at the end of your tour.
July 2015
Really enjoyed the trip especially Montserrat and La Grada Familia. Our tour guide/driver, Enrique was excellent.
December 2013
Absolutely fantastic! Our guide/driver Nick, came with a lovely car, made us very comfortable and drove us around for 8 hours.
We went to the Montserrat Mts. with intentions of seeing the Monastery; however, my travel mate suffered a foot injury earlier in the trip, so we opted for the least amount of walking and sadly needed to pass on the Monastery. We spent the remainder of the day doing all things Gaudi and Barcelona. It was a packed agenda, filled with Nick's knowledgeable details, beauty and unlimited photo opportunities.
I would highly recommend this journey and if possible ask for Nick. He is a walking-talking Google Search Engine! I give it 10 stars!!!
I am a professional photographer, if you would like to see some photos of this wonderful shore excursion in Barcelona please email me at kris@kristenkay.com. I will put you on a list and send you a link when I post my photos to the website.
July 2013
Another brilliant day! Anna was a fantastic guide. Again, I learned so much about the history of Barcelona and its surrounds. As I had already seen Parc Guell she happily varied the itinerary to suit. Highly recommended!

Nathan USA
March 2013
Our guide was Alejandro and was delightful. He picked us up at our hotel right on time even though our hotel was a little hard to find. We started off by heading up to Montserrat. It had just snowed the day before so there was still snow and ice on the ground at the top of the mountain. We got there early enough to beat much of the crowd which was great. Alejandro has very knowledgeable about the area and history which was great. We had time to explore and we chose to ride the funicular to the very top (a must! the view was incredible) and do a little hiking. Afterward we headed back to meet our guide and wished we had a little more time to hike. Next time we'll make it an all day trip. From there we headed to Colonial Guell and got to explore Gaudi's crypt and the small town. The small museum they had there was very informative as well and had a great example on display of how Gaudi designed his buildings. We ate lunch in Colonial Guell at a great little restaurant that Alejandro suggested. We spent some more time walking around the beautiful area and then headed to Park Guell. This was by far the most crowded by this time of day, but we did manage to walk around, explore and get some pictures in. We did enjoy the view and our guide once again gave us a great history lesson of the park and Gaudi and took some pictures of us as well! One of the best private tours we took while in Barcelona. A must do.
October 2012
MONTSERRET WAS AMAZING... OUR GUIDE/DRIVER, ALEX WAS GREAT. HE WENT OUT OF HIS WAY TO DO and SEE ALL THAT WE REQUESTED ... HE WAS VERY INFORMATIVE and UP ON THE MODERNISM OF GAUDI ARCHITECTURE. ALL OF US 3 LADIES JUST LOVED HIM. GREAT !!!!!!!!!!!!!!!

July 2012
Our tour guide, Andrew, was excellent and even bought us Cava and cold drinks. A much more relaxed day than standard tours. We stopped at an authentic Catelonian restaurant for lunch.
January 2012
Great guide. The Gaudi portion of this trip was canceled due to a scheduled event so we went Cava tasting and it was great. The winery had the largest wine cellar in the world and an extremely interesting tour was given by our very dynamic guide. Montserrat was gorgeous and everything I ever imagined it to be. Since it was winter we were able to see and do everything we wanted. Unfortunately the cable car and cog wheel trains were being repaired that day, so we were unable to go to the top of the mountain. However, were still able to do a considerable amount of hiking with sweeping views; had ample time to listen to the choir; no line to see the Black Madonna; and also bought some great cheese on the way back. Excellent. My favorite tour of all.
October 2011
Montserrat was excellent! Well worth seeing for anyone visiting Barcelona!
July 2011
Excellent!!! perfect A++++++
June 2011
This trip was all that I hoped for as far as the history and spiritual significance of Montserrat . The visual beauty of the surrounding area was awesome. The best part of the tour, for me, was the trip to Colonial Guell and the insight into the vision Gaudi had for his future masterpiece, Sagrada Familia. An unexpected delight!
Advertisement
Advertisement