Revel in the incredible mountain scenery of the Pyrenees Spain on this hiking day trip from Barcelona, with an experienced guide. Travel through the charming villages of the Pyrenees' foothills by minivan, and ride a rack railway to the gorgeous Nuria Valley, a vision of green pastures and peaks overlooking a jewel-like lake. Drink in the setting and crisp air, and enjoy time to follow the hiking trails, go horse riding or boating, or visit a traditional restaurant. Numbers are limited on this small-group tour for a more personalized experience.
Highlights
Full-day small group tour by minivan to the Pyrenees
Visiting the historic town of Vic and its cathedral and market square
Personalized small group and commentary

Riding the rack railway from Queralbs to a stunning mountain valley
Hiking, horse riding, boating and other activities
Professional English-speaking guide
Transport by comfortable air-conditioned minivan
Recent Photos of This Tour
Pyrenees Mountains Small Group Day Trip from Barcelona
What You Can Expect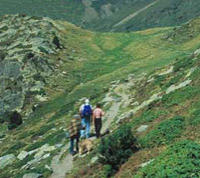 Put on warm clothes and sturdy walking shoes, and meet your guide and the rest of your small group in central Barcelona. Hop inside your air-conditioned minivan and journey into the countryside on route to the Pyrenees.
As you travel, hear tales of the region's history from your guide and pass Montseny Natural Park, a protected region of mountains, forests and high moors.
After roughly an hour, make your first stop in the quaint market town of Vic. Enjoy free time for breakfast (own expense) or to explore the medieval center, with its picturesque market square, cathedral and Romanesque and neoclassical buildings.
Back aboard your minivan, continue to the stone-built mountain village of Queralbs; the last point on your route accessible by road.
Leave the minivan, and accompanied by your guide, ride the rack railway up to the Nuria Valley. Home to a lake and bright green pastures ringed by high peaks, this picturebook valley is one of the most beautiful in the Pyrenees.
Admire the scenery from the train, and on arrival, enjoy several hours to explore as you wish. Perhaps follow your choice of the hiking trails suitable for different fitness levels, such as the paths up to the Valley Coma de Vaca. Although a good physical fitness is not a prerequisite of this tour, a reasonable level is required if you wish to take the Coma de Vaca trails.
Alternatively, take your pick from the local activities (own expense) such as horseriding or boating, or enjoy a meal (own expense) at one of the traditional Catalan restaurants. See the Itinerary for details of the activities available.
When the time comes, return to Barcelona where your trip ends at the start point.
Please note: Annual track maintenance on the rack railway from Queralbs means that the line is closed between Mondays and Fridays from November 1 to November 30. On these days, the tour will run to an alternative itinerary that involves accessing the mountain valleys by road or hiking at a lower height. These changes will in no way take away from your Pyrenees experience.
Itinerary
Head north quickly leaving the hustle and bustle of a busy Mediterranean city behind, driving past Montseny. The Montseny is a 30,000 hectare natural park that was designated a world biosphere reserve by UNESCO in 1978 and is still a haven for wild boars, badgers, hares, foxes, red squirrels, eagles, and red partridges among others, living in beech, pine and oak forests.

Just an hour from Barcelona, you will stop for a short break in the ancient settlement of Vic. Here you will have a chance to stroll around the town center with its cathedral (a mixture of styles ranging from Romanesque to neo-classical), and its magnificent renaissance and baroque buildings; or to relax while having breakfast in the heart of the town: a beautiful arched square where the market and other major events are held.

Continue up to the Pyrenees driving past the Montesquiu Castle, surrounded by dense Oak and Red Pine forests. Montesquiu Castle is a fortified building dating from the 10th century. Originally serving the military until 15th century, it later became a stately home.

Next stop is Queralbs, which, at an altitude of 1,236 meters above sea level, is the last vehicle-accessible village on the way up to our mountain valley destination.

Queralbs has a population of only 200 permanent residents, but numbers are swollen in the summer when the age-old tradition of transhumance brings shepherds and their flocks up to the higher ground. This has been documented tradition since 1273, when the infant Jaume, son of Jaume 1 of Catalonia and Aragon bestowed the right to the grazing land on the people of the village. Here you will see the Church of Sant Sadurni de Fustanya, built from stones so perfectly-hewn that legend has it that it was built by the fairies.

From Queralbs, you take the last 6 kilometers of the impressive rack railway, construction of which began in 1931, up to an altitude of 1964m above sea level, into the stunning mountain valley, formed by the glacial action of the ice from all 7 surrounding peaks pushing downwards. In the valley is a sanctuary, originally built to house pilgrims to the valley, which takes its name from the Virgen de Nuria. Her image, was reputedly unearthed by a very persistent ox.

In the valley, you can enjoy the unspoiled scenery, sharing it with unusual birds and animals ranging from Gryphon Vultures to chamois, and golden eagles to marmots, and take one of the many different walks, of varying levels of difficulty, or you can try horse riding, open air bowling, archery lessons, crazy golf, or boating on the lake. If that seems too energetic, another option is to enjoy some of the traditional Catalan dishes available in the valley's restaurants.

May 2016
thanks for remarkable travel! all you knows the country in the small cities and villages better. magic types, mountains, and even snow. will be remembered for a long time, separate thanks to Laura for participation and fine humour !
May 2016
This was our favorite part of our trip, the tour guide, David made the experience even better. The views were breathtaking, did not want to leave. We learned a lot on the drive to and from the mountains. Worth every penny, would love to do this again. Highly recommend.
May 2016
We had a great guide with Veronica. It was a very rainy day and it was snowing in the Pyrenees so whilst we did not get to hike it was still a great experience - especially if you have never seen the mountains before.

April 2016
We had a great day in the Pyrenees on this tour. The weather was clear and sunny although still chilly. We visited Vic on a day the market was in full swing. The rack railroad ride through the mountain pass to Vall de Nuria was gorgeous and IMO is on a par with the train ride to Machu Picchu. We did some light hiking and also took the tram to the mountaintop. A visit to another medieval town and then a drive through beautiful scenery back to Barcelona. Highly recommend!
Chega United Kingdom
April 2016
The trip to Pyrenees is highly recommended. The Nuria valley is a splendid sight. The Queralb village seems to be forgotten by time. The only recommendation we have is to allow for more time especially at the Nuria valley.

March 2016
This was a great tour and the bonus was a spectacular weather day on top of it. The tour left from the offices by the Palau Musica which is very easy to find and close to the metro. We had about a 1 hour drive and stopped in the town of Vic. This was a charming town where our excellent guide, Feliciano gave us some of the town's history including showing us an intact Roman temple from early in the 2nd century and the local cathedral with beautiful murals instead of stained glass. We then got over an hour of free time to explore which since it was a Saturday and was market day, was a lot of fun as we gathered up supplies for a picnic in the mountains. We then continued on to the town of Queralbs where we caught the funicular train up to the Nuria Valley. Feliciano was able to answer questions and provide a lot of information about the area. Then we had a lengthy amount of time to hike and explore the Nuria Valley. There was some snow and skiers but we were able to still walk in sneakers without much trouble. After our hiking time, we got some more time to walk in Quelrabs and then the drive back to Barcelona. It was a great tour and tour guide and a beautiful part of Catayluna
January 2016
Very good guide! Good timing to visit the villages and the Pyrenees. You didn't get tired.Good bus conditions. Yes, you can join this tour and enjoy it!
EFREN R United States of ...
January 2016
Our tour guide, David, explained the details of the history of Catalonia which made our trip very interesting. The breathtaking views, rich ancient history, Caga tio, train ride and cable car going up to the mountain covered with snow should not be missed.
December 2015
A nice visit to the Pyrenees. David was an outstanding guide. He explained what we were going to see and gave great descriptions and history about each place.
November 2015
Wonderful trip! It was great to get out of the city for a day of hiking in the beautiful Pyrenees. If you take this tour on either a Wednesday or Saturday you will be able to experience the market at Vic - well worth it!
As for Filippo when booking. He absolutely made the trip for our group. He was incredibly well informed and could answer any of our questions about Catalunya's history, culture and language. He was also flexible and offered our group a couple of options about how to spend our time. I cannot recommend him highly enough - great guy!
Advertisement
Advertisement