Special Offer
HURRY! Book by June 3 to save 25% off our previously offered price! This exclusive offer applies to all departure times and dates through December 31, 2016. Please note that this offer is available for new transactions only and cannot be applied to any existing booking.
Immerse yourself in the world of Salvador Dalí, and learn about his life and works, on this day trip to Figueres and the Costa Brava from Barcelona. Admire paintings and other mind-bending creations by the 20th-century Spanish artist at the stunning Salvador Dalí Museum in his birthplace of Figueres. Then, tour his beloved Costa Brava to see some of his favorite places, such as the Salvador Dalí House in Port Lligat, and Pubol Castle, a later Salvador Dali home. Numbers are limited on this tour for a more personalized experience.
Highlights
Visit Dalí Museum-Theatre in Figueres

Personalized small group and commentary

Expert English-speaking guide

Best tour for Dali enthusiasts and you'll see hidden treasures off the beaten path
Recent Photos of This Tour
Salvador Dali Museum, Figueres and Cadaques Small Group Day Trip from Barcelona
What You Can Expect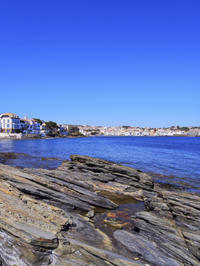 Leave central Barcelona by air-conditioned minivan and set off on your day trip. As you travel, listen as your guide shares tales of Salvador Dalí's life, and gaze out over the passing countryside and villages.
After a while, arrive in Figueres, Dalí's birthplace and home to his famous Dalí Theatre-Museum.
See the house where Dalí was born in 1904, and then continue to the museum. Home to a vast range of Dalí's creations, it offers a unique insight into his works and artistic vision.
Marvel at the exterior with its giant, rooftop egg sculptures, and use your included ticket to skip any admission lines and head straight inside. Enjoy time to explore at leisure, and view everything from Dalí's early experiments with cubism to later surrealist works such as the Galatea of the Spheres, and the famed Mae West Room installation.
Having explored here, reconvene with your guide and continue your tour as shown below depending on the time of year. For more details, see the Itinerary section.
Winter: Cadaqués and Port Lligat (September 1 - June 30):

Depart Figueres and make the scenic drive to Cadaqués.
Admire this pretty seaside Costa Brava village, and get free time for lunch (own expense) at a local restaurant.
Next, travel to Port Lligat, a coastal village where Dalí built a private retreat, now converted into a museum. Head inside (own expense) to explore, and after a panoramic drive around the spectacular Cap de Creus, finish your tour in central Barcelona.

Summer: Pubol Castle and Palamos (July 1 – August 31): 

Leave Figueres for Pubol Castle, once a home of Dalí and his wife Gala, located in the village of the same name.
Visit the Gala Dalí House-Museum in the castle, and after lunch (own expense), venture to the attractive seafront town of Palamos. Admire the castle-like house of muralist Josep Maria Sert, a friend of Dalí, where Dalí visited during the 1930s, and then return to Barcelona, where your trip ends.
Please note: The Salvador Dalí House in Port Lligat is closed between January 1 and January 4, and January 11 to February 11. On these dates, guests will see only the exterior of the house.
Itinerary
May 2016
Our tour to the Salvador Dali Museum and Cadaques was a perfect day. Out tour guide gave us the background we needed to tour the museum with knowledge of Dali's life and the changes in his family during his years as an artist, which helped us have a better understanding of his art. Is a wonderful museum. We ate lunch in Cadaques at restaurants suggested by our guide. We ate at Los Pescadores. Very good. Then to Dali and Galla's house. So unusual but so Dali. On the way back our quite answered questions about Dali, life in Barcelona and many other topics. I highly recommend this tour.
May 2016
I loved this trip! Our guide was very informative and we really enjoyed her stories about Dali's life and BIG personality! Our only disappointment was the lack of enough free time to explore the theater-museum! We missed a couple of the rooms because we had to get back to the bus. All in all, though, a wonderful, educational and scenic trip! Wouldn't have missed it....a definite highlight of our visit to Barcelona!
May 2016
Definitely a good trip, if you like art. Recommend reading about Dali a bit before choosing though. At an extra cost you can visit his home in port lligat. This is definitely not to be missed.
May 2016
May 2016
I cannot express in words how grateful and blessed I am to join this amazing experience!! And this would not be possible without the greatest tour guide team and best of the best tour guide Lucciano!! Not only is this man extremely knowledgeable, bright and intelligent, but also he was very attentive to all of the members of the group!! He managed to have time to talk to each person and shared a great deal of information not only on extraordinary Dali and his life, but also on Catalonia and Barcelona. We are more than delighted and happy to recommend this tour to anybody wishing to acquaint with this amazing region and fantastic Dali: This tour is a must while in Barcelona!!
May 2016
This was a great trip. Dali Museum was fabulous. We had enough time for lunch in Cadaques at a restaurant right on the beach. Really enjoyed the Dali house and gardens. Our tour guide was terrific.
April 2016
Well worth the time and effort. You get to see Dali's art as he wanted it displayed and then to go on and see how he lived and worked....WOW! You will walk away totally impressed and satisfied. Viator delivers once again.
April 2016
Loved this tour, particularly Dali's beautiful home. Gave a different perspective of a polarising artist. And his equisite jewellery at the museum was a revalation. With lunch at Cadaques and the charming Rodrigo as our informative guide, this was an absolute highlight.
April 2016
This was a wonderful tour. Our guide was extremely knowledgeable about Salvador Dali. It was full day visiting his birthplace and museum, stopping for lunch on the beautiful coast, and then going to the home he built.
April 2016
Carlota was our guide. We loved her. She is fun, knowledgeable and organized. She gave us background on Dali and Figueres. At the Dali museum, Carlota gave us information in the courtyard. Then, we had 2 hours to experience it on our own. We gained an appreciation for Dali: frenetic, crazy, brilliant. After the museum, Carlota asked for our one word description of the museum and gave us info on Dali's 4 themes death, fear, sex and time. Our ride from Figueres to Cadaques wound through the mountains with beautiful views of the valley. Cadaques is a spectacular seaside resort on Costa Brava. We had a delightful lunch of paella at restaurant NordEst. The lunch was a bit rushed because visits to Dali's house are tightly scheduled. Dali's house is as fun as it is unsettling. As Carlota described, it is perturbating. We expected Dali to have an unusual house and we were not disappointed. The ride back to Barcelona is a bit long, but it gives enough time to mentally review the chaos that is Dali.
Special Offer
$107.46 Save $26.87
Advertisement
Advertisement