Take a 90-minute guided tour of Park Güell, designed by renowned architect Antoni Gaudí and arguably Barcelona's most beautiful public space. Follow your guide on an in-depth exploration of this magnificent site, checking out some of its most picturesque sights and learning fascinating facts about its eccentric designer, Gaudí. Along the way you're sure to enjoy the park's intricate tile work, colorful architecture and stunning city views afforded by its hilltop location. Your Park Güell tour also includes entrance fees at the site.
Highlights
A guided walking tour of the extraordinary Parc Güell

Discover Gaudi's unique architecture and style

Admire Parc Güell's bizarre shapes and colors

Enjoy a breathtaking view of Barcelona

Professional and informative local guide

Recent Photos of This Tour
Skip the Line Guided Walking Tour: Gaudi's Park Guell in Barcelona
What You Can Expect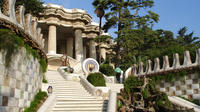 Take an in-depth exploration of the colorful Park Güell, one of Barcelona's most famous landmarks, during this 90-minute tour with a local guide. This architectural marvel, designed by renowned Catalonian builder Antoni Gaudí, is a must-see for any Barcelona visitor or design-lover.
Make your own way to the entrance of Park Güell, meeting your guide at 10am to start your exploration. Check with your tour operator at the time of booking to confirm the exact location and time of your meeting. Then follow your guide inside this fascinating public space to begin your visit. This one-of-a-kind architectural gem was built by the famed Antoni Gaudí in the early 1900s, based on a commission from Count Güell, a Barcelona local who hoped to create a residential estate for local families. After plans for the on-site housing were scrapped, the space was transformed into public park for use by Barcelona residents.
Enter the park via the site's main staircase, which is dominated by a rainbow-colored lizard adorned with an intricate mosaic of tiles. This detailed style of tile work is known as trencadís, and is considered one of the characteristic design techniques of Barcelona. As you continue further inside the park, stop at its main square, which is flanked by the wavy profile of the snake-like trencadís-covered bench.
Step below the square, where you'll encounter the park's lower court. This intricately-designed area is supported by a phalanx of 86 Doric columns, along with walking paths and viaducts set on sloping columns. Many have remarked on the symbiotic relationship between Gaudí's designs and the natural world, a relationship which is evident in the tree-like design of the lower court's column's.
Finish your visit to this amazing park at the small on-site house, which Gaudí once-occupied for a short stay. The house has been transformed into a museum, including a variety of furniture created by this genius craftsman.
May 2016
-Park Guell is not to be missed. The mosaics are so beautiful. They were the main reason I wanted to visit Barcelona. The day we were all there, there were musicians placed throughout the park. It was a nice touch to be able to sit a while and listen to different types of music.
-Just resign yourself to being photo bombed. It's impossible to take a photo without a crowd of people in it.
-We actually overslept the morning of our tour and missed it which was very disappointing. I'm sure the tour would have been great and we would have been able to skip the line. We went to the park later on our own and had to kill several hours, as they only allow a certain amount of people to enter each half hour. I recommend the tour.

Barry E United States of ...
May 2016
A MUST SEE!! Exceptional. Buy your tickets before you go. It's an incredible place to spend a few hours and witness the amazing architecture of Gaudi. We took a guided tour, which was very helpful in understanding the thought and science behind his designs. The best way to get there is by taxi. About 8 Euro from the center of the city.
April 2016
Excellent, well organised tour with experienced and knowledgeable guide. Great way to spend half a day.
April 2016
This is a tour that goes multiple times a day. As our trip developed, it became clear we were not going to be able to take the time slot we had selected. The day before, I used the app to email to ask to change the time. I never, ever heard back. Not that day, not the next day, not ever. So we paid for a tour and received nothing, not even the courtesy of a reply.
March 2016
another amazing piece of Gaudi's architecture.- a truly gifted artist!

January 2016
Learnt about different aspects of Gaudi at a different location
November 2015
Our tour guide is very knowledgable and humorous. Wonderful experience overall.
November 2015
You can read my blog on this trip and view the photos

November 2015
Great guide. Lots of information given in pleasant manner. Very caring person but at same time in charge of tour.
November 2015
This was a lovely day, we had a very good guide and the weather made the day lovely. When the tour was finished we had a snack and walked in the gardens for a while
Advertisement
Advertisement