Special Offer
Book and travel by 30 June and save 15% off our previously offered price!
Journey back in time as you discover the charming medieval villages and stunning countryside outside Barcelona on this 10.5-hour, small-group day trip. Explore the charming hamlet of Besalú, including its medieval synagogue and Jewish bath. Then continue on to the village of Rupit, where you'll discover its baroque Church of Sant Miquel and the castle ruins, pausing to enjoy a traditional Catalan lunch (at your own expense). Finish the day in the area around Tavertet, including a stop to admire the Cingles de Tavertet sandstone cliffs. Your small-group trip also includes a guide and transport by minivan.
Highlights
Small-group day trip to Catalonia medieval villages from Barcelona

Visit the charming medieval villages of Besalú and Tavertet with your guide
Enjoy free time in Rupit to visit medieval locations and have a traditional lunch at a local restaurant (own expense)

Take in stunning views of the countryside from the Cingles de Tavertet sandstone cliffs
See the beautiful Castellfollit de la Roca village located at the edge of a basalt cliff

Small-group tour ensures a more personalized experience

Recent Photos of This Tour
Small-Group Medieval Villages Day Trip from Barcelona
What You Can Expect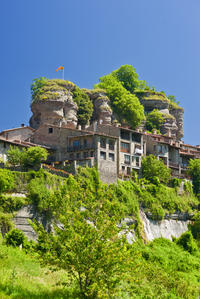 Immerse yourself in the incredible medieval history of the area surrounding Barcelona as you visit some of the region's most picturesque villages. Anyone interested in the history, culture and architecture of Catalonia is sure to delight in this deep dive into the region's medieval history.
Start your trip at 8:30am from Central Barcelona, continuing by minivan on a 1.5-hour drive through the lush countryside to the charming village of Besalú. Once you arrive, hop out to begin a walking tour of this ancient city, stopping to admire its streets lined with medieval-era architecture. Then visit a nearby mikveh (a 12th-century Jewish bath) before stopping by a medieval synagogue.
Continue next to Castellfollit de la Roca, a positively miniscule town situated on the edge of a basalt cliff. This tiny village harbors 1,000 citizens in a town that's just 3,280 square feet (1,000 square meters). Proceed from there to Rupit, where you'll have two hours to wander this beautiful hamlet at your leisure. Stroll the cobblestone roads lined with 16th-century houses, cross the city's hanging wooden bridge, and make a visit Rupit's baroque-era Church of Sant Miquel. Feel free to have lunch (at your own expense) before checking out the ruins of the Castle of Rupit set on a picturesque rocky peak.
After Rupit, take a scenic drive towards the sandstone cliffs at Cingles de Tavertet, set in the Ter River Valley, passing by the area's megalithic tomb and its Iberian Wall as well. Then arrive in Tavertet, taking time to explore the area's 48-preserved homes from the 16th and 17th century with your guide. Hear a few details about the village from your guide before checking out the 11th-century romanesque Church of Sant Cristòfol. You'll then have time to take a break, grabbing a coffee (at your own expense) or enjoying short walk to the scenic overlook at Panta de Sau lake.
Finish your trip with a ride back to Barcelona, during which you'll enjoy vistas of verdant-green forests like Magatalls, along with the UNESCO Man and Biosphere-listed El Montseny natural park. You'll be dropped off back at your departure point in Barcelona at the end of the day.

June 2016
Wow. What a great day trip. Our guide David was so knowledgeable and entertaining. Although it rained at the second stop, we were able to have lunch and then come out into the sunshine. Our driver was an expert as well. Highly recommended. So much history and beautiful old buildings. We really felt like we had a Catalonia experience.
June 2016
Loved everything about the trip. Got to experience Barcelona's countryside, and the amazing Gerona views.
Thanks to our guide George, we learned historical facts of Catalonia. It was worth every minute of it.
Great experience.
June 2016
So beautiful. We loved it our and guide. You could just do the first two towns which would give people more time to explore those two towns. The third town did not have as much to see.
June 2016
Wonderful and informative tour. The villages were picturesque and food was good we had lunch at Rupit. There is quite a bit of walking involved but there should be ample time to do so at your own pace, especially for the second village. We had our kids 9 and 11 years old with us on this trip and they absolutely enjoyed themselves.
Our guide, David, was very clear and entertaining in his delivery of the history behind the villages. He was able to engage everyone in the tour.
June 2016
Small group tour great -van comfortable Besalu very historic pretty village Lunch our expense good food very generous servings good value scenery very pretty and drive back down thru national park and views of area spectacular.
Problem we did have was on booking tour pick up point was Laietana street On arrival found street very long and hotel staff could not help us as phone numbers to contact you not answered Several emails sent to viator with no reply Only due to very helpful tourist employee able to get local number day before tour and your office is actually in small street around palace of Catalan of Music Confusing!
June 2016
We had a wonderful day on this trip up into the mountains from Barcelona. It was great to get out of the city and enjoy the countryside. The weather was perfect, and I particularly liked being in a small group. Feliciano spoke fantastic English and was very friendly and informative. It was more like being out with a group of friends than being on a tour. I enjoyed all the villages, and also the trip into the national park was amazing. A highlight of my visit to Barcelona.
June 2016
We had a fabulous time! The visit to the villages was a treat and our guide was very knowledgable. We would highly recommend this tour.

June 2016
Wonderful old,old villages, so beautiful still, Took this tour with the local tour operator and a great guide who spoke English, Feliciano made this tour exciting as he gave us the history of the villages we toured and since they only deal in small groups we were all able to ask questions and get to know each other. The villages give you a feeling of being back centuries ago, plenty of free time to walk around and sightsee and even have lunch in a local restaurant. Great tour and tour company, would use them again and if you like Medileval History do not miss this tour.
June 2016
I'm not sure why more people don't book this tour. The towns alone take you back to Roman and medieval eras but without the smells or diseases of those times. Besalu alone, the biggest town, is worth the trip. Besalu has a myriad of photo ops, especially the stone bridge and views from the top of the town. There are also unique souvenirs made by local artisans. I don't know how many guides to this, but ours forgot her name, took us on a side road to a stunning hill top view of the countryside and the valleys below. If you have an extra day to spend in Barcelona and saturated with Gaudi architecture, book this tour. 5 Star all the way.
jmac United States of ...
June 2016
Excellent trip with very knowledgeable guide, Veronica. Great scenery as well.
Special Offer
$100.69 Save $15.11
Advertisement
Advertisement