Indulge your senses with the rich flavors of Catalonian cuisine on a full-day food and wine tour from Barcelona. With a knowledgeable guide, travel to a medieval farmhouse cradled by the mountain of Montserrat and sample fine wines and creamy cheese while admiring the spectacular scenery. Savor home-cured meats in a Benedictine monastery; taste a variety of premium olive oils; feast on a traditional Catalan lunch at a quaint farmhouse; and embark on a guided tour of a winery. Sample effervescent cava and receive personalized attention from your guide on this small-group tour.
Highlights
Catalan food and wine day trip from Barcelona
Sample homemade cheese, home-cured meats, olive oil and locally grown fruit

Enjoy a guided tour of a winery and four tastings of wine and cava

Have a traditional Catalan lunch of regional home-grown products at a 16th-century farmhouse restaurant

Admire panoramic views of the Catalan countryside, traditional villages and Montserrat

Small-group tour ensures a personal experience with your guide

Why Our Insiders Chose This Tour
You'll have lunch at a 16th-century farmhouse restaurant that uses locally sourced ingredients and you'll sample wines at small local wineries instead of the famous industrial ones. An authentic and intimate experience!
Recent Photos of This Tour
Small-Group Tour: Traditional Food and Wine Day Trip from Barcelona
What You Can Expect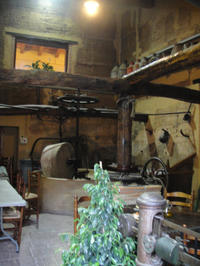 After pickup from a centrally located spot in Barcelona, relax in an air-conditioned minivan and drive deep into the heart of the Catalonian countryside. Admire the dramatic peak of Montserrat mountain as you approach a beautifully restored medieval farmhouse in a quaint village famed for its cheese-making prowess.
Disembark to sample locally made cheese and wine while gazing at the picturesque scenery, and then continue to the former Benedictine monastery of Santa Cecília to delve into the rich culinary heritage of the region. Capture photographs of the grand Romanesque architecture and savor appetizing treats like peaches, honey, almonds and home-cured meats as your guide elaborates on local gastronomic traditions.
Absorb more picturesque panoramas as you travel to the south face of Montserrat to discover an entirely different climate and landscape. Stroll through groves of olive trees and arrive at a 16th-century farmhouse to enrich your knowledge of olive oil pressing during a tour of the olive mill and its medieval water tanks.
Feast on a traditional Catalan lunch made using locally grown produce (upgrade to a Sunday tour to enjoy local Catalan dishes) and then head into the heart of the Penedés, a verdant winemaking region renowned for its top-quality cava. Take an informative tour of a local winery's subterranean cellars and barreling room and then conclude with a tasting session featuring four different varieties of cava and wine.
Sit comfortable in your spacious vehicle during the return journey to Barcelona, where the tour concludes.
June 2016
This was an amazing experience and highly recommend it to all. To start off with wine for breakfast was pretty cool- cant complain all the food was good. Really enjoyed the winery tour I made sure to purchase some wine and olive oil.

June 2016
Our day with Joesef far exceeded our expectations. The cultural foods experience at breakfast and lunch was superior. The winery tour and wine/cava tasting was exceptional. We loved every minute of the day and the 10 hours spent with Josef flew by. If you love food, wine, history and natural beauty, you won't want to miss this experience.
May 2016
We thoroughly enjoyed our food and wine tour north of Barcelona! We loved learning about the region and seeing many of the sights Montserrat, etc while traveling through the region. Our guide was knowledgeable and obviously has a love for the region and his heritage. He made the travel time very informative also.
May 2016
Wonderful tour. The weather was perfect, the food was delicious, the tour guide was outstanding and the wine tour and tasting at the end of the day was the perfect ending.
May 2016
This was a fantastic day. Feliciano was a fabulous tour guide and looked after our group very well. Great food, great wine, great company. Highly recommended.

April 2016
We would like to say that this trip was the icing on the cake for our final tour before leaving Barcelona.
We were met by a very interesting, knowledgeable and friendly to guide called Felicimo.
From the start to end of our wine tasting experience Felicimo was at being to share additional information to us regarding the surrounding areas we passed through.
Felicimo first stop was to a amazing restaurant Emma local farming area which produces local produce for the restaurant and the village. The owner was also amazing Who was friendly and happy to talk to us guarding the local produce.
We were ahead of schedule therefore Felicimo was able to offer us a unexpected stop at Montserrat Monastery, again this was amazing experience unexpected. We then made our way to a amazing restaurant for lunch. The owners of the restaurant was welcoming the food was fabulous.
I want tasting experience at the winery was amazing the attention to detail and information they provided was 2nd to none.
We even had a couple of boxes of Carver and red wine shipped back home.
We would highly recommend this Wine tasting experience and hope that you get Felicimo is your tour guide. This wine tasting experience has been planned to attention to detail excellent timing.
We would deafly do this to again when we return.
March 2016
We loved our day in the mountains north of Barcelona! All of the food and wine experiences were excellent. Our guide, Josep, was very knowledgeable and fun to be with. He has a passion for the region and the traditions and it was fun to learn about them. We enjoyed the tomato bread and learning about the 0 km farming. The time in the Parre Balta winery was excellent also. Our stops along the way were very special as well. We would highly recommend this tour or any other of their Small-Group tours.
January 2016
This was a great day trip. would do it again. Alex was one of the best guides we had. Wine and food were wonderful. Had a fun day. Go hungry.
January 2016
Loved this tour!!! A 90-minute brunch at 10:30 a.m., 45 minutes in Monserrat enough time to walk briskly and see the cathedral, a 90-minute lunch your choice on the menu, but avoid the lamb because it's full of oddly-cut bones, and a visit to a large, family-owned inery followed by a tasting of excellent cava and wine. Be careful to not step in sheep droppings at the winery! Highly recommended tour by me.
December 2015
This was a great day! Our guide Fillipo was fantastic! We made an extra stop in Montserrat. There were only seven people in our group. The food was wonderful, the views were amazing!
Advertisement
Advertisement