Learn the ins and outs of Spanish wine tasting during this 1.5-hour lesson offering the chance to sample five wines in Barcelona. Everyone from expert wine lovers to relative novices will enjoy this fun-filled session introducing guests to the wide variety of Spanish vintages, key producers and tasting notes, hosted at Barcelona wine store near the city center. Your wine tasting session also includes snacks and the instruction of a local wine expert.
Highlights
Wine tasting in Barcelona

Taste five Spanish wines chosen by your wine expert
Learn about Spanish wines, from color to taste
Tastings are accompanied by snacks
Why Our Insiders Chose This Tour
You don't have to travel outside Barcelona to go wine-tasting -- this quick and easy tutorial will give you the skills to order and appreciate Spain's world-famous wines.
Recent Photos of This Tour
Spanish Wine Tasting in Barcelona
What You Can Expect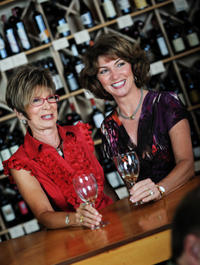 Sample the wonderful flavors and simple pleasures of Spain's world-famous wines during this 1.5-hour tasting session at a local store in Barcelona. This simple, laid-back tasting is the perfect introduction to the thriving wine culture of Spain, hosted in a casual, fun-filled setting.
Start your wine tasting experience at either in the afternoon or early evening (depending on the option selected) at a wine store located in Central Barcelona. Join your professional wine expert to begin your tasting, sampling a number of different varieties and learning along the way to distinguish among their various colors, fragrances and tastes.
As you continue your tasting, stop to enjoy a few included snacks, and continue the lesson with your guide covering the history of Spain's wine industry. You'll also discover useful tips and fun anecdotes about wine that you can use to impress friends and family when you return home. These include an ability to read Spanish wine labels, find the right bottles on restaurant wine lists, and make proper pairings with food. Before you leave the session, feel free to purchase any of your favorite bottles to enjoy later.
December 2015
We had a great time at our wine tasting in Barcelona with our friends. Vivienne the lady who hosted the event was very knowledgeable but she also made the evening fun too, we enjoyed the different wines and nibbles too. Vivienne was also very helpful and recommended a great tapas bar nearby for us to have our dinner that night.
November 2015
Lot's of fun and a very educational approach to Spanish wine. The guide was good at explaining where the wines came from, but the best part was the use of various scents to help us pick up various qualities about the wines in the smell and the taste. Great session for new to intermediate wine enthusiasts.
September 2015
I was the only person booked in for this which made it even better. I learnt a great deal about Spanish wine and enjoyed sampling a few. Great way to finish a day in Barcelona
July 2015
We were taken aback when we arrived at this very small wine store. We were expecting a traditional-type wine tasting, but we were the only couple there. But it turned out to be a blast! The sommelier was so friendly and knowledgable. We ended up buying 2 bottles of wine. Be sure to check out the restrooms.
March 2015
The wine tasting was fun, informative, and of course delicious. It was well organized and easy, and everyone in our group was very happy.
June 2014
Brilliant,fab food and some incredibly old wines. the venue was outstanding
January 2014
This was our first wine tasting experience and was a great start to our Barcelona trip. Environment is great! A few of our party really dont like red wine so the lady kindly let then try some different whites. Would recommend for a quick wine tasting tour.
October 2013
the spanish wine tasting was very good, are host was very pleasant and knows what she is talking about when it comes to wine!!!
the 3 wines we tasted were very good. as were the snacks, met some intresting and friendly people on this wine tasting , would defiinitely recommend this tour if you like your wine
August 2013
My wife and I were the only two at the tasting. Had an outstanding opportunity to learn about Spanish wines. The shop was perfect and quaint. One of the nicest boutique wine stores in all of Barcelona. The tasting was very well presented. A great combination of both light food and fine wine.Very comfortable environment. Educational and relaxing. Perfect for both the connoisseur and the novice. Well worth the price.
August 2013
The wine guide was AMAZING. She explained in depth about the grapes, smells and colors of the local wines! She also showed us proper etiquette on how to open your wine bottles and how to allow them to breath! A must do, then once you leave check out the sushi place just down the alley!
Advertisement
Advertisement