Special Offer
Book and travel by 30 June and save 15% off our previously offered price!
Escape Barcelona to Sitges and Tarragona on this 10.5-hour, small-group, day trip stopping for some fun in the sun and an exploration of the area's Roman history. Start your trip in Tarragona, the former Roman capital, where you'll admire its intricate aqueduct and explore the city's historic architecture and markets. Then head to the beach at Sitges, a hip coastal town that boasts a gorgeous beach, trendy cafes and interesting boutiques. This small-group visit to Tarragona and Sitges, limited to just 15 guests, also includes a guide and transport by minivan.
Highlights
Full-day small group tour by minivan to Tarragona and Sitges
Explore the Roman past at Tarragona's aqueduct, forum and circus
Seaside views at tranquil Roc de Sant Gaieta
Cosmopolitan Sitges' beaches, cafes and boutiques
Professional English-speaking guide
Illuminating commentary from your expert guide
Transport by comfortable air-conditioned minivan
Personalized small group and commentary

Recent Photos of This Tour
Tarragona and Sitges Small Group Day Trip from Barcelona
What You Can Expect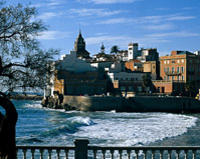 Get off the beaten track on this excursion to two of Catalonia's most fascinating cities, Tarragona and Sitges. This small-group tour visits two cities most tourists never see, exploring fascinating Roman history, gorgeous beaches and fun shopping along the way.
Start your morning at 8:30am in Central Barcelona near Via Laietana, continuing by minivan to the former Roman stronghold of Tarragona. Trace the footsteps of ancient Romans as you explore the city's aqueduct and discover its Old Quarter, complete with its gorgeous cathedral.
Make a brief stop in Roc de Sant Gaieta, a small coastal town where you'll have time to absorb its unique seaside flair, before continuing on to Sitges. This historic fishing village has transformed over the years into a hip beachfront community, offering a wealth of boutiques, cafes and bars among its whitewashed architecture. Enjoy some time in this atmospheric community before returning to Barcelona.
For a full description of the day's itinerary and attractions, please see below.
Itinerary
The tour leaves Barcelona at 8:30am and heads straight down to Tarragona, the old Roman Capital. The Romans chose Tarragona's strategic position as the site of a military camp during their campaigns against the Carthaginian troops in 218 BC. In time, that primitive fortress became the Capital of Hispania Citerior, one of the biggest provinces within the Roman Empire.
Our first stop is just past Tarragona where you will discover the impressive Roman Aqueduct (1st century BC) popularly known as 'El Pont del Diable' (The Devil's Bridge) or 'Les Ferreres' Aqueduct. It used to be part of the water supply network of the city and today stands in almost perfect condition. Over 200 meters long and nearly 30 meters high it is one of the hidden jewels of the area. This is a rare chance to get completely off the beaten track and visit one of the most amazing architectural wonders of Catalonia - and one that hardly anybody knows about.
From the aqueduct we travel back to Tarragona quietly entering the old part of the city through a narrow gateway in the ancient walls. Nowadays, the new city overlaps the site of the ancient Acropolis and during your visit you will see firsthand the surprising coexistence of a Roman past and modern life. Starting at the Archaeological walkway, you will be able to admire the surviving stone walls, wander through the historic old quarter - passing the medieval hospital - before stopping at the Cathedral where you can enjoy the Sunday morning antique market. Few tourists ever make it to Tarragona, and fewer still stumble across this traditional market. It's a great chance to pick up something truly unique from the area. For others, there is ample time to explore the beautiful cathedral that looks down on the antique collectors.
From there, you continue down through the old town to discover the Roman Forum and the nearby Roman Circus hidden amidst the urban design. Walk along the underground passageways that held the Circus' stands and come to one of the most popular squares within the old town, Placa de la Font, situated inside the Roman Circus. If you stand very still and close your eyes, you can almost hear the chariots racing by. On this very spot, thousands of years ago on, perhaps on the very same day of the week, the Roman capital of the Iberian Peninsula came alive in all of its bloody glory.
And last, but certainly not least, enjoy the breathtaking seaview over the Roman amphitheater and imagine gladiators battling each other to the death! It's a poignant moment to stand on the same dusty ground that bore witness to countless scenes of sacrifice and passion. Perhaps most fascinating of all is the Christian church built in the middle of the stage out of the very same blocks that were used in their amphitheater.
At 12.30 we leave Tarragona and stop briefly at Roc de Sant Gaieta, an intimate little village built on the rocky shoreline. Stroll between its tiny white houses and let your imagination take you away to Ibiza fishing villages built with a touch of Roman-Greco flair.
Arrive at Sitges at around 2:00pm. This once quiet fishing village today boasts a long and sandy beach, groovy boutiques, and a handful of interesting sights. Sitges has been fashionable since the 1890s, when it became an avant-garde art-world hang-out. Get lost in its shady side streets and enjoy the Mediterranean atmosphere with its old whitewashed fisherman's houses. After leaving this charming labyrinth, you suddenly find yourself on the seafront. Make a stop in one of the numerous cosmopolitan cafes and restaurants and imagine yourself in St. Tropez. Sitges has dining options to suit every taste and budget. After a leisurely Sunday lunch you might want to head off to one of the 17 beaches the town has to offer.
June 2016
These cities are a must see! The aqueduct in Tarragona is breathtaking and getting to walk on it is really fun! Tarragona city was really nice and there are a few really neat things to see in the city while you're there. I highly recommend going and exploring the circus. We didn't go in the church because we didn't have time but the other couple that we were with really enjoyed it. Sitges was really one of my favorite cities visited in Spain. They have a ton of quaint little shops and restaurants and the beach is really beautiful! Bring your bathing suit, a towel, and some toilet paper trust me. Our tour guide Veronica I think was amazing. She did a really great job explaining everything and was very knowledgeable. I highly recommend this tour!
June 2016
Joseph was obviously a history buff who knows a lot about the sites we visited. He was awesome! When we went to Tarragona, we were lucky enough to catch the Xiquets on a good day and they showed us the studio where they practice! Sitges was lovely and we made it back home at a good hour. Thank you!!
May 2016
This full day tour was very interesting. David, our guide, was interesting and amusing. The Roman ruins were amazing. The trip was ell balanced with touring and self explore time. Stiges and the little Gaudí cellar were great additions.
May 2016
excellent tour, our guide was just great, this is tour you don't want to miss
May 2016
The weather wasnt great so we probably did not see Sitges at its best but Tarragona is spectacular in any weather. Joseph was very passionate about the history of the area and the extent of the remaining 1st Century Roman remains. Cathedral in Stiges is also worth a visit. Very good value.

May 2016
Had a tremendous day. Six travellers and a very knowledgable, chatty and passionately Catalonian guide, Joseph. Taragona was an amazing place with historical sites well presented and Sitges was perfect as a lunch stop with loads of great eateries. If only it had been a little warmer! Great way to spend the day.
April 2016
We were a group of 4. It was a nice day out. We had time to see the roman forum and amphitheater located by the sea. Had an opportunity to walk the roman aqueduct which was very special. Guide was very knowledgeable and accommodating.
January 2016
This was an excellent tour because of our guide, Rodrigo. and because the group was small. Rodrigo was very friendly and informative. I very much enjoyed speaking with him throughout the day. Tarragona is a much brighter and livelier city than I had anticipated. The Roman ruins are very impressive. I particularly enjoyed walking on top of the aqueduct. Rodrigo also gave us plenty of free time to explore both Tarragona and Sitges on our own, which we much appreciated.
November 2015
Great tour - enjoyed it fully. Well structured with right stops and the guide gave good amount of time for us to spend time on our own also.
The tour guide was excellent I think it was Emma. Small size also made it personal.
Both Tarragona and Sitges are excellent places to visit, each with its own characteristics, both are next to Mediterranean sea, which makes them more adorable.
All in all, one should not miss this one.
November 2015
Our guide for Tarragona and Sitges was very knowledgeable and clearly communicated information concerning sites to see, meeting points and amount of free time. My only suggested would be to allow more time in Tarragona...there is a lot to see. Sitges is also a very interesting area along the Mediterranean that you should not miss.
Special Offer
$100.91 Save $15.14
Advertisement
Advertisement