Take in the beautiful surroundings of Bariloche on this full-day or half-day coach tour with your choice of morning or afternoon departure. Drive along Nahuel Huapi Lake, stopping at multiple scenic viewpoints where you can snap photos of the surrounding alpine scenery. You'll experience the breathtaking natural highlights of the Lakes District, as well as architect Alejandro Bustillo's masterpieces, with commentary from your guide.
Highlights
Morning, afternoon or full-day sightseeing tour from Bariloche
Explore the natural wonders of the Lakes District with a local guide

Take in spectacular mountain scenery from the best viewpoints

See the architectural masterpieces of renowned Alejandro Bustillo

Visit sandy beaches along Nahuel Huapi Lake and nearby rivers
Photograph the magnificent landscape of mountains, rivers, lakes and islands

Enjoy round-trip transport aboard a comfortable coach

What You Can Expect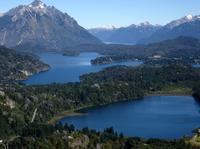 Ride aboard a comfortable coach past the stunning scenery surrounding the Lakes District of Bariloche. On this half-day or full-day tour, view all of Bariloche's most important alpine landmarks. Learn about the area through your guide's informative commentary as you pass through the meadows, forests and mountains of this beautiful region.
Half-Day Tour (morning or afternoon):
After being collected by the coach at your hotel,
set out on a half-day drive that covers about 37 miles (60 km) of ground. Skirt the shores of Nahuel Huapi Lake toward Cerro Campanario (Belfry Hill) and disembark to snap some photos of several alpine vistas. Re-board the bus and head on toward the serene landscape of the Llao Llao Peninsula.
In Puerto Panuelo, admire architect Alejandro Bustillo's San Eduardo Chapel, one of several of his wooden structures in the region. Continue toward Lopez Bay, Lopez Hill and the beautiful Clover (El Trebol) Lagoon before returning to your hotel in Bariloche.
Full-Day Tour:
Travel 155 miles (250 km) on this full-day coach tour that starts with a drive along the Limay River. Pass Rincon Grande, Rincon Chico and the Amphitheater before continuing on to view the rock formations at the Enchanted Valley (Valle Encantado). Ride through the communities of Cuyin Manzano and Confluencia, where the local Argentine cowboys, or gauchos, settled their families before it became a national park. Take this opportunity to purchase some local handicrafts such as rugs, wool clothing and knives hewn with bone handles.
Head over the Minero River and up to Traful Lookout, stopping in Villa Traful for lunch (own expense). After this stop, continue on to the Seven Lakes Road past Portezuelo and Puerto Arrayan to Villa La Angostura before being returned to your hotel in Bariloche.
April 2016
The lady tour guide Johana Canesa of SITurista travel agency was outstanding! She is a kind, lovely, easy-going lady who is always happy while conveying her deep knowledge of the Bariloche Big Circuit área. Johana is very knowledgeable not only about historical and pictouresque aspects of the several towns visited as part of this tour but also she is keen on sharing those small and hidden secrets that all nature beauties and towns posses. While touring Villa La Angostura, we were shown the historical El Mesidor residence, where the former Argentinian woman President Maria Estela Martínez de Peron remained arrested 8 months after the irruption of the dictatorship in March 1976. In order to be perfect, this tour has to offer pre-paid lunch as part of the options.
February 2016
Diego was really good as the tour guide. Three stops, the first at Cerro Campanero, a ski lift with a 30 minute wait, but worth it for the spectacular view. Lake Moreno is as pretty as it gets. Liao Llao hotel is impressive. Booking through Viator was excellent, with follow up by local company the day before the trip.
February 2016
Very scenic and informative. Ricardo was an excellent tour guide. Many photo stops. Readers should be aware that dirt/gravel roads comprise about 50 kilometers of the tour.
November 2014
This tour is a must to get to know Bariloche. Very nice and the tour guide was really excellent.

Norma USA
March 2016
We hit all the major sights along Bariloche's lake front. The scenery is spectacular. Like a bit of heaven on earth.
June 2016
Unfortunately we not perform the tour.
We performed through another operator.
There was a misunderstood concerning the schedule and the operator not agreed to us to perform in another schedule, leaving us unsatisfied.
Advertisement
Advertisement