Cruise Nahuel Huapi Lake, then embark on a nature walk in both Los Arrayanes National Park and Victoria Island during this full-day trip from Bariloche. Take a catamaran ride to the picturesque Quetrihué Peninsula for strolls through the last remaining arrayán forest and Victoria Island's coniferous forest. Transportation from local Bariloche hotels is included in this 8-hour itinerary.
Highlights
Catamaran cruise to Victoria Island and Los Arrayanes National Park
Enjoy a sightseeing cruise over Nahuel Huapi Lake with a local guide
Admire the cinnamon-colored bark of the arrayán trees in Los Arrayanes National Park
Look for the world's smallest species of deer on the Quetrihué Peninsula
Ride a chair lift up Cerro Bella Vista on Victoria Island for panoramic views
Round-trip transport from your Bariloche hotel included
What You Can Expect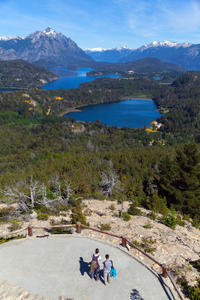 Meet your guide at hotel pickup in
Bariloche
, then transfer to a catamaran at Puerto Pañuelo near the luxe Llao-Llao Hotel. Sail across Nahuel Huapi Lake in Nahuel Huapi National Park for an hour while admiring the gorgeous scenery. Enjoy lunch available for purchase on board, or feel free to bring your own.
Stop at Victoria Island, the largest of Nahuel Huapi Lake's islands, and disembark at Puerto Anchorena. Follow your guide on a leisurely nature walk through the coniferous forest and learn about trees such as birches, firs, sequioas and aromos.
Visit during the summer months to include a dip in the lake off of Toro Beach or a ride on the chair lift up Cerro Bella Vista (Bella Vista Hill.)
Continue your catamaran ride in the beautiful alpine lake, then disembark at Quetrihué Peninsula to explore Los Arrayanes National Park. Learn about the arrayán trees, which only grow into maturity on this narrow isthmus of land near Villa Angostura. Stroll along the walkway here to admire the hundred-year-old trees with cinnamon-colored bark. View a small, singular cabin in the middle of the forest, as well as some pudú, a species of miniature deer.
After a full day of adventure on the lake and in the forests, return to Bariloche for drop-off at your hotel.
October 2013
December 2014
It was a great trip, although -- the tour was all in spanish-- and my husband did not get background history of the tour as it was not translated in English- I had to provide the translation. Beautiful scenery!
March 2016
This tour has to be seriously improved in 2 aspects:
1entrance fees to the Arrayanes National Park should be included in the fare of the tour. As the National Park entrance fee is not possible to be paid by credit card it may be a hassle to pay with cash in a foreign country
2the tour should include meals and/or beverages, as it happens with tours in most countries. Viator could provide as an option to choose between meals and without meals
January 2015
To startling, the Company emailed via Viator to say they wouldn't pick us up from the hotel. Then they said they d picks up near the hotel, then they picked us up across the road from the hotel.
Nowhere on the Viator trip description did it say we would have to pay additional charges, nor did it say that the English speaking guide would only occasionally speak, english.
The trip itself was ok, a well run marketing tool with some lovely scenery.
January 2014
Our guide Sabestin didn't translate and only explained everything in Spanish; there is no chairlift (been out of commission since 2005; false advertising as the trip was not a "Small-group tour limited to 10 people ensures a personalized experience"! It was more like a sausage factory experience!!

December 2013
The tour we got is nothing like discribed,we bought a tour for at most a group of 10 people with an english guid we got picked up from the hotel transfered to the port got on a bout with 150 tourists all the tour was in spanish .we asked for an explanetion from the tou guide on the bout and showd our tour discription, she knew nothing about, all she said is that she is not from the tour agency which is responsible for us.the tour agency which was supposed to take care of us had no representatives on bord the bout.it is very upseting to buy a tour and get only the transportation but no tour guide especialy becouse we are leaving on the 27 december.
November 2013
In the tour description on your website, the tour was described as a maximum of 10 people, in a catamaran with an English speaking guide. These we the reasons that I booked the tour. The tour was actually on a huge boat with about 80 other people on it. The guide did not speak English at all. Every instruction and examination was only in Spanish. I was extremely disappointed and felt the tour description on the Viator website did not accurately describe this tour. I felt very mislead by the description on the website and did not get what I paid for.
Advertisement
Advertisement