Follow in the footsteps of World War II soldiers on an insightful and moving tour of the Normandy battlefields from Bayeux. With a knowledgeable guide, visit significant sites like Pegasus Bridge, the Merville Battery Museum and the Hillman Bunker and delve into the intriguing history of D-Day and the turbulent battles that occurred. Admire the sandy stretch of Omaha Beach, the site of one of D-Day's bloodiest battles, and pay tribute to fallen soldiers at Normandy American Cemetery and Memorial. Receive personalized attention from your guide on this small-group tour, limited to only eight people.
Highlights
Full-day tour to the Normandy battlefield beaches from Bayeux
Learn about Britain's role in World War II and the D-Day landings
Explore the desolate landscape of Pointe du Hoc
Visit Omaha Beach, the bloodiest of Normandy's WWII beaches
Pay your respects at the Normandy American Cemetery and Memorial and the Bayeux War Cemetery
Explore Sword Beach and the nearby Hillman Bunker complex
Small-group tour limited to eight ensures a more personalized experience
What You Can Expect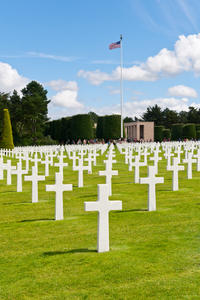 Depart from your centrally located Bayeux hotel and climb aboard a comfortable, air-conditioned minivan destined for Pointe du Hoc, the site of a brutal attack on a German battery on D-Day. On arrival, gaze at an eerie lunar landscape of scattered remnants of ancient fortifications and then return to your vehicle for the scenic drive to Omaha Beach.
Disembark at the famous World War II site and listen as your guide reveals the brutal history of the battlefield that saw the most D-Day casualties. Pay tribute to fallen soldiers at the Normandy American Cemetery and Memorial and marvel at interminable rows of headstones commemorating courageous soldiers.
Head next to Pegasus Bridge, the site of one of the most successful D-Day operations, and capture picturesque photographs of the Orne river and canal as you stroll towards the sea at Caen.
Continue onto the Merville Battery Museum to discover the tales surrounding the 6th British Airborne and then arrive at Sword Beach, a sandy stretch upon which the British 3rd Infantry Division landed on their way to Caen. Then, descend into the underground bunkers of the Hillman Bunkers to empathise with brave soldiers fighting in claustrophobic conditions.
Conclude your moving tour at Bayeux War Cemetery, the largest WWII cemetery of the Commonwealth soldiers in France, and feel emotionally stirred as you see graves containing more than 4,500 soldiers killed in WWII.
Relax during the journey back to Bayeux, where the tour concludes.
August 2015
We loved the tour, all very informative and well led.
Would have liked a little longer in some places but on the other hand perhaps that would have meant not seeing so much? So on balance, excellent, would recommend to anyone.
June 2015
We did this trip on June 20 our tour guide was fantastic he was a fountain of knowledge would defiantly recommend this trip thank u
Sandra and Mark Caterham ,Surrey UK
June 2015
Very good tour, small group, very knowledgeable guide Maz and we visited a lot of sites in one day.
Good value for money.
June 2015
This tour was well conducted, planned and documented, it quickly toured a number sites in one full day. Our guide was very knowledgeable about the area and gave lots of anecdotal information from her parents who directly endured the occupation and subsequently D-Day. There were a number of maps, charts and photos used to thoroughly explain all of the visits and surrounding events. The Normandy area is covered with D-Day sites and they cannot all be covered in one day. This was a best compromise to get a feeling for the battlefield and what went on during the first few days of the allied invasion on D-Day. A trip to Omaha beach effectively showed what the Soldiers were up against once they got on to the beach and off of it into the hedgerows and small fields inland from the beach. Other sites included Sword beach British, the Pegasus Bridge where British glider troops assaulted and held two critical bridges, Merville Artillery Battery which very effectively showed life in a German gun position and a British military cemetery as well as the American cemetery at overlooking Omaha beach. I would recommend this trip for first time visitors to the area or those who have not done extensive reading on the events surrounding D-Day.
September 2014
Francois was very engaging and explained everything really well. He made the tour appropriate to our group of 8 which contained 3 different Nationalities and a wide range if ages.
May 2014
This tour was superb.Our guide,Mag,was absolutely fantastic and it was a joy to have spent the whole day with her.My son and I hope to come again soon and hope that our guide will be Mag.i would give the tour 6 stars.
December 2013
Fantastic trip. Our tour guide was excellent and really brought alive the story of the D-Day beaches. Although it is quite a long day, we would certainly recommend this trip to other travellers.
September 2011
We thought the tour very informative and were pleased with the content. We got to see all that we could in the time allotted. Very comprehensive and filled our need.
Gary M United Kingdom
July 2009
The tour was brilliant, made more so by the young french lady guide who really knew her D Day history and who made the day extremely interesting, GREAT !
Keith H USA
October 2008
Although we had reserved a tour of Omaha, Sword and the British Airborne, luckily we were the only ones on the scheduled afternoon tour, so we could change the itinerary to include St. Mere Eglise and other WWII sites in the area. I couldn't find a totally American tour on the net, but this change gave us exactly what we wanted.
Advertisement
Advertisement