Get an up-close look at the site of America's D-Day invasion with a visit to the Normandy battlefield beaches from Bayeux. On this 9-hour small-group tour, you'll stroll Utah and Omaha beaches, explore famous wartime sites like Pointe du Hoc and Sainte-Mère Church, and learn the turbulent history of this key WWII location. Throughout the tour, enjoy free time to take souvenir photos, pay respects and ask questions of your expert guide.
Highlights
9-hour guided tour the American battle sites in Normandy from Bayeux
Visit Pointe du Hoc, a critical German outpost that was attacked by US forces
Step upon Utah Beach and Omaha Beach and learn about the battles that ensued there
Pay tribute to fallen soldiers at the Normandy American Cemetery and Interpretive Center
Roundtrip hotel transport by minivan included
Small-group format ensures personalized experience
Recent Photos of This Tour
Normandy Battlefields Tour - American Sites
What You Can Expect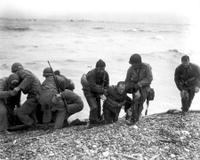 Begin your tour with a visit to the Sainte-Mère Church and Airborne Museum, the site of a massive airborne operation involving 15,000 U.S. paratroopers during World War II. Hear from your knowledgeable guide how the brave soldiers descended from the skies on the night before D-Day and learn the incredible story of Private John Steele, one of the paratroopers.
Continue onward to Utah Beach, where soldiers of the 4th Infantry Division leapt from their landing crafts and headed inland under the orders of General Theodore Roosevelt, Jr. The first day of battle saw relatively few casualties, but the same cannot be said for those that followed.
Visit the German Cemetery, the largest in Normandy dedicated to German casualties of war and the place where over 21,000 fallen soldiers are laid to rest. Spend time at Pointe du Hoc, one of the very largest German coastal batteries. The guns located here rained shells down on Allied soldiers across Omaha and Utah beaches, and the job of silencing them fell to a certain Lt. Col. Rudder and the U.S. Rangers of the 2nd Battalion.
Spend time on Omaha Beach, widely considered the most famous of the D-Day landing beaches. Gain an insight into the challenge faced by the Allied forces landing here under heavy German fire, and take time to consider their extraordinary courage.
The last stop on your tour is the American Cemetery and Visitor Center, the final resting place of 9,387 U.S. soldiers. The cemetery overlooks Omaha Beach and honors soldiers of all ranks in equal measure. Spend time walking among the marked graves and consider this fitting tribute to those who never made it home after World War II.
After nine hours discovering the Normandy battlefields, travel back to Bayeaux where your tour will come to an end.
May 2016
Great guide and tour. Highly recommended.
May 2016
Our guide was exceptional. He was passionate about his own experience with veterans that had come back to share their history or their parents history of the war. An understanding that it is the individual stories that are the important part of history
May 2016
Great Tour! Very well informed guide.
May 2016
It was an outstanding day. Matt, our Tour guide, was expectional in his knowledge and relationship with the group. First trip to Normandy, and the order of sites was also very well done, finishing the day at the American Cemetery, after starting at the German Cemetery. Five star!
May 2016
May 2016
Memorable and moving tour. Our guide Katell, I believe was exceptional - very knowledgeable, very efficient, and very pleasant. One of the highlights of our trip. Ann
May 2016
Tour group was small 8 participants with hotel pickup. Tour was extensive, visiting German Cemetary, Utah Beach, Omaha Beach, and American Cemetery, in addition to other minor stops. Tour guide was great, very knowledgeable, well educated, well spoken, professional, attentive, and polite. Would definitely recommend.
April 2016
Very knowledgeable guide, visited the most important sites. Great trip, well worth the cost!!
April 2016
An outstanding day spent with a very knowledgeable guide! Thank you so much Adrian, you made it so memorable!
April 2016
It was a wonderful tour, start to finish! Rose was perfect. She picked us up on time at our hotel. She knows well the history of the Notmandy events. She has a pleasant personality, she was very accommodating and I highly recommend her and her company. She made our day!
There are many tour companies in the Normandy area and you will be wise to choose this one! There were only six of us in a very clean van. It all worked well!
Advertisement
Advertisement