13 Reviews
Location:

Bayeux, France

Duration:

5 hours

(approx.)
Explore the Normandy battlefields with a guide on this 5-hour tour, and learn of the struggles that took place here during World War II. Offering a sensitive introduction to this difficult period of European history, the tour takes you to many of the sites that saw action. Visit the Merville Gun Battery and Museum, Sword Beach and the Hillman Bunkers and gain an understanding of the conflict that played out there. Walk among the graves at the Commonwealth Military Cemeteries and read the touching epitaphs left to fallen soldiers.
Highlights
5-hour tour of Normandy Battlefields from Bayeux
Visit the Merville Gun Battery and Museum
See Sword Beach, where the D-Day landings began
Explore the Hillman Bunker complex outside Colleville-sur-Orme
Visit the Commonwealth Military Cemeteries
Small-group tour by minivan
What You Can Expect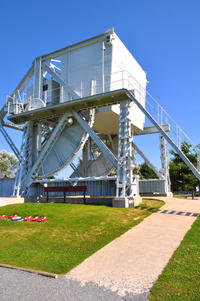 Begin your tour with a visit to the famous Pegasus Bridge, where General Gale's 6th Airborne Division famously halted German attacks coming in from the east. Listen as your knowledgeable guide describes the strategic significance of this important landmark, and feel free to ask any questions you may have.
Continue onward to the Merville Gun Battery and Museum and discover the more of the history of this once war-torn part of northern France. Under the command of Lieutenant Colonel Otway, the men of the 6th British Airborne Division were tasked with the capture and destruction of the enemy guns firing on the Allied forces on Sword Beach. Hear how, against all odds, the courageous soldiers succeeded in their D-Day mission.
Visit Sword Beach, the most easterly of Normandy's five landing beaches. Hear how 28,000 soldiers came ashore under heavy fire here, to begin the arduous task of liberating Western Europe. The city of Caen was their goal but the German resistance was strong.
Spend time exploring the Hillman Bunkers, a series of 18 underground concrete shelters linked by trenches. Hear your guide explain why the bunkers were built and gain an understanding of the strategic uses to which they were put during battle.
Continue onward to the Commonwealth Military Cemeteries. Wander among the graves and flowers, taking time to read a few of the touching epitaphs and letters left to fallen soldiers. The sense of history weighs heavy here, but the Commonwealth cemeteries are the perfect place for quiet reflection to heal old wounds.
After five hours exploring the sites and discovering the history of the Normandy battlefields, your tour will come to an end.
October 2014
Excellent tour, for a half day a lot was packed in, our guide was very informative.
January 2014
Great tour, very moving.
Sly our guide and was very knowledgeable and made the day.
Especially loved the story of Pegasus bridge with Paras and Marines
Thanks for making our trip so memorable Sly
August 2013
Very Good. Our guide was full of insights and kept it interesting
July 2013
Excellent! Our tour guide for the British sector was Sylvain "Sly" Kast. He was extremely knowledgeable, pleasant, and patient-fielding many questions from the tourists. I have advised friends anticipating a trip to Normandy to contact me in advance so that I can guide them to Sly! Please share this with Sly Thank you, Dick Robins
August 2010
Olivier was a knowledgeable and enthusiastic guide who is generous enough to share his extensive knowledge with his clients. If you have longer, consider doing a full day tour. Or, if you have a specific request, do ask for a personalised private tour.
May 2010
We had a very interesting afternoon in which we were taken to a range of places. Well beyond our expectations and despite the threat of bad weather we managed to keep mainly dry. Our guide was excellent and made us feel comfortable enough to ask a whole range of questions which he answered in detail.
February 2010
The tour was very thought provoking! Our guide was knowledgeable and helpful an excellent survey of the beaches, highly recommended.
September 2008
Excellent trip, the driver knew everything that he could about this and was able to answer all of our questions.
September 2008
Our guide, a charming young French woman with excellent English, arrived promptly at the hotel. The tour packed in a lot in a short time with visits to Pegasus Bridge, Ranville Cemetary, Hillman and Sword Beach. At each stop her detailed knowledge made for a most informative and enjoyable experience.
August 2015
Very knowledgeable guide. We were a little disappointed that we did not go to the Sword museum as this was the main reason for booking. However we enjoyed many aspects of the tour and we were pleased that after asking we actually went to the Sword beach and paid our respects to family.
Advertisement
Advertisement