Enhance your experience of Normandy and its intriguing historical heritage on a half-day tour of Pointe du Hoc and Omaha Beach from Bayeux. Delve into the turbulent past of the region with a knowledgeable guide and visit renowned D-Day battlefield sites situated on Normandy's picturesque coastline. Pay tribute to fallen soldiers at the Normandy American Cemetery and Memorial and browse the exhibitions in the informative visitor center. Enjoy personalized attention from your guide on this small-group tour, limited to only eight people.
Highlights
Afternoon tour to Normandy's battlefield beaches from Bayeux
Hear about the events of World War II and the D-Day landings from your guide
Walk the lunar landscape of Pointe du Hoc
Visit Omaha Beach, the bloodiest of Normandy's WWII beaches
See the graves of thousands of US soldiers at the Normandy American Cemetery and Memorial
Tour the cemetery's visitor center to learn about the bravery, sacrifice and achievements of the Allied forces
Recent Photos of This Tour
Normandy Beaches Half-Day Trip from Bayeux
What You Can Expect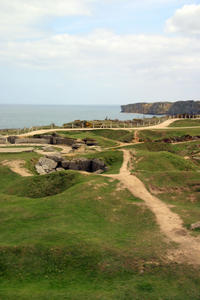 Depart from Bayeux in a comfortable, air-conditioned minivan and travel along the picturesque Norman coast to Pointe du Hoc, a German battery devastated by US soldiers on D-Day. Listen as your guide offers fascinating narration of the bloody battles that occurred here, and then capture photographs of fortification remnants blown to pieces by destructive bombs.
Return to the vehicle for the short drive to Omaha Beach and delve into the dramatic procession of D-Day events that unfolded on this beach. Stop at two points at either end of the sandy stretch to appreciate the scale of the expanse and then head to Normandy American Cemetery and Memorial to pay tribute to fallen American soldiers. Feel emotionally stirred as you stroll around Europe's largest American cemetery and then venture to the Normandy American Cemetery Visitor Center to enrich your knowledge of the region's history.
Browse exhibits that speak eloquently of the events that took place on Omaha Beach; listen to personal stories, narrative texts and interactive displays and appreciate the insightful nature of the museum.
Return to your vehicle after the explorative tour and then relax during the journey back to Bayeux.
April 2016
Matthew, our guide, was amazing. From family anecdotes to all the details! Was a much better experience than I had anticipated and came away with not only respect for the people of Normandy for how they honor our soldiers but also a renewed interest to learn from history!
March 2016
Fantastic! Our tour guide was amazing and the half day tour was simply outstanding.
January 2016
A very informative tour and guide. Highly recommended. the only downside was the dreadful rain the entire tour!
December 2015
November 2015
Very nice and enjoyable tour . Kate was very knowledgeable and charming. A little late on the pick up, but other than that, a great afternoon.
November 2015
The tour was fabulous. My family wife, two children, mother and father in law and my mother all enjoyed a week in France. During our stay in France, we had the opportunity to book a half day tour with your company. The tour was more than what we expected. The tour guide I apologize for not remembering her name was extremely knowledgeable. She was able to answer all of our questions and provide us with an in depth history lesson from each place we visited. I highly recommend your company for future travelers touring through Normandy. Thank you for making our first trip to Normandy a memorable one.
November 2015
Wonderful tour. Tour guide was excellent!
November 2015
Francois was exemplary! He is the best guide we've ever had. So knowledgeable and passionate. We enjoyed the small group, never felt rushed and learned so much. Wonderful experience!!
November 2015
The Normandy half-day tour was one of our favorite experiences. The tour was so informative, interesting, and powerful. Mag was our guide and her personal stories and wealth of knowledge made the trip extremely special. I'd highly recommend this tour to friends and family.

November 2015
Our guide Sunny was outstanding. Well done.
Advertisement
Advertisement