Discover the fascinating history behind the events of the 1944 Allied Invasion on a private full-day tour of Normandy from Bayeux. With an accomplished guide, delve into the tales of D-Day as you marvel at significant sites like the battlefields and landing beaches of Utah Beach and Sword Beach. Visit esteemed museums and moving cemeteries to enrich your knowledge of the historic events and admire the picturesque scenery of the famous French region. Customize the itinerary of the tour according to your interests and receive the undivided attention of your private guide throughout the day.
Highlights
Personalize your own itinerary to visit particular D-Day sites of interest

Visit battlefields and landing beaches, including Utah Beach, Omaha Beach and Sword Beach

Explore the Airborne Museum, the Merville Battery Museum and the Juno Beach Center
Spend time reflecting at the American, Canadian and Commonwealth cemeteries
Fabulous tour for history buffs!


Private tour ensures a more personalized experience
Recent Photos of This Tour
Private Tour: Normandy Landing Beaches, Battlefields, Museums and Cemeteries from Bayeux
What You Can Expect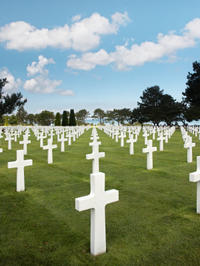 Depart from your Bayeux hotel in a private, air-conditioned vehicle and get acquainted with your accomplished guide as you drive through the picturesque Norman countryside to your first historical destination. Discuss your flexible itinerary with your guide and adapt your tour according to your interests.
Head first to the landing beaches of Omaha Beach and Utah Beach to delve into the turbulent history of the sites; browse the intriguing exhibitions within the Airborne Museum of Saint-Mere Eglise; and take moment of quiet reflection at the American Cemetery, a commemorative area dedicated to the American soldiers who died in the bloody D-Day battles.
Continue to Sword beach to see the site on which the British invaded Normandy and then enrich your historical knowledge further during visits to the Hillman Bunker Complex and the Merville Battery Museum. Read moving messages that pay testament to fallen soldiers in the Commonwealth Military Cemeteries and then feast your eyes on the ancient architecture of Ardenne Abbey, a sacred structure in which 11 Canadian prisoners of war were executed.
After your explorative excursion, return to your Bayeux hotel in your private vehicle and bid your guide farewell.
June 2016
It was great. Kate was a very knowledgable guide and provided excellent service. Her passion in her profession and about the area in which she specializes was second to none.

Alison H United Kingdom
December 2015
This was quite the most amazing trip I have ever done..so pleased a that I booked it. We took our American friends to Normandy as a 50th wedding anniversary treat..and I booked this day as the highlight of the 4 day trip. It could not have been better..we were picked up from our hotel by our guide Phillip who was the best..very comfortable people mover and he worked so hard to give us a day to remember..he planned our day round places and things we asked to see and added so much more into the mix . I hadn't realised just how big the area was to cover but he did it and kept us enthralled all day with the history and stories. One of our group had mobility issues and Phillip was so respectful and helpful..finding the best places to park and knowing how much of a particular activity that he would be able to manage...excellent. Point du Hoc was probably the most moving and difficult to traverse..the German battery was in redible to see and hear about and the weather joined in to give us a real feel for what it might have been like for our brave troops..Phillip had a wealth of knowledge and a good British sense of humour which went down well with us all..he was good company and excellent at his job..but it didn't seem like a job..he was delightful and took us to a restaurant for lunch that we would never have found ourselves...so many things we did that day we wouldn't have seen or even thought of seeing if we hadn't been on this trip. The German cemetery was one of them..we wouldn't give but for Phillip and I am so glad that we did..a very sombre place but essential to look at the other side too....very moving.
We wanted to find some personal graves too and Phillip sourced those for us making the whole thing much easier...I seriously would have booked another day if I had known just how good this would be...don't hesitate..it is excellent value to have such a personal experience and it is one the 4 of us will ever forget...thank you
November 2015
Our guide was wonderful. His english was perfect and his knowledge of the events leading up to and during the Normandy Invasion was superb! We were out site seeing all day and it wasn't enough. We could easily have had another day or two with him. Thank you!
October 2015
Our private tour of the Normancy Landing Beaches was an incredibly special day. We truly appreciated Ann-Sophia researching information pertaining to our family about D-Day and incorporating that into our tour. She was incredibly knowledgeable and brought the WWII history to life for us. Her itinerary for the day could not have been better planned out. Truly an emotional and special day that we will always have in our memories. Booking the tour and connecting with Ann-Sophia the morning of our tour could not have been easier. Thank-you for a memorable day Ann-Sophia!!
September 2015
This was amazing. Kate was our guide for the day. She is passionate about history! Her great grandmother's personal story about the German soldiers who lived with her for 4 years is inspirational to what the French endured during the war. It is humbling to have walked where so many young men lost their lives to make the world a better place. Kate made the whole trip. She is super sweet and better than any history book or movie. Outstanding Trip!
June 2015
Well organized, efficient and informed representative for one day tour for us two couples.
April 2015
This tour was fabulous...my first time in France and it's a memory I'll treasure forever. We were picked up promptly and our guide, Adrien, was wonderful. He was friendly, knowledgeable and always ready to answer our questions. We were very lucky to have him assigned to our group you are fortunate to have him on your staff. Thank you for this great experience.
October 2014
Our guide, Lucile Houlmann was excellent. She was accommodating to some specific sites we wanted to see, especially a very specific place on Omaha Beach. Although hard to find she was knowledgeable enough to be able to get us to the exact place where an acquaintance had come ashore on D Day!
We also saw the most important and well visited places in Normandy. We would highly recomend this tour and particularly our guide as a highlight of our visit to the Normandy region of France.

July 2014
A memorable, marvellous experience. Our tour leader Sophie was amazing, she brought the D Day landings to life for us. It was a wonderful day and was the high light of our 3 week trip to Paris London and Bayeux. An amazing Day with a passionate tour guide, we loved it
July 2014
Our tour guide, Jules Vernon was fantastic! Knowledgeable, personable and engaging, he brought the action of the day to life. I would highly recommend him and the tour.
Advertisement
Advertisement