47 Reviews
Location:

Bayeux, France

Duration:

8 hours

(approx.)
Take a private tour from Bayeux to Normandy, where you'll relive the events of the Allied invasion on June 6, 1944 – more famously known as D-Day. You can personalize this private tour and determine how long you spend at the various WWII sites. Your private guide will give you unique insight into the events that took place on the landing beaches and battlefields of Normandy and tell you about the British, American, Canadian and French troops. You can also visit the cemeteries and museums.
Highlights
Personalize your own itinerary to visit particular D-Day sites of interest

Visit battlefields and landing beaches, including Utah Beach, Omaha Beach and Sword Beach

Explore the Airborne Museum, the Merville Battery Museum and the Juno Beach Center
Spend time reflecting at the American, Canadian and Commonwealth cemeteries
Fabulous tour for history buffs!


Private tour ensures a more personalized experience
Recent Photos of This Tour
Best Private Tour: Normandy Landing Beaches, Battlefields, Museums and Cemeteries from Bayeux
What You Can Expect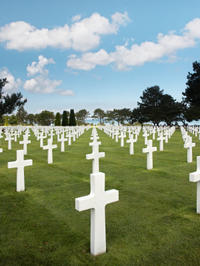 During the nights of June 5 and 6, 1944, more than 16,000 paratroopers landed in Normandy, in northwestern France, and began the D-Day invasion of World War Two. Soon after, British, American, French and Canadian troops landed on various beaches on the Normandy coast and engaged in heavy fighting over the following days, which eventually led to the end of the European part of WWII.

This flexible private tour from Bayeux allows you to personalize your own itinerary – see what you want for however long you want! Visit the famous landing beaches, like Utah Beach (the first beach secured by the Allies) and Omaha Beach (where some of the heaviest fighting took place, giving it the nickname Bloody Omaha). You can also visit the Airborne Museum of Saint-Mere-Eglise or the American Cemetery, on the eastern end of Omaha Beach, which commemorates the US soldiers who died in this battle. This expansive space of reflection is the final resting place of 9,387 soldiers.

Or maybe you'd prefer to see Sword Beach, where the British, along with Free French soldiers, began their invasion of Normandy and quickly moved to capture Pegasus Bridge. You can also visit the Hillman Bunker Complex, outside the village of Colleville-Montgomery; the Merville Battery Museum; or the Commonwealth Military Cemeteries, where messages and epitaphs bear testament to the lives lost during the Normandy invasion.

If you're interested in the Canadian participation around Juno Beach, visit the Juno Beach Center and the Canadian Cemetery near the villages of Veny-sur-Mer and Reviers. You can also choose to see the 12th-century Ardenne Abbey, initially the main point of French resistance and the site where 11 Canadian prisoners of war were executed.

However you choose to customize your private tour, you are sure to have a fascinating and interesting day at the D Day sites of Normandy.

November 2015
Our guide was wonderful. His english was perfect and his knowledge of the events leading up to and during the Normandy Invasion was superb! We were out site seeing all day and it wasn't enough. We could easily have had another day or two with him. Thank you!
October 2015
Our private tour of the Normancy Landing Beaches was an incredibly special day. We truly appreciated Ann-Sophia researching information pertaining to our family about D-Day and incorporating that into our tour. She was incredibly knowledgeable and brought the WWII history to life for us. Her itinerary for the day could not have been better planned out. Truly an emotional and special day that we will always have in our memories. Booking the tour and connecting with Ann-Sophia the morning of our tour could not have been easier. Thank-you for a memorable day Ann-Sophia!!
September 2015
This was amazing. Kate was our guide for the day. She is passionate about history! Her great grandmother's personal story about the German soldiers who lived with her for 4 years is inspirational to what the French endured during the war. It is humbling to have walked where so many young men lost their lives to make the world a better place. Kate made the whole trip. She is super sweet and better than any history book or movie. Outstanding Trip!
June 2015
Well organized, efficient and informed representative for one day tour for us two couples.
April 2015
This tour was fabulous...my first time in France and it's a memory I'll treasure forever. We were picked up promptly and our guide, Adrien, was wonderful. He was friendly, knowledgeable and always ready to answer our questions. We were very lucky to have him assigned to our group you are fortunate to have him on your staff. Thank you for this great experience.
October 2014
Our guide, Lucile Houlmann was excellent. She was accommodating to some specific sites we wanted to see, especially a very specific place on Omaha Beach. Although hard to find she was knowledgeable enough to be able to get us to the exact place where an acquaintance had come ashore on D Day!
We also saw the most important and well visited places in Normandy. We would highly recomend this tour and particularly our guide as a highlight of our visit to the Normandy region of France.
July 2014
A memorable, marvellous experience. Our tour leader Sophie was amazing, she brought the D Day landings to life for us. It was a wonderful day and was the high light of our 3 week trip to Paris London and Bayeux. An amazing Day with a passionate tour guide, we loved it
July 2014
Our tour guide, Jules Vernon was fantastic! Knowledgeable, personable and engaging, he brought the action of the day to life. I would highly recommend him and the tour.
July 2014
The tour and guide was terrific. We visited all the areas of Omaha Beach, Point du Hoc, the memorial cemetery, and had an excellent lunch(Best Sole Fish) at a local restaurant recommended by our guide Jonathan. He was prompt to pick us up and return us to our ship in LeHavre. He showed us 1944 German and Allied photos from the French Archives of the D-Day landings and some of the scenes on Omaha Beach and Point du Hoc.
July 2014
I've been on 4 private tours and this one was great. We had so much info from our guide and he was very enjoyable to be around, especially for an 8 hour tour. Highly recommend.
Advertisement
Advertisement