Delve into Normandy's superb historical and culinary heritage on a private tour from Bayeux. Begin with a visit to Bayeux Cathedral and the iconic Bayeux Taperstry illustrating the story of William the Conqueror. Next continue onto Honfleur, a waterfront town that's filled with timber-framed houses and France's largest wooden church. It's colorful scenery was a favorite among Impressionist painters like Monet. Finally, save your appetite for Pays d' Auge, where you'll sample regional food and drink specialities like Cavados brandy and Camembert cheese.
Highlights
Private tour of Bayeux, Honfleur and Pays d'Auge from Bayeux

Visit Bayeux Cathedral and see the city's diverse architecture
See the famous Bayeux Tapestry depicting the Battle of Hastings
View the picturesque port of Honfleur
Stop in Pays d' Auge for tastings of Camembert, Calvados and cider
Small-group tour, with a maximum of eight passengers, ensures a more personalized experience
What You Can Expect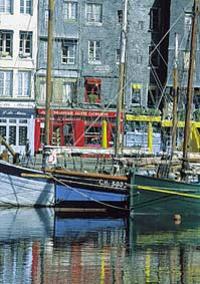 Departing in a minivan from Bayeux, your full-day tour of the best of Normandy starts with the magnificent Bayeux Cathedral, which dates from 1077 and was built in both Roman and Gothic styles. Bayeux was the first town to be liberated by the Allies at the end of World War Two and survived intact; it boasts an impressive array of architecture dating from antiquity to the Renaissance to the modern day.

Also in Bayeux, you will see the famous Bayeux Tapestry, an embroidered cloth more than 200 feet (60 meters) long. This cloth, which was originally housed in the Bayeux Cathedral, tells the story of William the Conqueror, from the build-up to the invasion of England to the Battle of Hastings in 1066, when William defeated King Harold to become King of England. The tapestry is now located in the purpose-built Bayeux Tapestry Museum.

Continue your tour to the port town of Honfleur, with its picturesque and colorful harbor located on an estuary of the Seine River. The colors of the timber-framed houses and the quaint backstreets have inspired famous painters such as Monet and Courbet. It is no wonder that for many years, Honfleur was regarded as the cradle of Impressionism. See also the Saint Catherine church, the largest church constructed from wood in France.

Finally, make your way to Pays d'Auge, where you will feast your senses on the range of culinary delights the region has to offer. Apple-based drinks are ubiquitous in the region – Calvados, an apple brandy, is a firm favorite, while cider, made from fermented apple juice, was for a long time the second-most popular beverage in France after wine. Also famous from the region is Camembert, the soft, creamy cow's cheese, first made in the 18th century in Normandy.
June 2016
Our tour-guide Adrien was knowledgable, friendly, fluent in English and full of wonderful ideas that took us off the beaten path. He was our guide on two tours: a group tour to Mt. St. Michel and a private tour to the Pays D'Auge and Honfleur. Knowing my interest in military history, he took side-roads that led to important but mostly-forgotten battle sites. A memorable tour led by an extraordinary young man.
January 2012
Our tour guide was brilliant and combined his extensive local knowledge with a friendly style. Thoroughly recommend this tour to anyone wanting to see the real provincial France.
June 2013
I was surprised when the guide showed up and asked me what we were going to do. I thought thatn was what you did.
The guide was knowledgeable and very personable, but had no instructions on the tour itinerary..
Bret A USA
July 2010
Had a very good guide who knew her stuff and had a good command of English. Enjoyed seeing the Bayeux Tapestry a great deal, but was surprised when I had to pay for the admission price after spending so much on a private tour. Enjoyed Honfleur as well and appreciated the guide getting us by Utah Beach and the American Cemetary as well. Buying the guide lunch was another unexpected cost. Be prepared for additional costs.
Advertisement
Advertisement