Combine two of China's headline acts and UNESCO World Heritage sites – the Forbidden City and the Great Wall of China – with a taste of traditional Chinese culture on this memorable 4-day tour from Beijing, including 5-star accommodation and meals. Enjoy the undivided attention of your private guide as you explore the historic Tiananmen Square, tour the grand Summer Palace, and take in the views from the Mutianyu Great Wall. Then, get off-the-beaten-track as you stroll around the 'hutongs' (alley ways) of Old Beijing, tuck into traditional Peking duck and be entertained by a mesmerizing Beijing acrobatics show
Highlights
Private tour of Beijing attractions including the Great Wall and the Forbidden City
Learn about Chinais intriguing culture and history from your expert guide
Walk around Beijing's cultural center, Tiananmen Square
See the beautiful mixture of nature and architecture at the Summer Palace
Take in high-flying and daring performances at a Beijing acrobatics show
Enjoy a delectable spread of Peking duck, one of China's national dishes
Experience a relaxing and comfortable three nights' stay at a 5-star hotel
All meals and hotel/airport pickup and drop-off included
Recent Photos of This Tour
4-Day Private Tour of Beijing: Great Wall, Forbidden City, Tiananmen Square and Peking Duck Dinner
What You Can Expect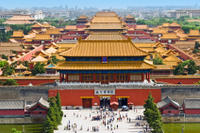 Day 1 (D)
Private pickup from the Beijing Capital International Airport will take you to the hotel. After your orientation, feel free to enjoy the hotel facilities or explore the city on your own before calling it a night. (See below for details on booking your own hotel).

Day 2 (B, L, D)
After breakfast, your guide will take you to Tiananmen Square to see Tiananmen Tower, monument to the People's Heroes, Great Hall of the People and Chairman Mao's monument. Then, visit the Forbidden City, a Chinese imperial palace that served as the political center of the government for many years.

Stop at a Beijing hutong, an alley lined by traditional courtyard residences, and immerse yourself in the lifestyle of a typical Beijing local. These residences hold cultural significance in Beijing society and provide a stark contrast to the sights you will have seen earlier in the day. Later, enjoy a night of entertainment at a Beijing acrobatics show - a mind-blowing display of seemingly impossible feats and tricks, such as juggling porcelain urns and balancing on unevenly stacked chairs!

Day 3 (B, L, D)
Magnificent landscapes and impressive architecture will fill today, first with a guided tour of the Mutianyu Great Wall. Take a cable car to the top of the wall and admire its massive structure snaking through the forest. Visit the gorgeous Summer Palace with your guide and marvel at the splendid pavilions on one side and natural landscapes of hills and open water on the other. For dinner, dine on a scrumptious banquet of Chinese Peking duck, roasted to perfection and eaten with pancakes, spring onions and a sweet bean sauce - a delicious way to unwind at the end of the day!

Day 4 (B)
You will be dropped off at the Beijing Capital International Airport to end your Beijing experience.
October 2014
Excellent way to experience Beijing for first-time Americans like my wife and I. Our guide John was very informative. His English was excellent. He made us feel welcomed and comfortable in what for us was a very foreign environment. As per the tour description he picked us up upon our arrival, got us checked into the hotel, took us out for meals, and guided us on our tours around Beijing. Based upon our desires, he selected the restaurants and did all the ordering. We greatly enjoyed all of his selections. We feel like we had very authentic dining experiences.
The sites are wonderful, but be prepared for extensive walking and bad air. The first full day was six hours of walking before we asked to take a rest in advance of the acrobatics show. John was able to accommodate us by finding a coffee and tea room where we spent a quiet hour. The show and the Great Wall were awesome! However, the air quality in Beijing was extremely bad while we were there. Visibility from the Forbidden City and the Great Wall was very limited which was disappointing. That combined with the strenuous walking makes this tour difficult for those with health issues.
The default hotel is the Jingtailong. It is within walking distance of Tiananmen, shopping, and dining. Some of the staff speak English. The included breakfast is at the hotel's restaurant and is an Asian/Western buffet (have your room key card available). The rooms and beds are large and comfortable but the beds are firm. Check-in/check-out is different from our experiences in other countries. While John handled the check-in, it involve a lot of activity and time. A deposit is required- keep the receipt. Check-out also involves a lot of time and activity- present the deposit receipt to speed the refund. The housekeeper will inspect the room for damages before the desk will complete check-out. Allow 30 minutes prior to pickup.
Overall, this tour was awesome and met or exceeded all our expectations.
Anonymous
May 2012
Great introduction to Beijing, highly recommend to everyone visiting this amazing city!

Bandit USA
May 2012
Great tour at an unbeatable price! I'm so glad we chose this option. It was our first time in China and this was a great introduction for us. It covered all the basics - Great Wall, Tiananmen Square, Summer Palace and Forbidden City. It was the perfect mix between the must-see "tourist" attractions and cultural immersion we would not have been able to do on our own. Great sights, friendly people and amazing country!
August 2014
Overall, we thought this an excellent tour. We got to see the sights without being pushed to shop. The guide was excellent and knew all the tricks to making it an excellent tour. We enjoyed going to local, non-tourist, restaurants, though the literature made the Peking Duck sound like a catered banquet. The acrobat show was awesome. The Wall, Forbidden City, of course sell themselves. The only down part was the hotel was advertised as 5 star. The Peninsula was advertised, but fine print directed us to another hotel, three star at best, with a good location near Tiananmen, but not really what we expected. Overall, well worth the trip and really nice to have a private guide.
Advertisement
Advertisement