69 Reviews
Location:

Beijing, China

Duration:

4 hours

(approx.)
Dine on exquisite Chinese cuisine at a Peking Duck banquet dinner then enjoy traditional entertainment from a Chinese acrobat troupe on this Beijing evening excursion.
Highlights
Combined Peking duck banquet and Chinese acrobat troupe entertainment in Beijing
Insights into Beijing's famous dish
Mesmerizing acrobatic performance from the talented troupe
English-speaking guide
Pickup and drop off from city-centre Beijing hotels
Recent Photos of This Tour
Beijing Acrobatic Show and Peking Duck Banquet Night Tour
What You Can Expect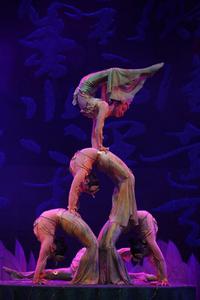 Dining on world-famous Peking Duck is an absolute must-do in Beijing you can't say you've eaten Peking Duck until you've eaten it in Beijing, where it is made as it should be! On your evening out in Beijing you'll discover the culinary secrets in carving the duck correctly and eating it Beijing style.

Your delicious banquet will be followed by exotic entertainment from a Chinese acrobat troupe, who have perfected this elegant art form that has been performed in China for thousands of years.
November 2015
Firstly, I would highly recommend booking this tour as there aren't many people who travel independently in Beijing, hence there were only 4 of us in total on this tour. The service was fantastic. The Acrobatic show was incredible, unlike anything I've ever seen before!! Following this, we were taken to a Peking Duck restaurant where we were served this plus a lot of other food, which was more than enough for us to eat - we weren't in danger of going hungry! A really great tour
June 2015
The show is very impressive. The stunts are more dangerous than what I had seen in a Vegas Cirque de Solei show a few days before. You have the option of upgrading your seat, which I did and ended up in the 2nd row, which was a lot of fun. The food was delicious and there was too much to eat, which is a great problem to have.
April 2015
Excellent. The Acrobatic show is fast paced and mind blowing with about 10 acts. Although we've seen it before on a prior trip to Beijing, it is remarkable the talent and expertise that goes into these acts. The theatre is worn and we were one of a few American/European faces in the audience most of the audience were Chinese so this is not a show developed for tourists.
You shouldn't go to Beijing without trying a Peking duck dinner. Its served with a number of other dishes for those who think they might not like duck.
September 2014
The show was entertaining, more gymnastics than acrobats. The Peking Duck was fantastic, the only negative is that the 1 beverage which is included in your dinner, comes in a very small glass. All other
beverages have to be bought separately, including water.
June 2014
My family consider the Chinese as the best in Acrobats. The bicycles and motorcycles shows are fantastic. Peking Duck? So Gooood!
October 2013
Everything perfect!
Super recommended. The guide is very friendly, the show amazing and delightful dinner, although it includes only one drink (a glass of beer, water or soda), but you can pay for more.
August 2013
Transport from ant to hotel on time. Show fantastic. Duck very good.
July 2013
Thank You so much for this tour! This was the high peak of my full day's tour of two combined tours, and I think also the high peak of my whole trip, just breathtaking, and the guide was the whole day so fantastic, and the driver also so friendly and nice! I had so much fun and same time learned so much about Chinese culture!
May 2013
This was really an eye opener. Firstly our Peking Duck Banquet was the most amazing food ever. We were the only two people on this tour and had a private table to ourselves. Heaps of different dishes as well as the duck. Service was wonderful. The acrobatic show was probably one of the best shows we have ever seen. Could not believe though at the end of the show when the cast is taking their bows, the audience just get up and run out the doors and you are swept away with them. We laughed so much at this and through the mayhem our driver still spotted us and waved us over to where he was for a quick getaway to miss all the traffic. This was a really good night and we would strongly recommend.
April 2013
This was an exceptional evening. Both the show and dinner were excellent. The guide was promt and very friendly. Would recommend it to anyone
Advertisement
Advertisement