Feast your senses on the spectacular sights of an acrobatic show and the tantalizing taste of Peking duck during an exciting 4-hour experience in Beijing. Dine upon an exquisite banquet comprising of signature Beijing specialty, Peking duck, then enjoy an evening of enthralling entertainment from a troupe of talented acrobats. Marvel at the flexibility of the acrobatics as an elegant performance unravels beside melodious music. Enjoy convenient round-trip transportation from selected Beijing hotels on this tour.
Highlights
Combined Peking duck banquet and Chinese acrobat troupe entertainment in Beijing
Insights into Beijing's famous dish
Mesmerizing acrobatic performance from the talented troupe
English-speaking guide
Pickup and drop off from city-centre Beijing hotels
Recent Photos of This Tour
Beijing Acrobatic Show and Peking Duck Banquet Night Tour
What You Can Expect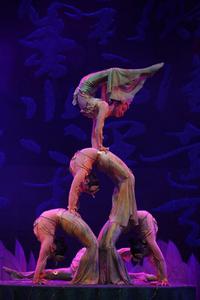 Depart from your centrally located Beijing hotel and travel to a venue that harbors the majesty of fine cuisine and electric culture. Take a seat at an exquisitely laid table then pleasure your palate with a feast of Peking duck; feel your mouth water as you see succulent shredded duck beside delicate pancakes and rich hoi sin sauce.
Sated, sit back and treat your senses to the color and charisma of an impressive acrobatics show; marvel at the fascinating flexibility of gymnasts and acrobats as they perform perfectly choreographed moves to elegant musical numbers.
Suitably impressed by the ancient art form, return to your vehicle and travel back to your Beijing hotel in comfort.
June 2016
The acrobatic show as extraordinary. We were on the edges of our seats and thoroughly entertained. The Peking duck dinner was also very good with a good choice of dishes and more than enough to eat.
Joan and Ian
Ottawa, Canada
May 2016
SOOOOOO Good! The show was amazing! Absolutely amazing. For how much the tour cost, the seats could have been much better though. We were off to the side so the view for everything wasn't the best. As I said, for how much the tour cost, they should have purchased VIP seats. The dinner was good. There wasn't much duck to go around. Luckily, the rest of the group didn't actually like duck. They take you to a very touristy place that obviously caters towards white people so the food wasn't the greatest. They do provide more than just the duck though. So there is plenty of food. There were only five people in our group and they bought out enough to feed an army.

Llamaschool United States of ...
April 2016
As a single traveler, I didn't want to go to a Peking Duck restaurant on my ownwho orders a whole or even half duck? And I'd read good things about the Acrobatic Show, so I went for it. The restaurant that we were taken to clearly catered to international tourists but the chef did actually carve our duck at the table, even though our guide had warned us that he might not be able to b/c it was 'high season.' The server demonstrated the appropriate way to fold the duck and condiments into the sleeve, and we were offered wine with dinner and checked on often. We were given fruit, a salad, soup, and four entrées kung pao, orange chicken, an egg and chicken dish and broccoli beef for the four persons in the party. The acrobatic show was incredible. One of the highlights of my trip-- it made me want to bring my kids to Beijingif they like the Cirque de Soleil show that passes through every year, they'll love this! If other reviews stated that the theater and costumes were tired and run-down, things have been overhauled since. Just amazing! Our tour guide was William Kuang, who was also the guide on my tour of the Summer Palace, Panda Garden and Lama Temple. A former accountant who is thrilled to be working as a tour guide and sharing the culture of Beijing with foreigners, William is highly recommended, as is this tour package!
December 2015
Very well planned and my Guide Cynthia was very informative and spoke English well. Show was very professional and the theartre was in common district so the local people were the audience. Very much local culture and Chinese tourist, not fancy and dressy casual dress is fine. Would recommend
November 2015
Firstly, I would highly recommend booking this tour as there aren't many people who travel independently in Beijing, hence there were only 4 of us in total on this tour. The service was fantastic. The Acrobatic show was incredible, unlike anything I've ever seen before!! Following this, we were taken to a Peking Duck restaurant where we were served this plus a lot of other food, which was more than enough for us to eat - we weren't in danger of going hungry! A really great tour

June 2015
The show is very impressive. The stunts are more dangerous than what I had seen in a Vegas Cirque de Solei show a few days before. You have the option of upgrading your seat, which I did and ended up in the 2nd row, which was a lot of fun. The food was delicious and there was too much to eat, which is a great problem to have.
Eben F USA
April 2015
Excellent. The Acrobatic show is fast paced and mind blowing with about 10 acts. Although we've seen it before on a prior trip to Beijing, it is remarkable the talent and expertise that goes into these acts. The theatre is worn and we were one of a few American/European faces in the audience most of the audience were Chinese so this is not a show developed for tourists.
You shouldn't go to Beijing without trying a Peking duck dinner. Its served with a number of other dishes for those who think they might not like duck.
September 2014
The show was entertaining, more gymnastics than acrobats. The Peking Duck was fantastic, the only negative is that the 1 beverage which is included in your dinner, comes in a very small glass. All other
beverages have to be bought separately, including water.
June 2014
My family consider the Chinese as the best in Acrobats. The bicycles and motorcycles shows are fantastic. Peking Duck? So Gooood!
October 2013
Everything perfect!
Super recommended. The guide is very friendly, the show amazing and delightful dinner, although it includes only one drink (a glass of beer, water or soda), but you can pay for more.
Advertisement
Advertisement