After arriving in Beijing, refresh and recharge at the BGS Premier Airport Lounge before boarding your connecting flight. A hot shower and some delicious hot food and beverages after a long flight are the perfect ways to get rid of your fatigue and rejuvenate your sleepy mind.
Highlights
Entrance to the BGS Premier Lounge at Beijing Capital International Airport

Take a hot shower and relax!
Enjoy amenities such as hot food, beverages and internet (all included)
What You Can Expect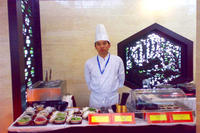 Escape the hectic airport atmosphere and head to the BGS Premier Lounge at Beijing Capital International Airport. Relax between flights and enjoy high-quality service, relaxation and comfort at the lounge.
You may choose from two lounges – one in Terminal 2 or one in Terminal 3. Both lounges provide amenities and services to ease your fatigue after a long day of travel – take a shower, enjoy a snack, have some coffee or catch up on the newspaper. Restore your energy and revitalize your senses in preparation for your next destination.
The lounges provide superior service to meet the demands of all travelers and offer a hassle-free experience during your travels to and from.
Service and Facilities:
Hot food, pastries and fruits
Freshly brewed coffee, tea and juices
Shower with amenities
Comfortable seating area
International newspapers & magazines
International TV channels
Internet connection
Smoking area
Free local calls
Flight information
Click on "View Additional Info" to see the BGS Premier Lounge location map
May 2013
Good food and drink and nice shower, although only 1 for each sex but provide everything you need, towel, shower gel, shampoo, hair dryer etc.
October 2015
Very Nice I would recommend this if you have a long layover.
February 2015
This was a haven in the middle of a challenging itinerary. Very comfortable, reasonable food choice, and all the amenities I could wish for. The food was a little restricted, and had been sitting there all day, so I don't know about the freshness.
All in all, a good experience
July 2013
very nice place to relax for a couple of hours,they had everything we needed.Good food and drinks.Quiet and very relaxing.The only bad thing was that there was not hot water in the shower room. I will give a rating of 4 stars.
October 2012
Well worth booking the lounge if you have a long wait between flights. The shower and refreshments were greatly appreciated. Friendly staff made the long wait easy. Wifi connection good.
March 2013
This lounge is spacious and easy to find. It was great to have a shower in the middle of a long trip. The food was just ok, nothing to rave about. they could have a better selection of both food and drinks for the money you pay. Bathrooms were very dark however, and the water was not hot in the shower. I expected more in the way of toiletries in the bathroom as well. At least the staff is friendly there, but their english is lacking.
Advertisement
Advertisement