Immerse yourself in the rich historical heritage of Beijing on a full-day tour of the city's most spectacular sights. Visit the UNESCO World Heritage-listed Summer Palace; absorb the sacred ambience of the Lama Temple (Yonghegong); and see giant pandas in environments reminiscent of their natural habitat at Beijing Zoo. Gain fascinating insight into the prosperous past and present of China's capital from a knowledgeable guide and capture fantastic photographs of the city sights during each leisurely stop.
Highlights
Full-day tour to Lama Temple, Summer Palace and Beijing Zoo giant panda exhibit, from central Beijing

Marvel at the intricacies of Lama Temple, one of the most important Tibetan Buddhist temples outside of Tibet

See the massive Maitreya Buddha statue that stands in one of Lama Temple's five halls
Snap photos of the uber cute giant pandas at Beijing Zoo
Walk around the grounds of UNESCO World Heritage-listed Summer Palace

Watch a short demonstration on making silk at Tianhou Silk Market
Includes knowledgeable guide, lunch, transportation, entrance fees and hotel pickup and drop-off
Recent Photos of This Tour
Best Beijing Historical Tour including the Summer Palace, Lama Temple and the Panda Garden
What You Can Expect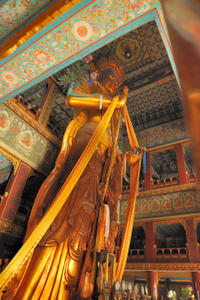 Depart from your centrally located Beijing hotel in a comfortable, air-conditioned coach and venture to the first of your historical highlights, the Lama Temple. Hailed as one of the city's most famous monasteries, the temple boasts five opulent halls replete with colorful carvings, sacred objects and detailed murals. Follow your guide through the impressive labyrinth and learn about the cultural significance of the enormous Maitreya Buddha, a statue that stands 18 meters above ground.
Next, venture to Beijing Zoo to see its adorable giant pandas. Watch the majestic mammals in a replication of their natural habitat as they munch on bamboo and lounge lazily in the large enclosure. After observing the cute pandas, revitalize with a traditional Chinese lunch and prepare for your next destination.
Sated, travel to the UNESCO World Heritage-listed Summer Palace to marvel at the regal resplendence of the structure, Hear about how the palace was completely rebuilt after destruction by foreign armies and tour the opulent grounds to see decorated temples, picturesque pavilions, quaint bridges and verdant gardens.
Conclude your cultural exploration at the Tianhou Silk Market, a vibrant enclave in which a brief silk demonstration is performed. Purchase some sumptuous silk if you please then return to your Beijing hotel in your comfortable vehicle.
June 2016
Our guide Jackie made this day super fun! He talks super fast and does have quite an accent but is very open to answering questions and is so funny! We loved seeing the giant Pandas at the zoo. It was early in the day and the pandas were very active and fun to watch. We then went to the Summer Palace. Almost overwhelming in size but so glad we got to see it. We finished at the Lama Temple which was very interesting as they were celebrating Buddha's birthday. The temple was filled with chanting monks and lots of burning incense. Many worshippers there. They finished the service and began walking around the temple, still chanting. It was super interesting! Jackie took us to the silk shop and it was really interesting. Learned a lot! Glad we took this tour and would highly recommend it!
June 2016
Great tour with a very informative english speaking guide, a must do tour for Beijing
May 2016
The tour guide and the tour itself was fun. The food they give you is Western style Chinese food. Not exactly what you actually get in China but still quite nice. The Lama Temple was amazing. It was beautiful and our tour guide had a lot of knowledge about everything. Be careful at the pearl factory. I bought an 18 carat gold charm with a pearl in it and the gold is peeling off and turning back so obviously not real pearl. It might be government run but that doesn't mean it's 100 legit.

April 2016
We ended up with a private tour because no one else had booked this particular itinerary on this day. William was our guide, and he was amazing. I was traveling with my 83 year old grandmother, and he saw our unique needs and met our pace. This was my grandma's favorite day of our trip!

Llamaschool United States of ...
April 2016
Excellent tour, don't miss this one! Our guide was William Kuang, highly recommended. He got us to the Panda Garden slightly before 8:30, we practically had them to ourselves. We took a dragon boat up the waterway into the Summer Palace grounds as was the case with other Hanteng tours I took this week, our guide seemed to know the ticketing agents and we were moved to the front of the line for the boats embarrassing, but efficient. A good 2 hours spent @ the Summer Palace, we visited the temple and the living quarter. Lunch was fine, a place that caters to tour buses in the Olympic complex. There were two shopping stops, the pearls and the tea house these are unavoidable unless you hire a private guide--don't buy if you don't want to and you DO have room to bargain @ the pearl factory. Lama Palace was last, our guide is a practicing Buddhist and demonstrated the incense rituals and prayers, explaining everything. As we left, he noticed the monks were giving out fruit from the day's offering tables and shooed us all back in to receive them. Very good luck, evidently!
April 2016
We packed so much into this day! We signed up for a group tour but it ended up only being our group which was a nice surprise. Our guide was great and took us all around the city. There were two factory stops but since it was just the two of us we made it quick. Lunch was not great and very touristy
January 2016
Very good experience with a personal touch. Excellent English spoken by our friendly and knowledgeable guide. Thoroughly recommend this to all and value for money.
October 2015
Absolutely fabulous.
Be,jing is an credible city.
Gary P USA
October 2015
Superb tour with a great guide and driver. Adjusted the tour a bit to meet my requests, and highly recommend this nearly full day tour around Beijing.

August 2015
Great tour and great tour guide!
Advertisement
Advertisement