This private tour of Beijing will be filled with a variety of activities that lets you see and experience the best of the city in a single day. With your own private guide, visit the UNESCO World Heritage-listed Temple of Heaven and explore the dynamic commercial area of Hongqiao Market, which boasts a large collection of pearl products. Dine on a mouthwatering dinner of Peking roast duck after marveling at a spectacular performance of the 'Legend of Kung Fu.'
Highlights
Private full-day tour of Beijing with a professional English-speaking guide
Visit the Temple of Heaven, a UNESCO World Heritage Site
Shop at Hongqiao Market and watch a spectacular evening Legend of Kung Fu show
Feast on a scrumptious spread of Peking roast duck
Enjoy an authentic Beijing experience with a fully customizable itinerary based solely on your personal interests
Recent Photos of This Tour
What You Can Expect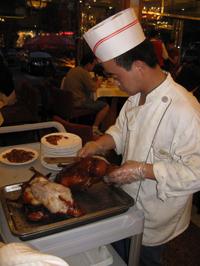 After your guide picks you up from your Beijing hotel, head to Temple of Heaven and tour the UNESCO World Heritage Site. First constructed in 1420, these religious buildings were visited by the emperors of the Ming and Qing dynasties for annual prayer ceremonies. Learn about these cultural practices and traditions as you walk through the temple complex, which occupies an area of 674 acres (273 hectares).
Next, step into Hongqiao Market (Beijing Pearl Market), one of the most visited local markets in Beijing. Here, peruse the different shops offering all sorts of interesting merchandise, from seafood to silk. This market is also the largest pearl distribution center in China. After spending time souvenir shopping, walk to the nearby Beijing Red Theater for a unique and spectacular Legend of Kung Fu show. Combining kung fu, dance and acrobatics with vibrant costumes, set designs and special effects, this show is a remarkable display of Chinese modern and traditional art.
Once you've worked up an appetite, end your tour by heading to a nearby restaurant and enjoy a delectable feast of Peking roast duck, considered to be the most delicious delicacy in Beijing. At the end of your tour, your guide will take you by taxi or subway back to your Beijing hotel (all transportation fees included).
Itinerary
July 2015
Our tour guide was excellent. Her knowledge, english, and recommendations made the day much more enjoyable.
May 2015
This was a good tour. Enjoyed the Peking duck!! The duck was excellent!! Temple of Heaven was impressive. The Kung Fu show as more of a story of one child and not that much fighting but still interesting. Overall -- a great experience.
April 2015
My private tour exceeded my expectations. Cris was an excellent guide. She was very knowledgable and great company. I would definitely book another trip in the future.
February 2015
My tour guide Robert was able to answer my questions well and was very knowledgable about the attractions we visited. The tour was excellent after arriving in Beijing on my first day. I recommend this tour.
December 2014
The tour guides were fantastic, however I will not book with via tour ever again. Once they have your money which they are more than happy to take, your then pretty much on your own. The tour is great but you can book tours anywhere really.
October 2014
The tour was more then what we expected. The show was amazing and our tour guide Jackie was fantastic and lots of fun. Would highly recommend it.
Anonymous
October 2014
We had a great day with Linda as our guide. She was on time and was professional while being really friendly. Our request for a slight change to the plan for the day was no problem. Linda was really knowledgeable about the sights and got us great seats for the Kung Fu Show. Then some great conversation and more sights on our walk to the restaurant and a lovely Peking Duck dinner. Would sincerely recommend this tour and our guide Linda.
July 2013
We would recommend this tour and our tour guide, Jackie. We especially enjoyed the Kung Fu show and the Pearl Market. Jackie was very professional and spoke excellent English. He did a great job helping us bargain with the vendors at the Pearl Market.
July 2013
Anonymous
July 2013
Hi, I would like to thank Jacky, our tour guide today for a very nice day in Beijing. We very much enjoyed the whole tour and Jacky was very knowledgeable and professional. Our dinner was delicious and we were impressed with the show. We were also glad he helped us at the Pearl Market. We will recommend your company and Jacky to the rest of our group and our friends. Thank you, Anna, Meili, Katie and Karen
Advertisement
Advertisement