Visit Beijing's major temples with a PhD scholar of Chinese history and gain an in-depth understanding of China's three major religions: Confucianism, Daoism and Buddhism. Take a walk through a traditional hutong laneway, and see how religious practices integrate into contemporary Chinese life. Your scholar-led, semi-private tour, limited to no more than six people, will provide you with a unique and meaningful perspective on these three Chinese religions.
Highlights
Semi-private walking tour to learn about China's ancient philosophies and religions

See the Lama Temple and discover how Buddhism spread to China

Visit the Confucius Temple and see how Confucius' thought has left an influential legacy to Chinese people

Watch the practice of tai chi and learn how it is connected to Daoism

Scholar (PhD)-led tour, offers an educational experience

Semi-private group limited to six passengers, ensuring a unique experience

What You Can Expect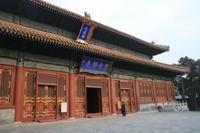 Begin at the Beijing Confucius Temple, a quiet complex filled with Confucian symbolism. You'll learn about Confucius, his students, and his philosophies. Next, take a walk to a gentrified neighborhood of Beijing and look at the classical homes where feng shui (an ancient Chinese system of aesthetics) directs the placement of buildings and fosters social interaction. On your neighborhood walk, meet a group of Daoist Masters who also serve as fortune tellers. Stop for a cup of tea or visit a calligraphy shop to learn about the significance of this art to Chinese culture.

Next, visit the Lama Temple, the most renowned Tibetan Buddhist temple outside of Tibet. Here, your expert docent will tell you about the arrival of Buddhism in China and its role in religious life over the past two millennia. Learn about the main principles of Buddhism and how it has intertwined with the other major Chinese religions.

Finish your walking tour at the Ming Dynasty-constructed Altar of the Earth. See elderly Beijing people practice tai chi in the morning and discover the primary concept of chi (energy of life) in Daoism.

This tour will give you a thorough understanding of the history and influence of Confucianism, Buddhism and Daoism on China and its people.
Anonymous
October 2014
Fantastic introduction to the Confucius culture through an expert living in Beijing!
February 2013
This was a great tour. Luke seemed very well read on a wide range of subjects. Very interesting
Advertisement
Advertisement