Uncover the ancient secrets of Chinese cuisine during a 5-hour cooking class in Beijing. Immerse yourself in the bustling atmosphere of a local market to gain insight into the region's rich culinary culture and purchase fresh ingredients from enticing stalls. Then, under the guidance of an expert chef, prepare local delicacies and delicious dishes inspired by ancient recipes. Cook in the cozy environment of a local home and master the techniques of sweet and sour pork and kung pao chicken. Feast upon the fruits of your labor at the end of the class and enjoy the relaxed ambience of the family home on this enriching experience.
Highlights
5-hour culinary experience with market tour and cooking class, in Beijing
Take walking tour of a local market to pick out fresh ingredients for your cooking class
Head to a family home and spend a morning cooking in either the courtyard's open-air kitchen or modern indoor kitchen
Learn how to cook several traditional Sichuan dishes or dim sum snacks from your instructor, an expert local chef
Cook dumplings, wontons, noodles or pork buns if dim sum is on your day's menu
Make dishes like kung pao chicken, stir-fried beef and sweet and sour pork, or vegetarian dishes if you choose a main course class
Enjoy your delicious homemade meal in the ambiance of an ancient courtyard

Recent Photos of This Tour
Experience Beijing: Chinese Cooking Class and Market Tour
What You Can Expect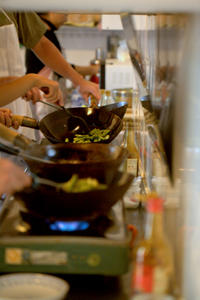 Greet your guide at a central location in Beijing and venture to a nearby food market to immerse yourself in the exotic sights and smells of the area. Browse stalls bursting with fresh produce and gain fascinating insight into the remarkable range of fruits and vegetables from your guide. After purchasing your ingredients (included), weave your way down a hutong (alleyway) to commence your class in a local family's home.
On arrival, discover the dishes on the menu and absorb the welcoming ambience of the local home. Depending on the day, prepare dim sum (small steamed dumplings) or hearty main dishes inspired by a variety of Chinese cultures. Vegetarians can choose to prepare an entirely meat-free menu on a selected day of the week.
Acquire the knowledge of how to use woks and cleavers; see which seasonings create flavorful dishes; and if you're making dim sum, create dishes like barbecued pork buns, stir-fried noodles and sesame rolls.
Those preparing main meals may make steamer ginger fish, sweet and sour pork and stir-fried chili beef. At least one vegetarian dish is prepared each day.
On completion of your dishes, take a seat at a family table and feast upon the fruits of your labors while chatting to your guide and group. After enjoying your bounteous banquet, depart from the class and explore the city independently if you wish.
April 2016
My teenage daughters, husband and I all cooked at this class and had a fantastic time. The market tour was very interesting too. I have to eat gluten free and they were very accommodating, substituting ingredients so I could have all the recipes. Everything was tasty and we had a relaxing time. I bought a handmade knife for my kitchen at home. Our only challenge was getting there during rush hour. Metro was our best bet.
April 2016
We loved this tour!! The market was so interesting to see, our guide was personable and knowledgeable, and the dumplings we made were amazing! We were so glad we took this class.
February 2016
After a very long flight from Chicago, we arrived in Beijing and got to our hotel pretty late at night. We woke quickly the next morning thanks to jet lag and excitement to take the Market Tour and Dumpling cooking class. It was the perfect first day for our 5 day trip to Beijing. The market tour was my wife, our chef, and myself and we had a great time venturing through the seasonal vegetables, noodle counters, and protein areas fish area, pork, beef, etc.. After we returned we prepared for the cooking portion and were joined by three women from Norway. The chef was personable, patient, funny, and make the entire experience something that I'd do again anytime I am in Beijing. Thanks again!
January 2016
This cooking class was truly worth it. From start to finish it was informative and interactive. Our instructors were pleasant and attentive to every detail. The market tour was to a lovely market nearby to buy the ingredients for the meal we were cooking. A worthwhile addition to our Beijing experience. A tour not to be missed.

January 2016
Highly Recommend! I had the most delightful and instructive experience with Chef Zhou Chao and was lucky enough to be the only student in class. He is knowledgable, skilled, charming and an excellent teacher. After a detailed description of the differences between the wine, soy sauces and vinegars we would be using, we headed off to a gigantic indoor market to buy vegetables, tofu and meat for our menu.
I loved discovering many new-to-me fruits and veggies at the market and Chef Zhou was most patient in identifying anything I pointed out. What looked like zucchini, turned out to be young loofah, which when older turn into those bath scrubbers!
Back at his spacious kitchen, he demonstrated how a Chinese cleaver could take the place of several different knives, by smashing garlic, julienning vegetables or scoring and slicing meat. Even though I am an accomplished cook, this part of the class was a gem!
After preparing all our ingredients, we stood side by side at his range to cook the dishes in our woks. I learned so much through this arrangement and could match my efforts to his: from swirling the oil to flipping the food in the wok instead of of stirring it around. He explained how his method would do a better job of cooking each piece properly.
Then, before sitting down to a delicious lunch, we compared tastes of his version of Mapo Tofu, Gong bao chicken and dry stir fried green beans to mine. I learned so much and will definitely make these dishes at home now. A wonderful class with a great teacher!
November 2015
Wish I could rate this tour 5 stars!!! This was one of the highlights of my trip to Beijing. My travel buddy and I arrived to find that we were the only two people in the cooking class that day, so we basically had a private cooking class all to ourselves! Our class started with a trip to the local market in the hutongs. This was surprisingly very enjoyable as our tour leader walked us through all the key fruits, veg and spices that are important to Chinese cooking. Upon returning to the kitchen, we then cooked a Szechuan feast of Gang Bai chicken, Stir-fried green beans, Ma Pao Tofu and Beer duck. Our tour guide was an experienced chef and he was incredibly patient with us as he walked us through every step of the cooking process. The food was AMAZING! I have since cooked the recipes again since returning home to Australia using the take home recipe cards as a guide! and the food was great and I certainly impressed my family with my efforts. All up, the tour guide was incredibly professional and easy to get along with and the experience was a whole lot of fun. Highly recommended!

October 2015
This was an amazing cooking class, they are not messing around giving you an extremely immersive and intense cooking experience. Delicious and way too much food but in a great way :.
September 2015
What nice people and what a great day
I would do any class with this bother and sister they were fantastic.
Market visit was great and the cooking was a great experience
Come hungry as you prepare a lot but you can get a doggy bag
July 2015
Very enjoyable day. I had to travel quite a ways by subway, but found the place with ease. It was nice to see how people lived and shopped in that area of the city. Well worth the money it cost for the class. The instructor was easy to understand and enjoyable to learn from.
June 2015
This cooking class really showed us some techniques for cooking Chinese style dishes that i have never known before. Our market tour allowed us to ask lots of questions about what the fabulous fresh fruits and vegetables we saw. Our instructor picked up the best ingredients here and had replacements back at the school for the ones not up to her standards. The class was small to allow for real individual instruction. My advice, download the map to find the location. We followed the text directions and walked confidently there, but the map you can find on the website or here uploaded by another reviewer will be very helpful.
The courtyard, hutong entrance and kitchen felt like you were learning right at someone's home their favorite family recipies. What an experience!
Advertisement
Advertisement