Enhance your experience of one of China's greatest architectural feats on a small-group tour to the Great Wall of China from Beijing. Accompanied by a knowledgeable guide, explore the ancient Mutianyu section of the wall and ascend Ming Dynasty watchtowers for panoramic vistas of the spectacular surrounding scenery. Descend by cable car or on an exhilarating toboggan ride; revitalize with a delicious Chinese meal; and enjoy convenient round-trip transportation to Beijing. Experience an intimate atmosphere and personalized attention from your guide on this small-group tour, on which numbers are limited to 12.
Highlights
Visit the less crowded Mutianyu section of the Great Wall of China

Climb the Ming Dynasty watchtowers for amazing views of the Great Wall and surrounding countryside

Traditional Chinese lunch in a local village
Optional Toboggan ride or cable car ride down the mountain
Maximum of 12 passengers ensures personalized attention

Recent Photos of This Tour
Great Wall of China Small Group Day Trip from Beijing
What You Can Expect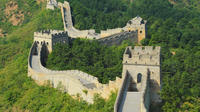 Depart from a central Beijing location in a comfortable, air-conditioned coach and admire the diverse countryside as you travel towards the Mutianyu section of the wall. Feel your excitement heighten as you arrive at one of the New Seven Wonders of the World and begin your exploration of the less-crowded and more ancient Mutanyu section.
Ascend Ming Dynasty watchtowers to absorb incredible views of the Great Wall and its verdant surroundings. Capture fantastic photographs of the wall snaking through the charming Chinese countryside then descend the Great Wall by either an exhilarating toboggan or scenic cable car.
Appease your appetite with some Chinese specialties in a rustic village restaurant then relax during the journey back to Beijing after lunch.
April 2016
A great day! The Great Wall is compulsory when in Beijing. The lunch was good. We loved our local guide Kevin who spoke perfect English. He even took us to a silk-market after the tour, which meant that he had to work 2 hours more than required. He booked a restaurant for us in the evening and called in to ensure that we were doing fine. Fantastic service!
April 2016
The tour was fantastic. We got the the wall early, before other tours got there resulting in us having a nearly empty wall experience for the first portion of the tour. We had flexibility to take time to do what we wanted on the wall and it didn't feel at all rushed.
March 2016
Great experience. The early start was well worth it as we were one of the few people on the wall for the first couple hours of being there. The lunch spot we went to was also very good. Obviously no frills but very tasty and a nice way to end all the walking.
March 2016
Walking on the Great Wall is an amazing experience, one that my son and I will never forget. We enjoyed our guide, Kevin, but he and his driver's role were primarily to get us from Beijing to the Great Wall. He provided some interesting commentary on the way, but when we got to the wall, we were really on our own. Walking on the wall is quite challenging physically--not only does it do up and down with the topography, the so-called restored section we were on was extremely tricky to navigate--rough, uneven steps, etc. Take the chair lift up to the wall and the toboggan down--both fun and a little scary, but that added to the experience.
March 2016
My experience was incredible. I was in Beijing for a couple of days on business, with one free day. This tour is perfect for a single person or couple looking for a very personal memory. Kevin, my guide, was exceptional and went above and beyond to make sure I was comfortable, knew where to go on the wall and generally had a worry free experience. were quick to respond to my email and communications pre-tour.
I was the only person on the tour, and the benefit of leaving early 7am pick-up from Sunworld was that I was literally the only person on the wall, asides from the maintenance crew, for the first hour of my visit. Breathtaking. I recommend walking out to Tower 1, then walking past the No Admittance sign to the first un-renovated tower. Take a seat, and soak in the peace for a very spiritual experience.
The lunch post-tour was great, very local and tasty. Kevin does all the ordering so no need to worry if you can't speak the language. He also organized a taxi to T Square, and came along for the ride, to make sure I was safe and dropped off at the correct point. Such a great guy. Very thoughtful, knowledgable about the wall and Beijing and a very caring human.
Kevin was very flexible with the tour time as well. I felt I only needed two hours on the wall he gives you three so was able to head back into Beijing early and tick Tiananmen Square and the Forbidden City of my list. All before 4pm. You are probably best to take the cable car up to the wall and the toboggan down an additional 100 Yuan to make the most of the time you have.
Overall my experience was 5/5 and I thoroughly recommend this tour, tour company, guide and driver!
February 2016
Excellent tour for a once in a lifetime experience
January 2016
Amazing day visiting the Great Wall! Winter is spectacular there (but very cold!) and not crowded in the least. Kevin was an outstanding tour guide and very knowledgable. Highly recommend this tour!
January 2016
I had the best time at the Great Wall of China with Dennis as my guide. I was lucky as I was the only traveller. Dennis gave me plenty of information about the Wall and China and answered all of my questions. We arrived at 9am and were greeted by a winter wonderland. The Great Wall covered in snow was breathtaking. I am glad we left Beijing that early because we were almost the only people on the Wall for about three hours. I had plenty of time to take pictures and to discover everything. The lunch at a local restaurant was also very good. As the description says there are no shopping stops. Thank you for such an amazing once in a lifetime experience.
December 2015
Dennis was a fantastic guide! Very knowledgeable and considerate. Highly recommend this trip - I'm not a morning person, but it was worth getting up early for!!
November 2015
This is a fun exciting and must do thing. You will be one with history and be able to see and walk the Wall. It is a bit challenging but you probably need the exercise - take the toboggan down - fun and not scary at all. Only negative is that the tour starts early and a simple sandwich or something would have made a great difference. Lunch was very interesting and good on the local restaurant. Guide great!
Advertisement
Advertisement