Escape the crowds around the Great Wall of China and visit the ancient Mutianyu section on a full-day sightseeing tour from Beijing. Accompanied by a guide, learn the history behind the 6th-century section and marvel at the spectacular natural scenery that surrounds it. See impressive parapets and defensive watch towers and enjoy an optional cable car ride if you wish (own expense). An authentic Chinese lunch and convenient, round-trip transportation from your Beijing hotel are also included.
Highlights
Experience the Mutianyu section of the Great Wall of China
Explore the nearby Cloisonne enameling factory
Enjoy a Chinese-style lunch
Take advantage of plenty of photo opportunities
Learn the history behind the Great Wall from an English-speaking guide
Relax with convenient hotel pickup and drop-off
Recent Photos of This Tour
Great Wall of China at Mutianyu Full-Day Tour Including Lunch from Beijing
What You Can Expect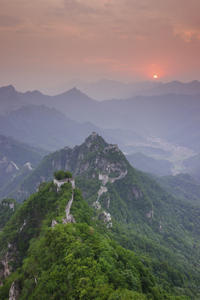 Depart from your Beijing hotel in a comfortable, air-conditioned vehicle and relax during the scenic drive to the Mutianyu section of the UNESCO World Heritage-listed site. Upon arriving at the Great Wall of China, listen as your guide offers an engaging narrative about China's most impressive engineering feat.

Begin your ascent of more than 1,400 steps to the top of the section and marvel at verdant valleys, ancient watchtowers and preserved parapets as you climb. Snap photographs at the summit and take in the scenery, free from the disruption of large crowds.

Refuel with a traditional Chinese lunch after your climb and browse a cloisonné enamelware factory for special souvenirs. Rest during the journey back to your Beijing hotel, where the tour concludes.
April 2016
Very good tour. Tour guide William Kuang was very friendly, knowledgeable, and enthusiastic about the history of the Great Wall and Beijing/China in general. Was lucky to have a small tour group, so able to interact with William extensively. It felt like a group of friends rather than a group tour. Trips to jade factory and tea tasting were good, though I spent too much unplanned money but made for good gifts. Thank you for making this a great experience!
April 2016
I loved the guide. It was amazing fun overall. The place is wonderful 3
April 2016
This tour was great! I reserved it for a group of 6 and we had a blast! I would've like more time @ the Wall we only stayed there for 2hrs and less time at the Jade factory we didn't like this. Lunch was phenomenal and the tea experience was superb as well! Victoria our tour guide was super helpful guiding us through the whole trip. Thanks for a great experience!
Vicki M Hong Kong
April 2016
A very fund day. We climbed a section of the Great Wall after catching the chair lift up. Some areas were very steep but well worth the effort. Our guide Victoria was very friendly and helpful
January 2016
January 2016
Amazing day with Cintia, the guide from Viator at Beijing.
Very organized, punctual, helpful. Lunch was great!
And the Great Wall, a dream! Awesome place to visit to deepen our knowledge about mankind and Chinas history.

December 2015
Great portion of the tour to visit. Jackie was great! Doing a coordinated tour highly reccommended!

December 2015
There was snow at the Great Wall and the road was closed to Mutianyu so we had to go to an alternate location. It was an excellent event still and great lunch as well! All positive!
December 2015
On the way to The Wall, we stopped at a very nice jade factory - good education if you've never been.
The drive to The Wall was very scenic and the tour guide, Maria, was a fountain of knowledge about Chinese history, The Great Wall, the Chinese people and culture. Once at The Wall we all took the chair lift up to save time and our legs to spend more actual time on The Wall. The Mutianya section is a much less busy section of The Wall and the scenery is stunning. The guide gave a lot of information and stories about The Wall so we were able to spend a couple of hours just exploring on our own. I loved the toboggan ride down - super fun. Worth the extra cost.
After seeing The Wall, we went for a typical tourist lunch and we visited a Cloisonné factory. It was absolutely fascinating to see the process that is involved to make a piece of Cloisonné.
There was only 7 of us on the tour so we had lots of opportunity to talk with the other guests and our tour guide.
I would highly recommend this tour and ask for Maria.
November 2015
Great overall tour. Sights were amazing and it's a great part of the wall to see. Jacky was a great and funny tour leader. He told us lots of jokes and historical facts on the way to the site. Things to consider for those booking this tour.
1. You will be taken to 2-3 sites where they'll be trying to sell you things. Things like jade and pottery. It all seemed pretty authentic goods to me but was very expensive.
2. The wall portion is only about 1.5-2 hours of an otherwise 9-hour day. Enough time to see the sights and hike at least some portion of it but just know it's not a HUGE amount of time.
3. Traffic is very bad both ways. Mostly within and around the city proper. Not outside. Just hope you're among the last to be picked up and first to be dropped off :
4. It was great that they didn't harp on tips. I still tipped since it was a great experience.
Enjoy!
Advertisement
Advertisement