191 Reviews
Location:

Beijing, China

Duration:

6-7 hours
This full-day Beijing sightseeing tour to the Mutianyu section of the Great Wall of China provides an opportunity to experience steeper sections of the wall.The Mutianyu section is older than popular Badaling section and features outer and inner parapets, three watch towers and even an optional cable car ride!
Highlights
Experience the Mutianyu section of the Great Wall of China
Explore the nearby Cloisonne enameling factory
Chinese style lunch
Plenty of photo opportunities

English-speaking guide
Hotel pickup and drop off
Recent Photos of This Tour
Great Wall of China at Mutianyu Full Day Tour including Lunch from Beijing
What You Can Expect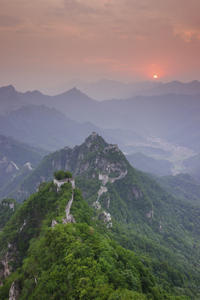 Complete your trip to China with an unforgettable visit to the Great Wall at Mutianyu. The Great Wall of China is the greatest symbol of ancient Chinese engineering and one of the world's most famous structures.

The Mutianyu section of the Great Wall of China offers an alternative Great Wall experience to the popular Badaling section. This segment of China's ancient engineering marvel features an optional cable car ride, or an opportunity to climb more than 1,400 steps to the top.

The Mutianyu Great Wall is much steeper than the Badaling section, and offers a more challenging climb. This section is also older than Badaling, and features outer and inner parapets and three watchtowers.

Your eight-hour trip to the Mutianyu Great Wall includes a visit to a nearby cloisonné enamelware factory and a Chinese style lunch.
November 2015
Great overall tour. Sights were amazing and it's a great part of the wall to see. Jacky was a great and funny tour leader. He told us lots of jokes and historical facts on the way to the site. Things to consider for those booking this tour.
1. You will be taken to 2-3 sites where they'll be trying to sell you things. Things like jade and pottery. It all seemed pretty authentic goods to me but was very expensive.
2. The wall portion is only about 1.5-2 hours of an otherwise 9-hour day. Enough time to see the sights and hike at least some portion of it but just know it's not a HUGE amount of time.
3. Traffic is very bad both ways. Mostly within and around the city proper. Not outside. Just hope you're among the last to be picked up and first to be dropped off :
4. It was great that they didn't harp on tips. I still tipped since it was a great experience.
Enjoy!
November 2015
This was the most exciting day of my trip to Beijing : The day started with our tour guide, Jackie, meeting us in our hotel foyer. From here, we made our way to the emerald factory. I wasn't too keen on making this stop when I initially booked the tour, but I must admit that it was quite enjoyable! It was fascinating to see the artists in action as they carve up the emerald into an array of statues and souvenirs. There was quite a bit of time spent on the tour bus, but thankfully, Jackie kept us entertained with stories about the Pandas, Chinese traditions, family life etc. Next stop was the great wall. WOW! What a remarkable part of the world! We caught the cable car up and looking back over my shoulder as we creeped up to the wall took my breathe away. It is truly spectacular !! We spent about an hour and a half on the wall itself. Although, I could have spent the whole day there! This was my only criticism of the trip - perhaps a little more time on the wall would have been nice. When you get to Mutianyu, you will be given the option top choose between two cable cars companies. Be sure to go with the company that has the option to toboggan down the hill. The toboggan is a whole lot of fun and highly recommended. Although, you also have the option of returning by cable car if you wish. The lunch provided for us was great and the visit to the Cloisonné factory was an interesting. On the way back to Beijing, Jackie stopped off at a tea house. I wasn't aware this was part of our tour, but it was a welcome addition. I would have had no interest to visit the tea house prior to the tour, but I am so glad we had the chance to stopover here. Here, we were ushered into a private room and learnt about the different types of Chinese tea and how to prepare them. The tea was great and our English speaking host was very knowledgable and entertaining. All up, this was a fantastic tour and I highly recommended it !!!
October 2015
Excellent.
Small goup of about 12.
Guide was friendly and very informative and organised chairlift tickets at the wall for the group to save us queing.
Lunch was included and was very nice and plentiful.
There was the normal shopping stops but these were interesting and there was no pressure to buy.
October 2015
Great Tour. In my opinion Mutianyu section is prettier than Badaling section although it is harder to climb. The countryside autumn colour is amazing. My tour guide speaks excellent English and is very attentive. Lunch is well served.
October 2015
August 2015
Great Tour. Our Tour guide was lovely and informative. Lunch was really good and the cable car up and toboggan ride down were a pleasant surprise. Would definitely recommend this trip!
June 2015
When (at last) arriving at the Wall the site is very beautiful and peaceful, BUT 5 hours transportation each way is TO MUCH!
I would recommend using the subway out to the city limit and from there travel with bus.
June 2015
Awesome Awesome tour. William our guide was fantastic. I was only in Beijing for two days and my only recommendation to people doing this tour is to plan on your calves being sore as this part of the wall has a lot less people but a lot more steps. Because of rain/drizzle safety issue to use then the toboggan was closed when we went the length and then came back where we started to access the cable car. My iPhone said I did the equivalent to 90 floors! Would not have missed this for the world though.
June 2015
excellent, Jacky the tour guide was informative and fun - coach was comfortable and a great lunch supplied
would do this tour again without hesitation, thank you - best day of holiday!
June 2015
Amazing tour. I arranged this tour on a short notice - less than 24 hours - and everything worked fine. The guide was very knowledgeable and nice. Great lunch. I really recommend.
Advertisement
Advertisement