10 Reviews
Location:

Beijing, China

Duration:

9 hours

(approx.)
Learn about China's capital city on this guided sightseeing tour. Your private guide will share interesting stories and facts about Beijing's history as you walk through the Forbidden City and Tiananmen Square. See gorgeous landscapes at Jingshan Park and visit a 'hutong' (a narrow alleyway). Experience how locals live with a rickshaw ride along Beijing's streets and stop at a local family's home for a delicious home-cooked meal. Your private guide will show you Beijing's highlights and keep you informed on various interesting facts about each stop.
Highlights
Private, guided sightseeing tour of Beijing's Imperial City
Walk around Tiananmen Square, Beijing's cultural center, and see sights like the Great Hall of the People
Marvel at the Forbidden City's impressive traditional Chinese architecture
Walk around Jingshan Park and enjoy aerial views of the Forbidden City
Visit a Beijing hutong and learn about the daily lives of Beijing locals
Enjoy a delectable home-cooked Chinese lunch at a local family's home
Your own private guide ensures a more personalized experience
Our private tour provides an authentic Beijing experience with a fully customizable itinerary based solely on your personal interests
Recent Photos of This Tour
Imperial Beijing Private Tour: Forbidden City, Tiananmen Square and Jingshan Park with Lunch
What You Can Expect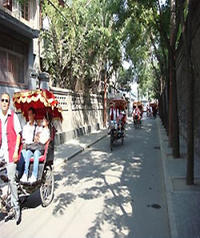 Discover Beijing's Imperial City, home to many of China's important historical sites. After meeting your guide in your Beijing hotel, walk along Chang'an Avenue to Tiananmen Square to see the Tiananmen Tower, Monument to the People's Heroes, Great Hall of the People and the Chairman Mao Memorial Hall. Spend time learning about and taking photos of the square, the Tiananmen Gate and the Forbidden City in the background.
Then, your guide will lead you to the Forbidden City, a Chinese imperial palace that served as a political center of the Chinese government for almost 500 years. Tour inside its various halls and the Imperial Garden, where you can admire elaborate Chinese garden landscaping. Walk through the north gate with your guide and on to Jingshan Park. Enjoy unobstructed views of the Forbidden City, Bell and Drum Towers and the Bird's Nest. Marvel at the park's elaborate pavilions and colorful peony garden and enjoy the sight of both locals and tourists enjoying activities like the ribbon dance.

**Please be advised that the Forbidden City is closed on Mondays. Temple of Heaven or Summer Palace will be substituted instead.

Next, walk with your guide to a Beijing hutong, a narrow alleyway lined by traditional courtyard residences. Experience how the locals live by hopping into a rickshaw and going for a ride through the city's ancient streets. Listen as your guide shares accounts of traditional culture and daily life. Then, go up the Drum Tower to view the impressive array of drums originating from all over China, and enjoy a 20-minute drum performance.
A local family living in a hutong will serve you a delicious home-cooked meal for lunch. Enjoy local delicacies and learn how to wrap Chinese dumplings while mingling with the family and hearing their interesting stories. After lunch, they will teach you traditional Chinese activities like paper cutting and calligraphy. After spending over three hours participating in these unique activities, your tour will end here.
November 2014
My client loved this trip. Was very impressed and would recommend it to others,.
Anonymous
June 2013
I would like to thank Cris and Tina for the excellent guiding. I enjoyed the day with both very nice ladies! They did a very good job!
January 2013
We had a wonderful time at Beijing. My family of 5 ranged between 70+ and 9+, so our interest areas were wide. This tour exceeded our expectations as it combined the beautiful culture, scenary, history and people for our family members. We got to experience an every day life of an emperor and of a chinese citizen. It was great to see combination of history and modern bustles all in one place. Our guides were very accommodating to our needs and encouraged us on throughout the day, so that we dont miss interesting events and sights. Our tour guilde started even before we arrived in Bejing as I had a billion questions for my tour guide, who in return, answered them patiently and truthfully :). Highly recommeded to go with private tours!
November 2012
5 stars tour and 5 stars guide! Thank you Viator!
August 2012
This was a fabulous tour. We did so much more than the title indicates. We had a home cooked meal in a local home, private paper cutting and calligraphy demonstrations, trip to the drum town and more. We had two guides, one in the morning and one in the afternoon. Both were fun, informative, and engaging. I HIGHLY recommend this tour.
Anonymous
May 2012
Great deep dive into Beijing's history and culture. An unforgettable experience!
May 2012
Throughout my two week trip in China, I was most looking forward to the historical side of Beijing, primarily Forbidden City and Tiananmen Square. I had learned a lot about China's history and it had always fascinated me. I truly wanted a private experience (where I could pester the guide with tons of questions) and this tour delivered! My guide was an expert on all things China and answered all my questions and gave me more insight than I had expected to receive. All at such a great price too!
October 2015
This was an excellent tour for a visitor with limited time. The guides were very knowledgable and helpful. After Jingshan Park, be sure to leave plenty of time to return to a downtown hotel as many cans are full and empty cabs goint the opposite direction will not turn around for you.
October 2014
While we enjoyed the tour I did think the morning felt a bit rushed... the 'Tiananmen Square' piece of the tour was literally just standing in the middle of the square and looking around us, I thought there would have been a bit more to it. Jingshan Park was beautiful, I wish more time was given here. As there were only the two of us on the tour it was a little harder to have any time to sit, take a break from all the walking or just to enjoy the locations you were visiting. Our guide was lovely though and after a few days in Beijing we had loads of questions for her which she happily answered! She showed us how to follow the Subway system also which was really helpful to us over the next few days.
If you do the tea ceremony though, maybe be a little wiser than us and ask for the price first before taking part. Afterwards the price seemed to vary depending on how much we spent buying the teas...
The afternoon was brilliant, we really enjoyed the hutong tour and lunch in a local's house. It was just a very different experience and the food was yum :)
October 2013
The tour was basic and I could have done the first half myself. The second half was excellent mainly because of the guide (Daniel). My conversations with him were the highlight of the tour.
Advertisement
Advertisement