Explore the majestic splendor of Chuandixia Village, a Ming dynasty settlement famed for its beautifully preserved buildings, on a full-day tour from Beijing. Accompanied by a private guide, weave your way down stone-paved lanes and marvel at ancient architecture that dates back to the Ming and Qing dynasties. Admire the verdant beauty of the surrounding countryside and feast on a traditional Chinese lunch made my local villagers. Enjoy the convenience of round-trip transportation from your Beijing hotel on this enriching tour.
Highlights
Private day trip from Beijing to Chuandixia Village

See the well-preserved courtyard homes from the Ming and Qing dynasties
Admire the scenic mountain scenery and lush vegetation
Enjoy a delicious lunch prepared by local villagers
Private guide ensures personalized and unique experience

Hotel pickup and drop-off

What You Can Expect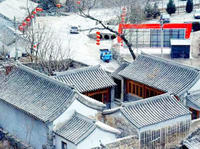 Depart from your Beijing hotel in a luxurious, private vehicle and get acquainted with your private guide during the 55-mile (90-km) journey to Chuandixia Village. Listen as the historical scene of the enclave is set and you discover that the majority of Chuandixia's architecture dates back the 14th century.
Admire the lush scenery as you approach the village and stop to capture photographs of dramatic canyons, enormous mountains and dense pine forests. Disembark your vehicle and set out on an explorative stroll of the village; ascend stone stairs and meander through stone-paved lanes to visit beautifully preserved houses from the Ming and Qing dynasties.
Visit local temples to absorb their sacred atmosphere and see remnants of the revolution from red inscriptions saying "Long Live Mao Zedong". Chat with local villagers to learn about the cultural traditions of Chuandixia and then feast upon a traditional Chinese lunch prepared before your eyes.
Bid the villagers goodbye and return to your vehicle for the relaxing journey back to your Beijing hotel, where the tour concludes.
Bill USA
October 2013
This was an excellent trip and our guide, Kay, was wonderful. She explained amlot of details about the village of Chuandixia and the history of this village. Our home hosted lunch was unbelievable and the hostess was so nice and gracious. I would recommend this trip.
December 2012
The small ancient town are so unique for visits. The guide and driver are so great, informative and friendly. Local food very delicious. Overall, love it.
February 2012
We didn't enjoy the trip as much as we thought as the village wasn't as "untouched" as we had thought. The guide and driver were very accomodating and flexible.
Advertisement
Advertisement