Visit the Ming Tombs and the Great Wall of China at Mutianyu, two Ming Dynasty-era World Heritage-listed sites near Beijing. Your private guide provides a personalized experience as you take in the Chang Ling Tomb, an impressive royal burial complex for the Yongle Emperor, then head to the Great Wall at Mutianyu, renowned for its Ming Dynasty-era guard towers. Considered two of China's most famous sites, the Ming Tombs and the Great Wall at Mutianyu showcase amazing engineering and artistry from centuries ago.

Highlights
Full-day private tour of the Ming Tombs and Great Wall at Mutianyu

View the Chang Ling Tomb, Emperor Yongle's tomb from the Ming Dynasty

Visit the Great Wall at Mutianyu and admire stunning views from the top

Complimentary Chinese lunch

Tour the Longdi Jade Factory

Hotel pickup and drop-off included

Recent Photos of This Tour
Private Tour: Ming Tombs and Great Wall at Mutianyu from Beijing
What You Can Expect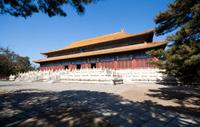 You full-day tour starts with early morning pickup at your Beijing hotel. Chat with your private guide as your private driver travels about 26 miles (42km) during the scenic one-hour drive that takes you to the Ming Tombs.

One of Beijing's major historic landmarks, the Ming Tombs (Ming Shisan Ling) were built in the early 1400s for the Yongle Emperor that built the Forbidden City. Your private guide shares the history of the UNESCO World Heritage site, including stories about the excavations of these imperial tombs. Follow your guide to Chang Ling Tomb, one of the best-preserved tombs from the Ming Dynasty, and admire the grand halls that lead to the Hall of Eminent Favors, which holds a statue of the Yongle Emperor and features a sumptuos interior with columns made from cedar wood.

Next up, relax as you feast on a traditional Chinese lunch. Afterward, stop at the Longdi Jade Factory to learn about jade and see a carving demonstration. Then, head to the Mutianyu section of the Great Wall of China, which is considered one of the best restored sections of the Great Wall, yet there are fewer crowds there compared to other sections.

The Mutianyu section of the Great Wall extends about 1.5 miles (2.5km), and stands about 26 feet (8 meters) high and 16 feet (5 meters) wide, first constructed approximately 1,400 years ago then rebuilt during the Ming Dynasty (1368 to 1644) as a military alternative to the Great Wall at Badaling. The Mutianyu section boasts grand military towers, flanked by lush trees on either side. Have the option to ride up to the top by cable car (own expense) and take in sweeping views of the Great Wall stretching across the hills.

On the way back to Beijing, stop at a local shop to view Ming Dynasty cloisonné artwork, ranging from colorful enamel bowls to intricately designed vases. Your tour ends when your driver and guide drop you off at your hotel in the late afternoon.
April 2016
Very good visit, we went first thing in the morning and had that stretch of the GW for our selves, great experience.
April 2016
Russell L United Kingdom
March 2016
This tour was excellent. The tour guide was great and contacted us the day before to confirm pick up time and location.
March 2016
Great tour guide Wiliam. Very knowledgable and easy to understand. Locals were very friendly and welcoming. Opted for personal tour and it was a fantastic decision. Toboggan ride from the Great Wall was fun! Highly Recommend!
February 2016
Our tour was conducted by Cora Lin Li, an English-speaking guide. She came equipped with a tour van and driver. We were picked up promptly at 7AM from our hotel and whisked away to the Ming Tombs. We spend just enough time at the tombs, then went straight to Mutianyu for the Great Wall. She purchased the lift tickets for us at 100 RMB per person as clearly indicated on the tour details. You did have the option of not purchasing the lift ticket and walk up.
Cora was very knowledgeable, and her English was quite good - far better than my Mandarin. Wall tour was about 90 minutes give or take, and this piece was self directed.
After descending the Wall, we were taken to a ceramic / enamel factory adjacent to our restaurant. Lunch was fine, with both meat and vegetarian options.
Since we had a custom tour, we swapped the jade factory tour for a silk factory tour. Yes, there's upsell, but we went to a nice silk location with high quality product.
Keep in mind, you are really paying for transport, lunch and Q and A. We only had 3 people, so the real per person price was 119, not the stated 78.
Would recommend this tour, and it does take a good 8 hours as Beijing traffic is absolutely dreadful.
Lunch
December 2015
We had a fantastic day on the wall from start to finish. We were lucky enough to have snow falling at the time and our guide was an asset to us. He had an incredible knowledge of all the places we visited and made our day one to remember.
November 2015
My tour to the Great Wall at Mutianyu and Ming tumbs gave me more than what I was expecting. My guide William was well documented, spoke very good English and planned the tour very well. I really enjoyed it!
October 2015
My guide William was excellent. He took me to the Great Wall early so we avoided crowds and traffic getting out of Beijing. He was very informative and completely tailored the tour to my requirements. I consider myself lucky to have had such an excellent guide and driver.
July 2015
Great guide and great driver. Just the 2 of us on private tour.
June 2015
Great tour! I was taken to only one tomb and only its main hall. I think visiting two or three of the open tombs would be great to give one a good sense of the site. The Great Wall was exceptional, and I am giving the tour a 5 largely because of the Great Wall visit. The drive and scenery of Beijing outskirts were excellent.
Advertisement
Advertisement