Discover the magnificent monuments and cultural highlights of Beijing on a full-day private tour of the city. Accompanied by a knowledgeable private guide, visit impressive landmarks like Tiananmen Square and absorb the ancient majesty of UNESCO World Heritage-listed sites like the Temple of Heaven and the Forbidden City. Satisfy an appetite for authenticity with a locally prepared Chinese lunch and join locals in ancient customs like tai chi. Enjoy the freedom and flexibility of a tailored itinerary and receive the undivided attention of your guide on this private tour.
Highlights
Full-day private tour of Beijing with an expert English-speaking guide
Walk around Tiananmen Square and hear about its historical and cultural significance
Visit two architecturally impressive UNESCO World Heritage Sites: the Forbidden City and the Temple of Heaven
Interact with locals and join afternoon activities like tai chi

Delight in a traditional lunch of Chinese specialties
Hotel pickup and drop-off with private air-conditioned transport included
Recent Photos of This Tour
Private Tour: Tiananmen Square, Forbidden City and Temple of Heaven in Beijing
What You Can Expect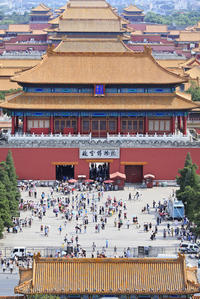 Depart from your Beijing hotel in a spacious, private vehicle and travel direct to Tiananmen Square, an ancient site shrouded in legend and culture. Stroll through the square and listen to compelling commentary offered by your guide; learn about notable landmarks like the Chairman Mao Memorial and the Great Hall of the People as you explore.
Next, venture to the Forbidden City to absorb the imperial majesty of the Chinese palace. Hear of how the building functions as both a political and ceremonial center, then delve into the intriguing exhibits of the Palace Museum to admire an epic collection of artwork dating back to the Ming Dynasty.
Please note that the Forbidden City is closed on Mondays, when the Temple of Heaven or Summer Palace will be substituted instead.
After thorough exploration of the site, return to your minivan and travel to a rustic restaurant to revitalize with an authentic Chinese lunch. Venture next to the Temple of Heaven, another UNESCO-listed site that boasts the largest complex of sacrificial buildings in China. Stroll through the temple to the impressive prayer halls and join locals as they practice tai chi.
When your tour concludes, relax during the journey back to Beijing and bid your guide farewell at your hotel.
June 2016
Great fun with Robert! Warm and friendly plus extremely knowledgable on the history and dates of everything we saw. Plus he directed us to a wonderful calligrapher who made me a one-of-a-kind scroll for my 50th birthday.
April 2016
Our guide, Cris, was wonderful. She tailored the tour for exactly what we wanted in the time we had. She was knowledgeable and a pleasure to spend the day with.
October 2015
I am SO glad I went through Viator to get a tour of Beijing. My time in the city was short, so taking a guided tour was the way to go for me. For everything it included, I thought it was really well-priced and my guide was very knowledgable and optimized the time I had. In addition to the major attractions, I was taken to one of the most well-known and popular Silk factories in Beijing and also sampled 7 types of Chinese tea at a tea house near the Temple of Heaven and was able to do some shopping for family. My guide also took me to an authentic Chinese restaurant as we sampled many delicious dishes. I highly recumbent doing this trip and would say it is well worth the cost!
July 2015
This tour was amazing! We had such a fantastic time and we saw everything we wanted to see. Our tour guide Cris was extremely helpful! She was very informed about how to get around and gave us a great background history on each place we visited. I would highly recommend to anyone visiting these sites to get a tour guide, just because of the extensive security and amount of people that are around. It makes it very confusing and a guide is HIGHLY recommended. With that I would get Cris as a tour guide!
June 2015
My tour was a private tour: Tiananmen Square, Forbidden City and Temple of Heaven in Beijing 5533CBJH. The tour was thorough and interesting. To walk through Tiananmen Square was to get an appreciation for the size of the square and the People's Hall. Next was the Forbidden City. My guide, Cris, was thorough in describing the history and life within these walls. We litteraly walked through history as we examined the architecture and through the various halls that were home to the history and maturing of the art of pottery. The grounds and buildings were beautiful. We next took an optional side trip to a silk manufacturer, which was interesting. I had time to review their shop - too many items to choose from! From there we went to a local restaurant. I don't know if it is policy, but since I was on my own, I ate lunch alone. I would recommend giving the client the option - I would have liked to carry on our conversations over lunch.
We finished the tour at the Temple of Heaven: a very expansive garden with historic temples and buildings, including Echo Hall, the Hall of Prayer for Good Harvests and the Round Temple. But the walk through the woods and the serenity of nature was a nice end of a long day. Cris, my tour guide, was genuinely kind, informative and easy to converse with. She answered my questions and helped me gain greater understanding about Chinese life, culture and history. I recommend this tour and I hope you can get Cris.
June 2015
Our guide Chris was great. We are not ones to look around forever and take our time. We like to get our tours done quickly and efficiently and that's exactly what Chris did. From the pickup at our hotel to when we returned the tour lasted 6.5 hours with was perfect for us. I would highly recommend this private tour and Chris.

March 2015
This three places are a Must See when in Beijing. But what made this tour exceptional was our tour guide Cris. Her knowledge of history, besides her charisma and easy way to explain each corner of these places were an important difference in the way to see the city. At lunch she took us to a restaurant where locals use to go, the food was so good, making us really understand the culture and behave of the people of Beijing. Details like these makes the difference of a good tour guide and the others. Thanks Cris for this extraordinary experience!
September 2014
Our Guide was Awesome! Ask for RITA! She goes above and beyond to make the experience exceptional. Her English is fantastic. She truly went above and beyond to cater to all of our needs. She recommended some fun things to do in the city and made some personal stops for us. One of our favorite tours from the trip.
October 2013
Good tour. Linda was great, very informative, well ask for her again
Anonymous
May 2013
I recently had some tours from some of your lovely guides around Beijing of the forbidden city, temple of heaven, Beijing opera and the night walking tour. The tour guides were wonderful; very knowledgeable of the areas, and fun people to spend time with. I was very impressed with their prompt and timely starts to the tours, which was especially important being in a new city as it was reassuring that I was meeting them in the correct place and there was no confusion. I have experienced poor timeliness in the past so I was really appreciative of the tour guides for this attribute. The tours were well structured, and very good value for money, and I was happy that I was neither rushed nor delayed with the time I spent at each location and with the guides. The mixture of private cars, local transportation, and planned meals was excellent and I feel that I had a well rounded and informative experience in Beijing learning about the history and culture of the intriguing city. I particularly appreciated the professional experience and coordination between the main office, the guides, the locations visited and the drivers. I have been very happy with the experience and I fully recommend that others use Viator for planning their own tours. In light of this I have copied into this email my friend Ester who would like to organise some tours for Beijing, and I hope you are able to organise some fun activities for her! She is particularly interested in going to the Great Wall of China. Thank you very much for the wonderful experiences which I will carry with me for a life time!
Advertisement
Advertisement