13 Reviews
Location:

Beijing, China

Duration:

9 hours

(approx.)
Enjoy an exceptional full-day tour to the Great Wall of China at Mutianyu, complete with a gourmet picnic inside an ancient tower — a Viator Exclusive that cannot be booked anywhere else. With a small group limited to 10 people, follow your guide up the Great Wall while hearing insightful commentary about this UNESCO World Heritage Site. Your lunch features tasty local dishes and sparkling wine that you enjoy while gazing at the views. Upon your return to Beijing, have the option to get dropped off at the amazing 798 Art Zone.
Highlights
Full-day Mutianyu Great Wall tour with local delicacies and sparkling wine

Walk off-the-beaten track and picnic on the Mutianyu section of the Great Wall on this Viator Exclusive
See stunning scenery and learn fascinating history with your professional guide
If you'd like, be dropped off in the Art District 798 (Dashanzi Art District) to explore art museums, galleries and boutique shops
Round-trip hotel transport from Beijing included
Small-group tour limited to 10 ensures a more personalized experience
Recent Photos of This Tour
What You Can Expect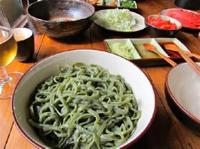 Your day starts with hotel pickup in Beijing followed by a drive of approximately 1-hour drive to reach the Mutianyu section of the Great Wall.

The World Heritage-listed Great Wall was constructed more than 2,500 years ago to protect the Chinese from fierce northern tribes. Considered one of the greatest engineering feats in human history, the vast wall wall extends over mountains and plateaus, deserts and grasslands, stretching an astounding 5,550 miles (8,850 km) across China.
During this exclusive experience, you'll get away from the crowds by visiting the Mutianyu section, an authentic part of the wall that has not been fully restored except for safety precautions. On a nearly-empty part of the monumental walkway, take an easy hike suited to varying fitness levels, with stopping frequently to take photos and rest along the way.


All along the Great Wall, imposing stone watchtowers stand tall above the landscape. Sit down for your lovely picnic lunch inside one of these well-preserved watchtowers — an exclusive experience that's only available with this tour. Sip chilled sparkling wine paired with popular local dishes as you enjoy views over the countryside. (See sample menu under Itinerary below.)
Your guide shares the history of this masterpiece and describes how the Great Wall outposts controlled the borders and regulated traffic along the Silk Road. When you have finished your lunch at and tour at Mutianyu, your guide returns you to your Beijing hotel where your tour ends.
Another option is to ask your guide to drop you off at 798 Art Zone, located in northwest Beijing. The enormous 1950s factory has been transformed into an arts center, with galleries, studios, museums, boutiques, cafés and bars. Take a look around and enjoy a drink or dinner at a local restaurant before making your own way back to Beijing.

Itinerary
Picnic Sample Menu (subject to change based on seasonal availability):
First Course (On the Wall):
Tasty local appetizers accompanied by chilled sparkling wine
Second Course:
Barbecued fish
Black Pepper Beef
Stir-Fried Bean Curd with Minced Pork and Chili Sauce
Winter Melon Spare Rib Soup
Fried Seasonal Vegetables
Drinks
White or oolong tea
January 2016
We were completely satisfied with our hiking tour at the Mutianyu Great Wall. Our tour guide - Rockie - was knowledgeable, friendly, and knew how to keep us informed, but also allow us to feel completely unstructured. The day just moved along. Our driver was extremely efficient, and knew how to best get us through Beijing traffic.
I'm glad we selected the hiking with picnic. There was not pressure, no shopping, and the picnic snack was a great break while on the Wall. We had lunch at a local restaurant after leaving the Wall.
This was my second trip to China, and first to Beijing. The Mutianyu Great Wall is incredible! I never dreamed I would be walking the Great Wall, there it was. The facilities at the base - the greeting center - were new, clean, and pleasant. They fit the surroundings. The wall offered incredible views.
I highly recommend this tour.
October 2015
We ended up being the only ones on the tour. Awesome experience and the champagne was a nice touch! Our tour guide was super knowledgeable and very patient as we took hundreds of photos.
April 2015
This tour was the highlight of our visit to Beijing. Our guide, Judy, was amazing. Very informative and friendly. The Wall is simply breathtaking and the picnic on the Wall was really special. Other tourists were jealous! Highly recommended!!
December 2014
Our guide, Daniel Wang, was the best. He knew everything from the history of the wall to the cost of living differences between Beijing and the US. We went all the way to the infamous tower 23 (which is a very steep hike at the end). The champagne picnic was a nice snack (yes, try the yak jerky!) and the lunch at the garden restaurant was delicious. And after it all, Daniel gave us valuable info on some of the things we were planning to do with the rest of our trip and left us his card to call him if we had any troubles. Daniel Wang truly covered it all and then some. Thank you, Daniel and Viator
September 2014
Excellent tour, our guide Daniel was extremely knowledgeable and well versed. Daniel provided a very nice picnic inside the wall and after the tour we had a fantastic lunch at a nearby restaurant.

August 2014
It was freeing to let the tour guide handle the logistical hootenanny while I was able to simply enjoy the rustic beauty of this magnificent structure. Our tour guide was friendly, professional, and timely. She balanced well our need to have privacy at times, but her company was enjoyable nonetheless. She shared a lot of history with us about the Great Wall - some bits more unnerving than others! (I won't ruin the surprise) ;-). The only areas that could be improved were largely out of our tour guide's hands, such as traffic and the general zoo that is overcrowded China. LOVED the picnic. Be sure to bring walking shoes and extra water.
June 2014
My family of five took this tour to the Great Wall at Mutianyu. The service was fantastic. I corresponded with the company prior to our trip (through Viator) in order to advise them that my family included three parents in their 70's with mobility issues. The company also confirmed our tour in advance and provided a contact name and phone number just in case. They showed up promptly at our hotel on time with a clean van, a nice driver, and an energetic tour guide (Jimmy). The guide took good care of us and was especially attentive to our parents. The day we went it was 110-degrees on the wall, but Jimmy took good care of us. The guide provided us with a picnic (snacks) and champagne in the shade...other visitors passing by were jealous! We saw so many wonderful things in China, but our tour to Mutianyu was the highlight.

March 2014
This was amazing in Winter with Snow on the wall and very few people around. Tom was a wonderful host and he carried our snacks and drinks all the way to a high turret. Tom was very patient and caring and will be planning another trip again with my sister and hope we get Tom again. A great experience and well worth doing.
March 2014
Without a doubt the highlight of our trip to Beijing. John, our tour guide, could not have been better. He was extremely generous with his time, and his knowledge of Beijing and the Great Wall was outstanding. At no time were we rushed and the picnic on the Great Wall was envied by all other tourists. We finished at a resaurant which was also of high quality and lots, lots of food. Our driver Mr Shing is a gentleman and could not have been more helpful or friendly. If you do nothing else, do this tour. Ask for John and Mr Shing. Simply excellent.
March 2014
I would definitely recommend this tour. We were fortunate to be the only ones on the tour. John picked us up at hotel on time and spoke good English. He was very informative on the history of China and the Great Wall. He highlighted the key areas to have our pictures taken and promptly offered to take our picture. We had a memorable picnic on the Great Wall with a picnic blanket, Chinese snacks, and a bottle of champagne. We were definitely the envy of passing tourist and one commented that we knew how to do it right by having a picnic there with champagne. The lunch location and cuisine was definitely an introduction to the local cuisine. A stop by the Olympic Park was a nice added bonus. Many thanks for a memorable day!
Advertisement
Advertisement