Explore the ancient ruins and winemaking heritage of Lebanon on this full-day trip from Beirut, including lunch. With an expert guide, visit the age-old ruins at Baalbek, a stunning complex of Roman temples and buildings that made up the Roman city of Heliopolis. After a tour of the 8th-century Ummayad ruins at Anjar, finish at the Ksara Caves, a series of ancient caverns used as wine cellars by Lebanon's oldest winery, Chateau Ksara. Tour the winery and cave cellars, and sample some delicious wines before your return to Beirut.
Highlights
Full-day trip to Baalbek, Anjar and Ksara from Beirut
Explore three fascinating cities and marvel at several well-preserved historical remains, such as Heliopolis and the Temple of Jupiter

Discover Ksara Chateau -- one of Lebanon's oldest wineries – and enjoy a wine tasting
Savor traditional Lebanese cuisine at a local restaurant

Enjoy entertaining and informative commentary from your expert local guide
Transport by comfortable, air-conditioned coach
Recent Photos of This Tour
Anjar, Baalbek and Ksara Day Trip from Beirut
What You Can Expect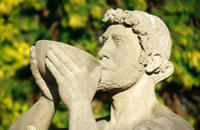 Depart Beirut by air-conditioned coach and venture through Lebanon's countryside to Baalbek. After around two hours, arrive at this ancient archaeological site and set out on a guided tour of its age-old ruins.
Known by the Romans as Heliopolis, this timeworn site is largely made up of semi-crumbled temples built during the Roman era. View the broken remains, including the massive Temple of Jupiter, built on a huge podium and around a rectangular courtyard where sacrifices were performed.
As you explore, hear about the mystery of the gigantic stones that served as the foundations for earlier temples here. The size and weight of the stones have left scholars confounded as to how they were originally transported here, and then manipulated into place.
Having explored Baalbek, relax over a delicious lunch of meze (small dishes) and tapas at a local restaurant, and then drive on to Anjar. On arrival, stretch your legs around Anjar's souks, and then explore the town's showpiece: its Umayyad ruins. Consisting of the remnants of an 8th-century palace-city ruled by the Ummayad dynasty, this fascinating complex is filled with ruined temples, arcades and gates, many built in Hellenistic and Roman style.
Next, continue into the Bekaa Valley to Ksara, home of the famous Ksara Caves. Discovered in 1898, these ancient caves are now used by Chateau Ksara, Lebanon's oldest wine estate. Take a winery tour, and see the thousands of bottles stored in the caves-turned-cellars. Learn about the winemaking process and then finish with a tasting of some of the delicious wines made here.
Finally, return to to Beirut, where your trip ends.
Please note: Though the US Department of State has issued a warning against travel to Lebanon due to safety and security concerns, Viator's Lebanon tours continue to operate with no disruptions. We are in frequent contact with our local suppliers and guides in Lebanon, and they report that all tours are operating as scheduled. Should the situation change, we will update this information and customers will be notified of alterations or cancellations to tours.
May 2016
Comfortable car, punctual pick-up, knowledgleable tour guide and amazing lunch. No complaints!

May 2016
THIS IS THE TRIP YOU CANNOT MISS! IF YOU DON'T SEE BAALBEK, YOU CAN SAY YOU HAVEN'T SEEN LEBANON!!!
First, i have to tell you something very important. Most embassies will not recommend or will even forbid you the Bekaa Valley and Baalbek. IGNORE THEM! Lebanon is SAFE! on your way to baalbek, you will cross the refugees camps and a lot of check points of the army. Don't worry, you will not feel as a prisoner. They are nice. Just insuring that everything is ok.
Baalbek is the most well preserved site. The most impressive is Bachus temple, which is under restauration in this moment. Well, they are always restoring their heritage...
Anjar is a combination between roman, bizantine and islamic style. You will like it.
Ksara winery is a natural cave used during the war as a refuge for the people. you can taste sm very good wines there.
By the way, all your tours will be with Nakhal and you will love them! They are profesionals! Really profesionals!
April 2016
The guide made the visit remarkable. Madelaine was the perfect host, fluent in English, French and Spanish, as well as Arabic, of course, she was steeped in the culture and therefore able to help us get an insight into the world of Lebanon.
The tour was remarkably easy, starting with collection at my hotel and transfer to the Nakhal offices, before transfer to a comfortable bus for our onward journey. Thankfully there was not this endless transfer round the local hotels picking people up, as this had already been done by a fleet of buses.
On the way to Baalbek, Madelaine made us aware of the history and culture of Lebanon and the Lebanese people. The place is full of history, and with layer upon layer of civilisation it is difficult not to get overawed by the sites. Our first visit was to Anjar, which was established by the Umyadd in the 8th century. The ruins are very well preserved and give you a unique insight into the culture of the day. One can see Islamic culture, sitting alongside Roman design and Byzantine architecture.
Arriving in Baalbek one is taken aback by the sheer scale of the site. The famous pillars cannot be described with mere words and pictures and need to be seen up close to get the full sense of the place. The Temple of Jupiter, is said to be one of the largest Roman temples in the world. The expanse of the temple and that to Bacchus give a wonderful insight into the Roman and Greek worlds. Remarkably well preserved, despite war and many conquests, it was a remarkable opportunity to see up close the historic ruins.
Although a conservative area around the ruins did not seem to worry about wearing shorts and t-shirts, in spite of what is often said in the guide books.
Having just about recovered from the tumultuous sites, we repaired to Zahle for a typical Lebanese lunch by the river. The tour company had arranged for superb range of meze and mixed grills all included in the price of the trip.
Finally a quick stop at the Ksara vineyards
February 2016
Well organized and tour guide very knowledgeable.

January 2016
This was my favorite tour of all! Baalbek was breathtaking! I would highly recommend this tour to everybody. The guide was great and very knowledgeable! The sites were all beautiful! Not much of a wine fan but it was still beat to see the Ksara caves.
January 2016
Great trip with friendly and informative guide. Amazing sites to see!

November 2015
Really Beautiful places! Nice and knowledgeable guide talks a lot about history and culture.
November 2015
An amazing day trip that was lead by a thoughtful, passionate and knowledgeable guide - taking you to places that would have been hard to access as a solo traveller. Highly recommended.
November 2015
One of the most beautiful places on earth I have ever seen!!! Baalbek is spectacular and a must see in your lifetime.Good tour and the lunch was good as well.Downside was the transportation which was kind of uncomfortable and van was small.
October 2015
Baalbek is spectacular, if you can only do one tour in Lebanon, this is the one you should do. We have done a number of other tours with this company, they were all great, but nothing beats Baalbek.
The lunch is surprisingly nice, no lousy sandwiches, proper sit down meal.
Travelled in September 2015.
Advertisement
Advertisement