On this full-day Beirut tour, see popular Beirut sights and take a trip to the towns of Beiteddine (Beit El Dine) and Deir El Qamar (Deir El Kamar). Immerse yourself in Lebanese beauty and culture as your local guide shows you well-preserved traditional villages and fascinating attractions, such as the Martyrs' Statue, Beiteddine Palace and the Mosque of Emir Fakhr Eddine.
Highlights
Beirut, Beiteddine and Deir El Qamar full-day tour

See top Lebanon attractions such as the Martyrs' Statue, Beiteddine Palace and the Mosque of Emir Fakhr Eddine
Savor traditional Lebanese cuisine at a delicious local restaurant (included)
Entertaining and informative commentary from your expert local guide
Travel by air-conditioned coach
What You Can Expect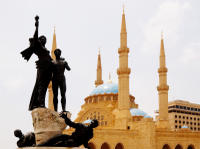 Starting your day tour in Beirut, visit the Maghen Abraham synagogue – the largest synagogue in Beirut – with your local expert guide. Then head to Martyrs' Square to gaze at the impressive Martyrs' Statue -- a memorial for Lebanese nationalists who were hanged during World War I by the Ottomans.

Your tour continues 26 miles (43 km) southeast of Beirut to the village of Beiteddine (Beit El Dine). Here you'll find the magnificent Beiteddine Palace, which was built at the beginning of the 19th century. With its arcades, galleries and rooms decorated by artists from Lebanon, Damascus and Italy, the palace is a fabulous model of Eastern architecture. Today the palace houses a museum of feudal weapons, costumes and jewelry, as well as an archeological museum and a museum of Byzantine mosaics.

Your next stop is the village of Deir El Qamar (Deit El Kamar). Formerly the capital of Mount Lebanon, it is now a typical Lebanese village with a historical center, souk (market), museum, mosque and churches. Admire its many well-preserved historical buildings, and see its famous palaces that display ancient Lebanese-style architecture.

After a relaxing lunch of traditional meze (Middle Eastern small dishes) and tapas at a Lebanese restaurant in town (included), continue your tour to Deir El Qamar's most famous ruins – the Mosque and Castle of Emir Melhem Shehab. On the way, look out your window to see Moussa Castle, a beautiful, yet tiny castle built by a Lebanese visionary over a period of more than 60 years.

At the end of your day trip, return to central Beirut in your comfortable, air-conditioned coach.

Please note: Though the US Department of State has issued a warning against travel to Lebanon due to safety and security concerns, Viator's Lebanon tours continue to operate with no disruptions. We are in frequent contact with our local suppliers and guides in Lebanon, and they report that all tours are operating as scheduled. Should the situation change, we will update this information and customers will be notified of alterations or cancellations to tours.
June 2015
A beautiful surroundings, great guide, phantastic company of fellow travellers..amazing Lebanise food for lunch. Feel like I won this trip in lottery.
June 2015
We enjoyed the day trip so very much! Our guide was Georgette. She knew every answer to every question that we had, plus some. Gave us some interesting facts about the places we visited. When she found out my family had come from Marjeyoun she and I had some good discussion. The restaurant we ate at was FANTASTIC! Really enjoyed it!
We really appreciated everything!!! Would definitely take it again! Wish time restraints and our departure TO Lebanon hadn't kept us from other tours!
October 2012
It was the best tour ever I will never forget this cities it was like a dream I recommend it to all the persons planning to visit Lebanon it is a must to discover Beiteddine and Deir Al Qamar u don't have to miss it
July 2012
Reasonable price and a very nice itinerary. The only drawback is that the tour guide was talking in three languages (all of which I understood) and the content was not always the same and it was delayed for some languages.
June 2015
they picl me up 7.45 am and we arrived to the office at 9am. driver didnt know his way to midtown hotel. we never picked people up.....they were gone. thanks god i was not having breakfast otherwise i had pooked in the car.....god those drivers are well i better compliment mohammed my taki driver.......
Advertisement
Advertisement