See the magical location where the hit fantasy drama 'Game of Thrones' is filmed on a full-day tour of the UNESCO-listed Giant's Causeway from Belfast. Accompanied by a knowledgeable local guide, visit key filming locations while listening to inside gossip about popular characters. Ride through the atmospheric, tree-shrouded Dark Hedges Road and marvel at the mystifying rock formations of the Giant's Causeway.
Highlights
Full-day Game of Thrones and Giant's Causeway tour from Belfast
Hear insider gossip about the popular HBO TV series, based on George Martin's A Song of Ice and Fire novels
Visit the caves where Melisandre of Asshai gave birth to a shadow baby and learn about King Joffrey

Stop for photos on the Dark Hedges road and in front of the Carrick-a-Rede Rope Bridge
Enjoy free time to explore the Giant's Causeway, a UNESCO World Heritage site
Recent Photos of This Tour
'Game of Thrones' and Giant's Causeway Tour from Belfast
What You Can Expect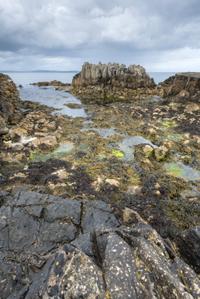 Depart from your central Belfast hotel and relax during the scenic drive along the Causeway Coastal Route in an air-conditioned minivan.
Receive a fascinating introduction to the region and its links with immensely popular TV show, Game of Thrones, before arriving at the town of Cushenden to explore the caves in which Melisandre of Asshai gave birth to her 'shadow baby.'

Listen to entertaining Game of Thrones tales and trivia as you travel onward to Ballycastle, birthplace of Varys, and then immerse yourself in the atmospheric mystery of Dark Hedges Road, a road that lies beneath a natural archway of intertwined trees. Capture photographs of one of Northern Ireland's most popular sights, and the place where Arya Stark dressed as a boy to escape the king, and then head to your next destination.

When you arrive at larrybane Quarry. Recognize famous backdrops from the show's stunning scenery and then continue to the quaint village of Ballintoy to revitalize with a traditional Irish lunch (own expense).

Travel onward to the UNESCO World Heritage-listed Giant's Causeway, a mystifying national landmark revered for its bizarre, hexagonal-shaped stones. After a thorough exploration of the incredible area, return to your vehicle and relax during the journey back to Belfast, where the tour concludes.
May 2016
I do not watch The Game of Thrones, but this trip has made me at least want to read the books! Derek, our driver/guide was inspirational from teh minute he picked us up. He was knowledgable about the programme, with first hand stories form seeing some of the stes/filming, but he also brought the Atrim Coast alive. He obviously loves his country, and by being on the trip with him, so did I! Great attention to detail, timings including booking lunch, then letting us walk round whilst it was cooked timing the Giants Causeway trip to perfecton, and finishing the day by delivering each and every one of us back to our hotels, including a station drop off for 2 guests. I have rarely had such a good day out, and such value for money. Thanks!!
May 2016
Driver Derek was funny and informative. An great day out with wonderful views of the antrim coast.
May 2016
Amazing trip for Irish beautiful scenery and game of Thrones fans. Two things make a tour. One the sites you visit and two the tour guide. Troy our tour guide was funny, insightful and informative. You have to do this tour!!!
Marty from New Jersey
April 2016
This tour was awesome! I wanted something a little more history and less Hollywood, but really couldn't find anything we wanted to do not associated with GoT. We were pleasantly surprised that we were able to get both on this tour. Our driver, Patrick, was awesome! And was able to combine GoT info with some local history, so we were more than satisfied! The areas he took us to were beautiful and we stopped long enough to get some great shots. Patrick even had a couple surprises along the way! Highly recommend!

April 2016
A great tour for fans of Game of Thrones and non-fans alike, I could not rate this highly enough. Ample time spent at all locations, and despite the busy itinerary it did not feel rushed. The coach was comfortable. Patrick was an absolute star, full of good humour and knowledge of the area and the show. I was well cared for as a single traveller and Patrick even had everyone sing me happy birthday!. They even stop at a GoT themed pub which does amazing food and has excellent service. We were blessed by gorgeous sunshine so I have stunning photos and fond memories running down 'kings road' in a cloak and a sword provided by the tour operator! shouting 'winter is coming' at bemused tourists. One of the best Viator tours I have ever been on.
April 2016
This tour was great! Derrek knew his stuff and went out of his way to make sure everyone was happy and comfortable. Minus a few bad dad jokes this tour was very entertaining and gave an insight into not only the Game of Thrones film locations but also into some of the history of the area.
April 2016
Good tour for fans of the show and non-fans alike. The locations are all scenic and well worth a look. The commentary from the driver was entertaining and informative, a mix of Local Knowledge and legends, the show and bad jokes.
March 2016
Derek was an absolute star, he made this tour so memorable and enjoyable. I really enjoyed his sense of humour, even if it made other people groan!
I especially liked how he combined the local history and mythology in a manner that was both neutral and interesting- not an easy job for Northern Ireland! I appreciated the hard work that went into combining it all with the GoT landmarks we visited. The Giant's Causeway is always a lovely visit, and we got plenty of time to have a walk around Derek had sound knowledge of the area and the facilities and kept us right.
Even if the weather was a bit inclement, I still really enjoyed my trip and felt it very worth the money paid.
Give that man a raise!!!
PS. If you're viewing this, Derek, we got a house :
February 2016
Great tour despite the rainy weather!
February 2016
This tour was absolutely awesome we really enjoyed it. There were a lot of stops and the drive was stunning. Our guide and driver Derek was so fun and knowledgeable, he showed us clips from GoT at some of the locations which was a great touch - thank you Derek! Really enjoyed your company!
Advertisement
Advertisement