Explore the captivating locations used to film epic TV series 'Game of Thrones' on a private full-day tour of the Giant's Causeway from Belfast. With a knowledgeable guide, visit the predominate setting of the compelling fantasy drama and see iconic sites in which key scenes were filmed. Hear insider gossip about popular characters while gaining insight into the rich Irish culture still preserved in places like Ballytown, Carrick-a-Rede and Ballintoy Harbour. Receive the undivided attention of your guide on this private tour.
Highlights
Private Game of Thrones TV location tour from Belfast including a Giant's Causeway visit
Learn all about the popular HBO series and characters, like King Joffrey, from a private guide
See the caves where Melisandre of Asshai gave birth to a shadow baby and then visit the town of Ballycastle
Pose for photos on the Dark Hedges road before crossing the Carrick-a-Rede Rope Bridge
Stop to enjoy lunch at picturesque Lordsport Harbour
Explore the UNESCO-listed Giant's Causeway site at leisure
What You Can Expect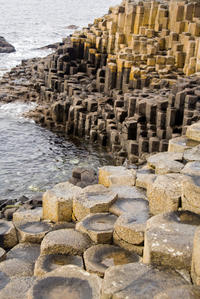 Depart from your Belfast hotel in a comfortable, air-conditioned vehicle and admire the scenic Irish countryside as your guide offers an insightful introduction to the region and its associations with hit fantasy drama, Game of Thrones. Stop first in the quaint town of Cushendun to see the caves in which Melisandre of Asshai gave birth to her 'shadow baby', and then enrich your knowledge of trysts between prominent families like the Westeros.
Travel onward to Ballycastle to see the site on which Varys was born, and then continue down the atmospheric Dark Hedges road, a shady trail covered by a natural archway of intertwined trees. Capture shots of one of Ireland's most photographed locations, also the place in which Ayra Stark dressed as a boy, and then head to the nail-biting Carrick-a-Rede Rope Bridge.
Although the iconic bridge is not connected to Game of Thrones, crossing the bridge is sure to result in the same kind of exhilaration as watching the show. Stroll over the suspended structure and gaze down at the crashing Atlantic Ocean as you summon your courage to cross to the other side.
Revitalize with lunch at the location used as the fictional Lordspot Harbour (own expense) and then enjoy some leisurely free time at the Giant's Causeway on arrival at the UNESCO-listed site. Marvel at the mystifying stone hexagons featured regularly in the series before returning to your minivan for the journey back to Belfast.
Make a final stop at Downhill Strand, featured as Dragonstone in the show, and then bid your private guide farewell at your Belfast hotel.
May 2016
Our guide, Derrick, was a wealth of information. He knew his history, and took us to more places than scheduled. He was a great guide.
April 2016
Of all the tours we have taken in thirty years of marriage, this one was by far the best. Our tour guide Derrick was exactly on time picking us up from our hotel. He kept the stories coming, and my wife and I are still laughing about some of them. We got to see everything promised on our Game of Thrones tour and he asked if we had time to see a few more places. Of course!!! Derrick showed us little clips from the show when we would arrive at the location so we could get an idea of how it featured in the show. Even if you're not a fan of the books or the show, the scenery is amazing and no way we would have found most of these spots if left to our own devices. Great job!
March 2015
The tour was amazing. Our guide was very knowledgable and was able to show us all of the great places were the GOT was filmed. We were lucky to have such amazing weather too. We would recommend this tour to anyone who is a fan of the GOT series or just interested in some of the history of this amazing country.
Our guide had an unfortunate incident with his iPAD and was unable to bring pictures that go along with the tour. We were told that he would forward them to our email. We are still waiting........
October 2014
This tour was amazing! The tour guide Philip was definitely a expert in all things related to Game of Thrones. The sights were beautiful and the information Philip give us was vast. We really enjoyed the tour and our guide.
September 2014
Fantastic day out. Philip was a brilliant guide and we saw so many GOT sites as well as getting a stunning tour of Northern Ireland. Full of insights and little quizzes on the show which my sixteen old son loved. Highly recommended for all GOT fans.
December 2013
Best tour I've ever been on! The tour guide picked me and my friend up from our hostel and took us all over Northern Ireland's coastline. He gave us all of the real history of the area we went through as well as anecdotes about how areas were chosen for the show and also what the actors/crew dealt with while filming at each spot. Fantastic tour, fantastic guide! He even tried to talk our way into the studio, but they were filming at the time, so we couldn't get in, but we appreciated the effort!
December 2013
4 of us took the personalized tour and we were not disappointed. A knowledgeable guide, mostly excellent weather and the great locations added up to a memorable day. We even managed to get up to a set that had been active that day. Our trip was made even better when 2 of us bumped into "Sam Tarly" and got their photos taken with him. Unlikely to happen every time but there's a decent chance of bumping into cast and crew in Summer/Autumn. Thoroughly recommended for all GoT fans. Oh yes and Belfast is ace too.
December 2013
The best tour ever. Phillip was articulate, knowledgeable, amusing, clever and conscientious.
December 2013
Phillip and driver Stephen were outstanding. Phillip's insights about the GoT sites and Irish history made the difference. Private tour was fantastic. We had no detailed idea before hand what the specific sites were, Phillip brought his Ipad with the scenes which we viewed before each stop. Stephen's driving was top-rate, his knowledge of shortcuts and back roads ensured we wasted little time between stops. I would recommend to any GoT fan. This tour was worth every penny.
September 2013
Great tour guide and driver. We were picked up and dropped off at the hotel. The coach was small and comfortable. The tour and IE history were fascinating. Many thanks.
Advertisement
Advertisement