Discover 1,000 years of Belizean history on this half-day tour of the Altun Ha ruins and Belize City. Step back in time to the world of the ancient Maya as you explore jungle-shrouded temples and palaces — a stark contrast to the diverse, modern energy of Belize City. You'll experience highlights of both the old and new on this fascinating guided tour.
Highlights
Half-day tour of Belize City and Altun Ha
Ancient Mayan city of Altun Ha
Modern-day Belize City
Historical sites including St. John's Cathedral, Government House and colonial architecture
Choice of morning and afternoon tours
Pickup and drop off from most Belize City hotels
What You Can Expect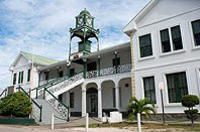 This half-day tour focuses on the contrast between the ancient Mayan city of Altun Ha and modern-day Belize City, highlighting 1,000 years of development in this former British Colony. Altun Ha (Maya for "Rock Stone Water") thrived as a trading post to the Maya World during the Post-Classic and Classic periods.

Today, Belize City today is home to about 35% of the country's population and remains the commercial capital of the country though the official capital was moved to Belmopan in the interior in 1971.

Your city tour includes historical sites such as the redbrick St. John's Cathedral and the colonial mansion once occupied by the British Governors. You'll also notice the colonial wooden architecture of many of the houses during the tour.
June 2014
An excellent tour. We enjoyed it very much. My only complaint, I thought that we were supposed to see some parts of Belize City.
January 2013
To my great and well appreciated surprise, Rudi Thompson was the tour guide for this trip as well. I was thrilled when he walked through the hotel tours. He is a treasure!!!
Book him or request him in advance.
Simon B USA
January 2013
We were 2 hours late arriving by ship and thought our guide had already left.
To our surprise our tour guide waited. What a fabulous experience he gave us.
Very knowledgable and personable fellow. An experience we will never forget.

November 2012
The Tour Guide was waiting for us at the pier. He was very knowledgeable and friendly. We really enjoyed having only 6 people in the tour.......rather than a big bus full. We arrived back to the ship on schedule. All was excellent.

Richard W USA
July 2010
This tour was upgraded to Altun Ha and the Olde Belize River Safari Tour. Our tour guide, was an expert in all things Belize.
May 2012
My guide, Onofre, was incredibly knowledgeable and personable - very enjoyable and informative. The mini-bus used had defects - the A/C was not properly functioning and the front passenger seatbelt would not fasten despite our repeated efforts. I would recomment this tour to others heading to Belize.
May 2015
It was a great tour. Vel, our tour guide, was informative and fun. The only bad part was the time it took to travel from Ambergris. We took a 10 minute water taxi from our hotel to San Pedro, then waited 40 minutes before we took the 1.5 hour boat ride to Belize City. Then we waited 2 hours for our tour. We ended up being the only ones on the tour, which was nice, but after the tour we had to wait another hour for the boat back to San Pedro. It was just a lot of traveling for a short tour.
May 2015
Cons: both times I called, I waited 20 min to speak with an agent the Altun Ha AND Belize City tour was ONLY Altun Ha, my wife and I really would've liked to see Belize City also so really only got half of what we paid for
Pros: when I actually spoke with an agent she was pleasant and helpful the tour guide Vel was very nice, knowledgable, and respectful
Glad to speak with anyone on this if they care to.
Mark
February 2015
never happened guide wanted to reschedule the day before due to lack of people on the tour, never happened didn't have the time to reschedule. Rented a car and went to Altun Ha on our own
Advertisement
Advertisement