Discover the colorful history and exotic wildlife of Belize on this combo half-day tour of Belize City and the Belize Zoo. Explore highlights of the country's former capital, and learn about its transition from a colonial British sea port to a modern Central American city. Then, leap into the animal kingdom for an up-close encounter with Belize's famed rainforest residents at the Belize Zoo!
Highlights
Half-day trip combining a Belize City tour and visit to Belize Zoo
Guided tour of Belize City highlights
St. John's Cathedral, Government House and Supreme Court buildings
See native cats, primates, reptiles and birds at Belize Zoo
Choice of morning and afternoon tours
Pickup and drop off from most Belize City hotels
What You Can Expect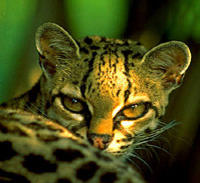 An incredible array of Central America's wildlife can be found just a short scenic drive away from Belize City at the Belize Zoo. The zoo is home to an impressive array of large cats, primates, reptiles and birds, giving you the opportunity to view Belize's prolific wildlife in one location. As an added bonus, you'll see the famous sites of Belize City on the way!
Belize City is the commercial capital of the country and is home to about 75,000 people. You'll view the Colonial Governor's Mansion, the redbrick St. John's Cathedral, and the Supreme Court buildings, flanked by cannons used in the Battle of St. George's Caye in 1798.
May 2011
The trip was educational and delightful. The tour leader told me much about the country as well as the city, and zoo history. The only reason I didn't check the fifth star is that hurricane damage still exists at the zoo. The paths are all clear and the zoo is well maintained.
Debbie P Canada
July 2010
I can't believe that I was the only client on this tour! Talk about personal guide service! The guide was very knowledgeable about the animals in the zoo - don't stand behind the tapir for too long! - and Belize City. It's a great tour and I really recommend it.
May 2011
The Belize Zoo is both small and a rehab center; it is not a conventional zoo in the North American sense. The City Tour is essentially a drive through of the historical buildings and sites in the City.
I would definitely recommend the tour, although doing other activities in Belize provides greater depth and is really essential to learning more about the country and its history.
Advertisement
Advertisement