Take a deep dive into some of the most famous places and moments of the Cold War during this laid-back 4-hour bike excursion in East Berlin. Cycle at a relaxed pace to a number of sites located alongside or near the iconic Berlin Wall, including the Soviet Memorial at Treptower Park, Checkpoint Charlie, the Brandenburg Gate and Potsdamer Platz. You'll also hear insightful stories about Cold War Berlin from your guide, featuring tales of espionage, communism, daring escapes and a famous airlift. This Cold War-themed Berlin bike tour also includes a beach cruiser bike and helmet.
Highlights
Bike tour along the sites of the Berlin Wall

Learn about Berlin during the Cold War

Hear about life on both sides of the wall

Explore the impressive Soviet Memorial at Treptower Park

A great tour for history buffs
Recent Photos of This Tour
Berlin Bike Tour: Berlin Wall and Cold War
What You Can Expect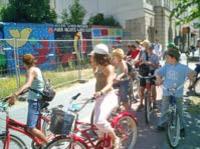 Step back in time as you explore the most famous moments in Cold War-era Berlin during this 4.5-hour guided bike ride. Berlin experts and novices alike are sure to learn something new about this fascinating city, all the while enjoying a relaxing ride through this bike-friendly town.
Begin your day in the morning, meeting your guide at a pre-arranged location near Alexanderplatz. Before you get started, listen to an orientation from your guide on the Berlin Wall and your planned route. Over the course of your ride you'll cycle about 6 miles (10 kilometers), listening to stories about how Berlin was originally split apart after World War II, along with tales of the Berlin Airlift, behind-the-scenes espionage by the Allies and the East German secret police (Stasi), the end of communism and how the city exists today.
Start cycling down the main thoroughfare of East Berlin, heading to the longest-remaining section of the Berlin Wall that still stands today. This particular strip covers more than 3,300 feet (1 kilometer) of graffiti-strewn concrete. Pedal along 3 miles (5 kilometers) of land where the wall once existed, learning about some the key differences in daily life for residents on both sides of this Cold War barrier.
Next stop by the Soviet Memorial found at Treptower Park, the final resting place for more than 5,000 soldiers who fought in the Battle of Berlin, hearing about the Stalinist propaganda found on the stone artwork which flanks the site.
Take a break for lunch about halfway through your ride (at your own expense) before continuing your ride to discover more incredible escape attempts (some that worked, others that failed), the deathstrip watchtowers, Potsdamer Platz, Checkpoint Charlie, the Brandenburg Gate and many more sites. Finish back at your original departure point in the afternoon.
For more information about the ride, weather issues, safety and the bikes provided, please read below.
Itinerary
Safety:
Because there is so much to see in Berlin and this city is so bike friendly, simply the best way to see this city is by bike. The tour takes advantage of the many bike paths the city offers - more than 95% of the tour is on bike paths and through parks. When you do ride on the streets, ride along the less-traveled roads. All insurance is included.

Bikes:
Ultra-hard seats? Razor-thin tires? Not on this tour! With new curvy beach cruisers these bikes are the pinnacles of city-biking comfort. With cushy seats, fat tires and handlebars that come up to meet you, it just doesn't get more relaxed. Of course these bikes perform as well. There are vice-like brakes to make sure you stop quickly. And with multiple gears, you can choose your level of pedal-pushing effort (all bikes also come with fun bells and unique names making these quite possibly the coolest bikes on the planet).

Weather:
Ride rain or shine. The weather in Berlin can vary quickly, so you may want to bring a light jumper or rain jacket. The bikes come equipped with bike racks if you don't need to wear it. Also, a limited number of gloves and rain jackets are available, but again, it's better to be on the safe side and plan ahead.
Regardless if this is your first trip to Berlin of if you already feel like "ein Berliner", this is a great way to see the city and understand what makes Berlin so special. Here are just some of the many reasons why:

Berlin is a very flat, bike-friendly city and our tours take advantage of this by riding almost exclusively on bike paths and less-traveled roads.
You'll stop every few hundred meters to discuss the sights, so tours aren't the least bit strenuous.
June 2016
Really well organized, loads of fun, the guide Marc was enthusiastic and full of great information. I took my 2 kids on the tour and they loved it, I'd recommend it as a great way to see Berlin and learn about the Cold War :
April 2016
Excellent day tour - very informative and took us to places we would not have otherwise discovered - e.g. guard tower in the Death Strip. Child friendly with child bikes, though need to be proficient to cycel in wide cyle lanes on main roads. Great fun, and saw so much more than walking/train.
David H USA
October 2015
Andrew was an outstanding guide. He kept the tour group together well, was very well-versed on the subject and explained everything in outstanding detail. The restaurant he picked for lunch was also outstanding. The pace of the bike tour was good. I didn't know how much fun a bike tour could be. This beat a walking tour any day, even as cold as it was.
August 2015
JEF IS AWESOME !
I highly recommend this tour. Our tour guide was seriously THE best. The location was easy to find. The bikes were easy to ride. I would go and do this again if i could :
July 2015
This was a fantastic way to get to know Berlin. Patrick, the guide was awesome and kept up a banter of fun facts with historical information. We fully recommend this to anyone visiting Berlin especially for the first time as it gives you an overview of the city and what you want to explore on your own. Bikes were good to ride and we could have kept going such was the interest in the city sights.
Keen to do Paris with these guys at some stage.

July 2015
Highly recommended!! Safe, friendly, informative, entertaining and intimate tours of Berlin's well or lesser known landmarks. A must when visiting Berlin. Looking forward to jumping on another bike tour in London, Paris or Barcelona. Thanks guys and a special thanks to our tour guide, Alex!
June 2015
The bike tour was great! We learned much about Berlin and caught a taste of the the old and new. Highly recommend!
June 2015
June 2015
Excellent tour, fun and knowledgable guide. Definitely worth doing it to see a bit more of East Berlin that's not on the usual tourist trail.
June 2015
Amazing. Great guide, great sights, great lunch. Well worthwhile!
Advertisement
Advertisement