26 Reviews
Location:

Berlin, Germany

Duration:

4 hours 30 minutes

(approx.)
How could the Germans allow Hitler's rise to power? Who, if anyone, stood in his way? What was known of the extent of the Holocaust, and what was done against the persecution of the Jews and others? What was life in Berlin like during the Third Reich and during the bombing of World War II? What happened in Berlin once the Soviets defeated the Nazis? Find out on this fascinating Berlin Bike Tour.
Highlights
Bike tour of Berlin's WWII sites

Hear about Berlin during the Third Reich and Nazi control

Visit the Jewish ghetto, air raid shelters and bunkers

A great tour for history buffs

Bike and helmet rental included
What You Can Expect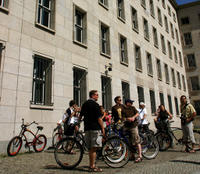 To answer these and other difficult questions, this subject-specific tour visits the Jewish ghetto, Nazi bunkers, an air raid shelters, anti-aircraft installations, still-destroyed buildings, resistance movement monuments, World War II battlefields, and much more.
Highlights of this tour include:
Seeing Jewish businesses destroyed during the infamous Nazi Night of Broken Glass, as well as the monumental New Synagogue that survived that night, at least.
Exploring the destroyed remnants of the Kaiser Wilhelm Memorial Church and Berlin's old main train station, both heavily bombed during air raids, that still stand as a grim reminder to the damages of war.
Visiting one of the few remaining functional air raid shelters, which was topped with anti-aircraft guns, and was filled way beyond occupancy during the Allied Battle of Berlin.
Understanding Hitler's immense plan for Berlin, once it would become the Reich capital of Germania, by seeing what remains of Hitler's old government installations.
Honoring the resistance movements against the Third Reich, particularly the assassination attempts on Hitler, at the Memorial of the July 20th, 1944
Itinerary
Safety:
Because there is so much to see in Berlin and this city is so bike friendly, simply the best way to see this city is by bike. The tour takes advantage of the many bike paths the city offers - more than 95% of the tour is on bike paths and through parks. When you do ride on the streets, ride along the less-traveled roads. All insurance is included.
Bikes:
Ultra-hard seats? Razor-thin tires? Not on this tour! With new curvy beach cruisers these bikes are the pinnacles of city-biking comfort. With cushy seats, fat tires and handlebars that come up to meet you, it just doesn't get more relaxed. Of course these bikes perform as well. There are vice-like brakes to make sure you stop quickly. And with multiple gears, you can choose your level of pedal-pushing effort (all bikes also come with fun bells and unique names making these quite possibly the coolest bikes on the planet).

Weather:
Ride rain or shine. The weather in Berlin can vary quickly, so you may want to bring a light jumper or rain jacket. The bikes come equipped with bike racks if you don't need to wear it. Also, a limited number of gloves and rain jackets are available, but again, it's better to be on the safe side and plan ahead.

Regardless if this is your first trip to Berlin of if you already feel like "ein Berliner", this is a great way to see the city and understand what makes Berlin so special. Here are just some of the many reasons why:

Berlin is a very flat, bike-friendly city and our tours take advantage of this by riding almost exclusively on bike paths and less-traveled roads.
You'll stop every few hundred meters to discuss the sights, so tours aren't the least bit strenuous.
November 2015
This was a great way to get to see part of the city and rehearse the history! They guide was very knowledgeable and personal. It was a very enjoyable day. The biking was easy and fun. The tour was informative and interesting. I highly recommend this or any of the other tours as a great way to spend the day!
November 2015
October 2015
The local Biking company was fantastic. We had a great guide who taught us more about the history of the Nazi's in Berlin then one really wants to know. Enjoyed a fantastic lunch in a local beer garden and was riveted by the history of the city! Do not pass this up!
September 2015
The tour was great. It was not tiring at all with the bikes and we stopped at a very nice biergarten. Our tour guide, Randal, was very nice and funny too and was very enthusiastic all the time. Highly recommended.
September 2015
Great commentary friendly guide go Randell
August 2015
Absolutely brilliant ! Tim was our guide and he was so knowledgeable. He emphasized to our group to engage in conversation and add facts that he might not know which was very few. Excellent lunch. Could not have asked for more from a tour. Ist class all the way. We did have a joke at his expense though when he pronounced EMU ! He knows what I mean.
June 2015
Tim our guide was brilliant. He got the balance just right and helped us to understand the history of the tour. Bikes was comfortable and easy to handle. The route we followed mainly avoided the traffic and took us through parks and along cycle lanes. Would highly recommend it to anyone visiting Berlin.
June 2015
We did the tour as a family, kids are 14 and 11. Ronan was our guide, very friendly with loads of knowledge and good stories.
We learned a lot and seen a lot of historical buildings and monuments.
Bikes were very fun and comfortable. Lunch in a beer garden!
We recommend this tour to everybody!!
May 2015
Our Berlin bike tour was fantastic. Ciaran did a great job of keeping the group together and keeping our interest throughout the tour. There were 2 young girls that were in our group and he included them from the start of the tour. Excellent. Highly recommend.
July 2014
Another fun way to see a fabulous city and hear about a sensitive subject
Advertisement
Advertisement