Go beyond the typical tourist sites in Berlin as you explore the city's unique ethnic enclaves and thriving countercultures on this 4.5-hour guided walking tour. Take a deep dive into the Berlin neighborhoods of Friedrichshain, Prenzlauer Berg, Kreuzberg and Mitte, stopping to learn about the various cultures and vibrant creativity that define these dynamic sectors. Explore Kreuzberg's Turkish community before discovering Yaam Beach, which plays host to Berlin's reggae and hip-hop scenes. Then pass into hidden courtyards and secret gardens as you admire some of Berlin's legendary street art. This small-group excursion is limited to just 20 guests.
Highlights
Walking tour of Berlin focusing on subcultures

Visit neighborhoods including Prenzlauer Berg, Mitte and Friedrichshain

See the Turkish area of Kreuzberg and Yaam Beach, the Caribbean section

Learn about various countercultural movements from your expert guide

View street art and graffiti and learn the origins of the German fast food called currywurst

Small-group tour limited to 20 people ensures more individualized attention from your guide

Why Our Insiders Chose This Tour
A must-do for those who want to see more than just the regular tourist sights. You learn lots about Berlin's colorful history and discover parts of the city that only locals know!
Recent Photos of This Tour
What You Can Expect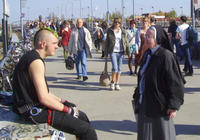 Get off the beaten path in Berlin as you investigate the city's thriving counterculture neighborhoods and unique ethnic areas on this 4.5-hour guided walking tour. It's a great way to go beyond the typical tourist sites to get a sense for some of the unique cultures that give this thriving German capital its unique flair.
Start your walking excursion at the city's TV tower in central Berlin around midday. Over the course your walk, you'll have the chance to check out emerging areas such as Kreuzberg, Friedrichshain, Prenzlauer Berg and Mitte. In Kreuzberg, stop to explore the thriving Turkish community that calls the area home, along with Berlin's Jewish quarter as well. The area is peppered with a unique collection of urban farms, guerrilla gardens, alternative art galleries and organic markets, all signs of the area's growing popularity.
As part of your exploration you'll also have the chance to learn about Berlin's unique food culture. Discover currywurst, a popular style of fried German sausage seasoned with curry-flavored ketchup. You'll also hear about Doner kebab, Turkish-style gyros that first gained popularity in Berlin. Then stop by Prater Garten, known as the city's oldest beer garden.
Continue your walking excursion with a deep dive into the history of various counterculture movements in Berlin history. Discover the 1960s student protest movement, the rise of the Baader-Meinhof group in the 1970s and the growth of punk and the May 1 riots in the 1980s. Music and art have all played important roles in Berlin's creative and subcultural scene. Hear about the Love Parade, a famous electronic dance music festival, along with the reggae, hip-hop and rasta fans of Yaam Beach. Then admire some of the incredible range of street art that dots many of these neighborhoods' walls and alleyways.
Finish your tour at Yaam Beach, leaving with a newfound appreciation for the incredible diversity of Berlin's artistic and ethnic communities.
June 2016
The Guide, Imogen, was lovely and very knowledgeable. She was also very hospitable on an extremely hot day.
June 2016
Our tour guide Jake was amazing. So cool and well informed. He wanted to give us the best tour ever and he exceeded our expectations. He did go a bit long but all of his stories and anecdotes were so enthralling that we didn't notice how much our feet hurt until later. Thanks Jake for a memorable day. We will certainly refer our friends to your tour.
Karen United States of ...
May 2016
Got to see the real Berlin. Callum provided wonderful insights into the culture and wove history into it.
April 2016
If you want a good alternative to the usual walking tour give this one a try. Instead of looking at places you get to immerse yourself in two inner suburban districts, focusing on the street vibe, street art, culture and ethic mix, as well as using the U-bahn to get around. Our guide, Alex, was knowledgeable about his subject and have numerous witty stories, and some not so witty, to impart to us on our travels. As a recent resident of the Kreuzburg area he gave us the low down on the suburb, its recent history and how people power has had some positive outcomes in persuading the authorities not to do things that the residents don't want to happen.
March 2016
It was very interesting getting the tour of Berlin. Much more entertaining than just walking sight-seeing to different random sites. I loved people watching in the non tourist areas. The way people used the metro, the little coffee shops, the things they carried and many more characteristics that are different from where I am from.
March 2016
really interesting tour, the guide Conner was engaging, full of knowledge, and who was obviously passionate about the social and cultural history of this fantastic city. it was hours well spent and I loved it! a must do.....

February 2016
January 2016
We loved it. I had zero knowledge and no interest in graffiti prior to that tour, so I feel great having to learn so much about it. Jason was our guide and he did a very good job at showing us around some very interesting parts of town. Very fun guy!
December 2015
Information and unconventional. Interesting guide.
November 2015
Thank you Alex for the amazing tour! It was great to hear your perspective on Berlin as a local. Loved hearing all the stories behind each neighbourhood. I highly recommend this tour!
Advertisement
Advertisement